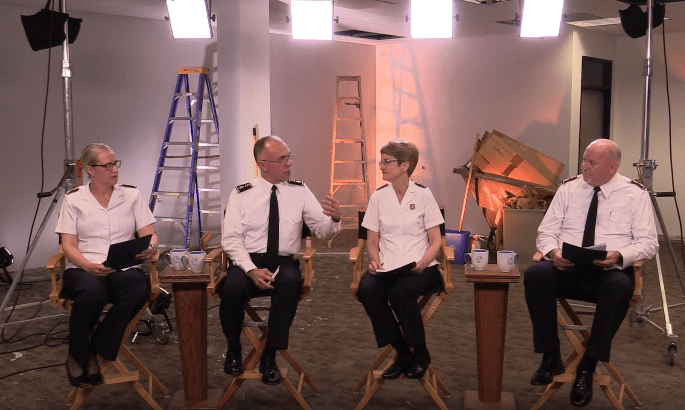 Town hall links soldiers, officers to territorial leaders
By Jared McKiernan –
The Salvation Army USA Western Territory's first-ever Soldier's Town Hall was much how Territorial Commander Commissioner Kenneth G. Hodder described it would be: "Nothing is off the table."
And nothing was.
Hodder, joined by his wife, Commissioner Jolene K. Hodder, Territorial President of Women's Ministries,  and Colonels Doug and Colleen Riley, Chief Secretary and Territorial Secretary of Women's Ministries, respectively,  addressed a lively audience of soldiers, officers and friends of the Western Territory.
In some respects, it was much like any town hall meeting—a warm welcome followed by a few quick updates and a spirited Q&A session. Except that, the "town" in attendance wasn't a town at all.
In all, upward of 130 people from across the Western Territory tuned in online via YouTube, sending questions to the territorial leaders in real-time (and in advance) about everything from diversity in leadership to refugee resettlements to thwarting nepotism.
Unlike the previous three town halls hosted by the territory, which were geared toward officers, this one included soldiers, too. And while this wasn't the first time the territory experimented with a digital format, it likely won't be the last, either, according to Kenneth G. Hodder.
After all, town halls are an excellent way for organizations to hear from their leaders, which builds trust and confidence. They share exclusive content, which provides valuable learning opportunities for participants. And holding town halls in a digital format affords even more participants the opportunity to weigh in and stay up-to-date on important items, without ever having to leave the comfort of their own homes.
But it's more than that.
"We are called to be the 'Body of Christ,' and it is therefore vital that we communicate with one another," Kenneth G. Hodder said. "We're going to do our best to answer the questions that you have sent to us about what's happening in The Salvation Army in the Western United States."
After a few opening words from the territorial leaders and a video presentation of the Tri-Cities Corps Vacation Bible School, which Kenneth G. Hodder saw up close during one of his recent lighting visits, the Q&A session got underway.
Some participants' questions were more practical in nature: "Is 'holiness meeting' a relevant name for a corps Sunday worship service in 2018?" Jolene K. Hodder weighed in, noting that since The Salvation Army is unique in each community, there's no need to apply a one size fits all approach.
"Corps today have the freedom to do what's best for the community," she said. "If you want to try something else, do it. All that we ask is that you're leading people to Jesus Christ, that you're discipling them, and that you're growing saints. So be creative, and do what's best for the community."
Others were more interested in The Salvation Army's specific work across the territory: "What is The Salvation Army doing in the West to help undocumented immigrants and refugees resettle in the U.S.?"
The territorial leaders shared about a partnership between the California South Division and The Salvation Army's Door of Hope Shelter in Tijuana, which helps shelter women and children waiting for asylum in the U.S.
One question centered on the issue of a perceived lack of diversity among senior leadership, and whether that was reflected in the territory's soldiery. Doug Riley offered some encouraging thoughts on the matter.
"First, let's celebrate the diversity in this territory. It's truly wonderful," he said. "I also noticed at the Welcome of Cadets, that we're seeing more and more diversity in our cadet population. And more than half of the student body at the College for Officer Training (CFOT) at Crestmont are now first-generation Salvationists."

Yet, he acknowledged the territory needs to be more intentional in giving more opportunities to members of every ethnic and linguistic group within the Army's ranks. One way it's working toward that is by offering cadets at CFOT a new course on diversity in ministry.
That wasn't the only question posed on the topic of organizational culture. Another participant asked: "Is there an issue of nepotism in the Army? Do you think there are two different classes of soldiers compared to those with a long history in the Army?"
Kenneth G. Hodder issued a stern response. "In terms of policy and underlying belief, there is no room for nepotism, racism, or sexism or ageism within The Salvation Army," he said. "We are the body of Christ, where there is neither Jew nor Greek, there is neither slave nor free, there is no male and female, for you are all one in Christ Jesus" (Gal. 3:28).
The event concluded with a thank you to everyone who participated, and a prayer for those in the Carolinas in the path of Hurricane Florence.
Watch a replay of the event at townhall.usawest.org.