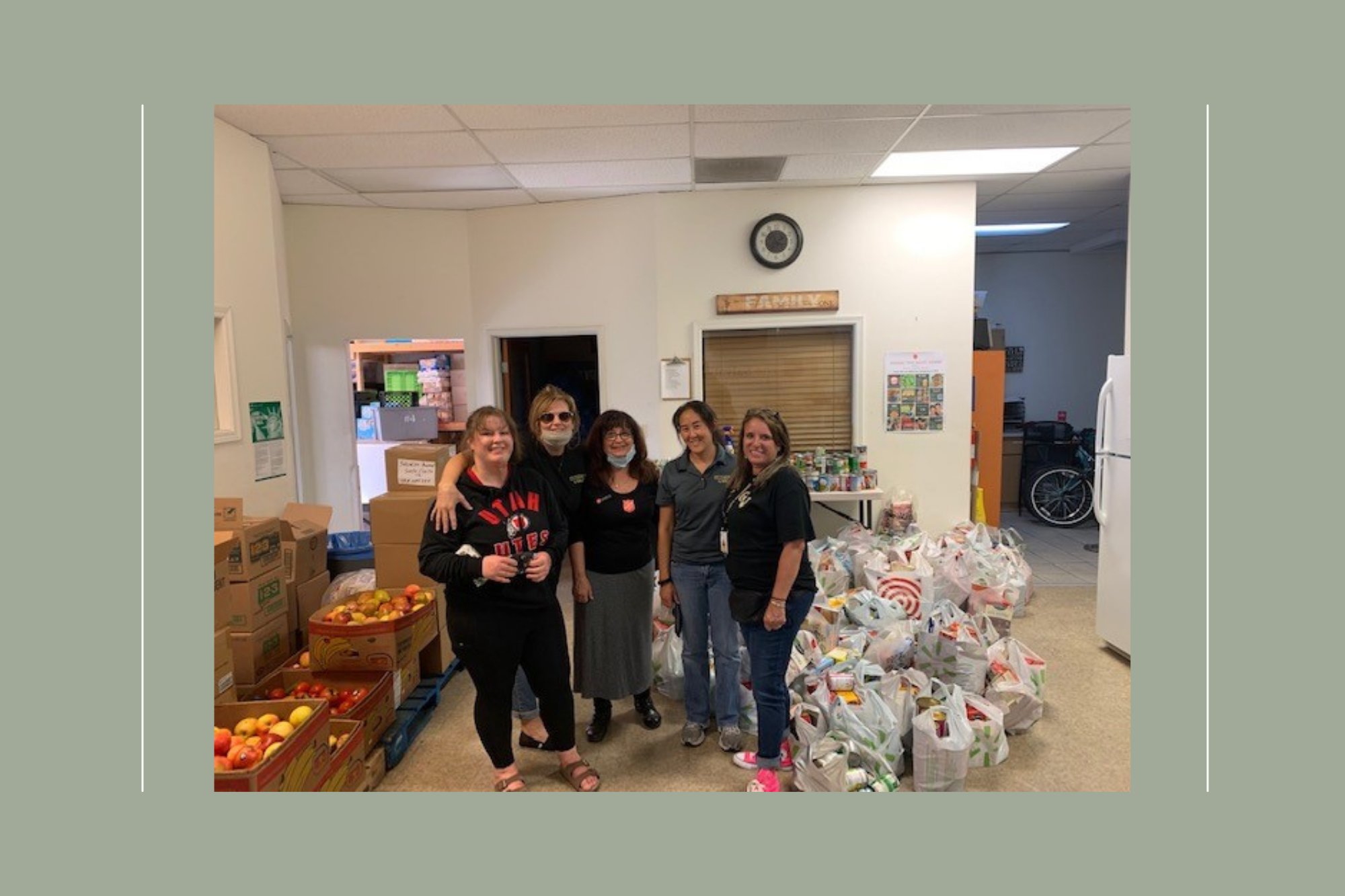 The Santa Clarita Valley Corps stands firm on a foundation of love
The Salvation Army finds its place in California's Santa Clarita Valley.
"It's holy ground," Envoy Laura Ann-Bloom Moore said about her ministry in The Salvation Army in California's Santa Clarita Valley. She shared that belief with her late husband, Envoy Jerry Bloom. The pair helped to grow the Army's presence in Santa Clarita, and that conviction motivates her today as she leads the Santa Clarita Valley Corps.
From Bloom's promotion to Glory to the ongoing challenges associated with being a church in the age of the coronavirus, the Santa Clarita Valley Corps is emerging from hardship with renewed vitality as it seeks to build relationships and to share God's love with everyone, including society's "least of these."
Early days
The Blooms began their ministry with The Salvation Army in the Santa Clarita Valley in 2014 at what was then a service extension center—how the Army meets needs in communities without a larger facility nearby. Located in a small space in a strip mall, the center had existed since the 1990s. Jerry Bloom became the sole full-time employee and Laura Bloom volunteered. Its services included a food pantry, Bible study group, women's group and Sunday worship meetings.
The little service extension blossomed under the Blooms' leadership. Moore credits the power of relationships for this growth. Jerry Bloom had grown up in the area, and his family was well-known. But it was more than that: The couple had a strong connection with the recovery community. Both volunteered at the nearby Canoga Park Adult Rehabilitation Center (ARC).
"Jerry had a heart for the recovery community," Moore said. "People responded to him and started coming [to Santa Clarita]." The Canoga Park ARC officers would bring program participants, known as beneficiaries, to Santa Clarita for worship. Over time, this connection produced Salvation Army adherents and soldiers, and even officers: Lt. Paul Chisholm, Lt. Joshua Dulay and Lt. Henry Oliveira.
One day, Commissioners Douglas and Colleen Riley, then the Southern California divisional leaders, came to the Sunday service and commissioned the Blooms as Envoys (non-commissioned Salvation Army officers); they had been serving as ministry leaders. The Rileys also saw the need for a larger space and helped secure one, leading to the center's transition to a corps in June 2015.
From 2015 to 2020, the ministry thrived. Then challenges arose: one global, the other closer to home.
Withstanding the storms
Jerry Bloom had been battling cancer for more than a year when he was promoted to Glory April 18, 2020. Starting in Dec. 2019, Laura took family medical leave to care for him, and Lt. Melissa Jones stepped in at the corps. Meanwhile, the pandemic was making its full impact known. With regular programming on hold, the corps closed for a month or two.
Moore said after Bloom's death, doubt consumed her. "I didn't know if I had a job, she said. She asked God: "What am I supposed to do?"
Her answer came when California South Divisional Commander Lt. Colonel John Chamness called and asked if she would consider being the officer-in-charge at Santa Clarita. It was a "happy day," Moore said, who returned to the corps June 22, 2020.
Later, she told Santa Clarita's The Signal: "[We] love this community. My husband grew up in Newhall…I just feel this is just what we truly care about, and I want to continue to be a part of this community and to do whatever I can…He was everything in this place, so now I am."
She overcame initial insecurities about trying to take Bloom's place. "I stopped worrying that I couldn't do it," she said. "God's enabling me."
COVID regulations still disrupted corps programs, but she didn't want essential services to stop when they were needed most, nor did she want to halt worship services.
"I kept the corps open [for food distribution] as much as I could," she said. "We didn't have people come in; we served food through the front door."
She said the advisory board, Rotary Club and volunteers rallied around her in the summer of 2020 to keep the corps going.
She offered the Sunday service online from her home; the services are still livestreamed each week on the corps' Facebook page. "People I didn't know were tuning in," she said. "Sometimes there were thousands of people watching."
Still focused on the corps' foundational relationship, she continued to visit the beneficiaries at the Canoga Park ARC. "We're very connected with the ARC," she said. "That's our passion. The ARC ministry is a gem."
Moving forward, gaining momentum
With the support of the advisory board—now 15 members strong—along with the Rotary Club and volunteers, the Santa Clarita Valley Corps is back to normal, as much as is currently possible.
Recently, it provided 17 bags of clothing and a box of school supplies to Afghan refugees who have been relocated to the Santa Clarita Valley. In fall 2021, it held a bicycle drive, meeting an expressed need for transportation for the unhoused.
"We're just there for people," Moore said. "When God wants us to do something, he sends the volunteers. He makes it happen."
Moore also acknowledged her one part-time employee, Rebecca Berens, the corps program coordinator, and Corps Sergeant-Major Jeffrey Runyan, an ARC graduate, now employed as an ARC assistant resident manager, who preaches once a month at the corps.
"We're on the same page," Moore said. "We have a heart for people."
Currently, the corps offers a food bank, recovery group meetings, homeless outreach including a weekly Bingo gathering (for gift cards) and monthly free haircuts, women's ministry groups and Sunday services—all managed by Moore, Berens and volunteers.
"We're small but mighty; that's what Laura always says," Berens said. "It's our volunteers. We make that a priority; we can't do it without them. We make sure they feel welcome. Everybody who comes in and helps us out—we consider them family."
Berens' own relationship with The Salvation Army in the Santa Clarita Valley extends back over 20 years to its service extension days, when she was a volunteer.
"Being able to help people…this motivates me every time," she said, sharing how one man, Jason, whom the corps had helped with some legal matters, is now a volunteer himself and recently reached out to a homeless man, ensuring he had food.
"Everybody is struggling with something," Moore said. "But they still want to give and help others. It helps them."
She said the volunteer family comprises people from youth to seniors, including a group of young volunteers from the Church of Jesus Christ of Latter-day Saints. Most volunteer regularly, not just at a single event.
"No matter the age, we're all brothers and sisters," long-time volunteer Alice Goetschel said. "Laura is a big part of this. We celebrate birthdays, milestones for people."
Goetschel said the volunteers strive to make clients feel comfortable, getting to know their names and which food items they prefer. When those items come in, they set them aside for the particular client.
"[The Santa Clarita Valley Corps] is a very special place," Goetschel said. "I don't know if all the corps are like this, but this one certainly is."
Volunteer Holly Roehn agreed. "It's a good thing that's going on here," she said. I like helping the clients, and the volunteers—we motivate each other for one goal."
To expand The Salvation Army's impact in the community, Moore is building more relationships by participating in various groups including the Anti-Human Trafficking Task Force and the local pastor/clergy council. She still runs into people who think The Salvation Army is just a thrift store; she wants to enlighten them.
Before the pandemic, two programs were notably successful, she said: the summer camp program and Christmas outreach. "We're a tiny corps but we sent a lot of kids to camp; many went on to get jobs there."  She anticipates these programs returning in their full expression.
"The Lord has blessed us," Moore said. "We just want to be there and be available to people. It's really dedication: When people need you, they need you; it's not office hours…I want to give God the glory in all this and my late husband. He really was 'the man, the myth, the legend.'"
---
Do Good:
Whether it's through opportunities with The Salvation Army or elsewhere, your gifts are needed. You are needed. If you choose to cultivate these nine habits of impactful volunteers, you will make a difference in the lives of others. When you strive to do good, you help build a safer world for all and give others a lasting display of the love behind your beliefs. Get the guide on How To Be An Impactful Volunteer and get in the Fight for Good today.
What does it mean to do good? Where can we discover joy? What is it really like to be homeless? How can I raise a kind kid? Subscribe to The Do Gooders Podcast to find these episodes and much more—all to help you be inspired to do good right where you are.
Read how one family has made volunteering with The Salvation Army a family tradition.