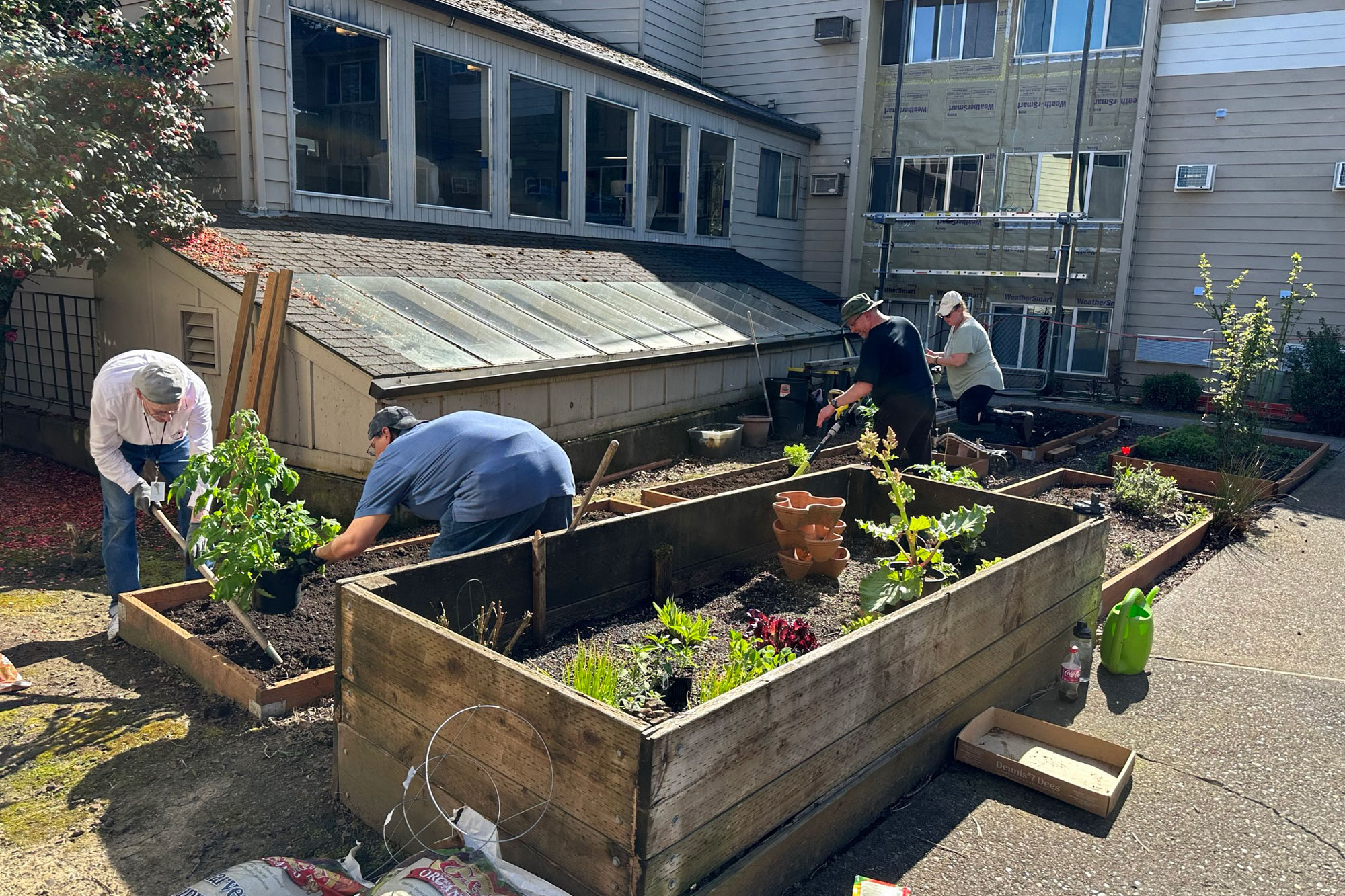 How The Salvation Army restores dignity at the Veterans and Family Center
Renovations boost the healing environment at the Veterans and Family Center in Beaverton, Oregon
From the outside, The Salvation Army Veterans and Family Center (VFC) looks the same as it did three and a half years ago when Executive Director Major Rhonda Lloyd arrived. Inside, though, things are changing—all to support the center's main goal: restoring hope and worthiness to unhoused veterans.
"I wanted to bring the building to a standard that would give people a sense of honor and dignity," Lloyd said. "It looks like 1980-something when you walk in the building. We've got the old carpet, the old wallpaper, and then you go into the veterans' units themselves, and it's all up to date and brings much more honor to our veterans for their service."
Originally built in 1972, Lloyd said the building needed updating, in both appearance and infrastructure, including plumbing, upgraded windows, air conditioning and heating. COVID stalled the renovation; it was declared a pandemic a week after Lloyd arrived. In addition to the extra time involved, costs doubled, meaning the center couldn't do everything it had originally planned. The primary focus became the residents' rooms.
"Now we're ramping back up with the renovation," Lloyd said. "Forty-eight rooms will be single occupancy rooms with private bathrooms. The rest are three family rooms with kitchenettes, for a family unit with two or more children. We also have three ADA-compliant rooms, so that a veteran who's in a wheelchair has an ADA-accessible room now. We didn't have any of those before."
Lloyd said these 48 rooms are "brand spanking new." The other rooms have new double-pane windows, heaters and AC units. Additionally, the 48 rooms and the hallways outside them have solid surface flooring—replacing old carpets—but not the entire building.
Not yet, that is. The goal is to have solid surface flooring throughout the facility, along with other upgrades.
A one-of-a-kind center
The VFC welcomes veterans of all ages, currently ranging from the 20s up to 80. The residents, who represent every branch of the military, include men and women with and without children, single or with a partner—"the whole works," Lloyd said.
The variety of rooms allows the VFC to house veterans whatever their relationship status. And it can accommodate them as their housing needs change.
"We just had a woman who came in by herself," Lloyd said. "Now she's having visitation with her kids at the center. So she went from a single room to [one for] her and her three kids. That's completely unique with the VFC. There is no other veterans center in the state of Oregon or in Southern Washington or even Idaho that allows veterans with children, or veterans with a partner."
"Another thing that's unique about us is we allow care companion and service animals," she said. "We have numerous animals in our facility."
The VFC is currently home to 62 residents, including 11 children, and about 20 animals—dogs and cats. One family has two dogs and two cats.
"It's very therapeutic," Lloyd said. "It's important for their mental health. That's how we work that through…We have everything from tiny dogs to big dogs."
Lloyd said she had a man in his late 70s arrive with five lizards—not a pet on most official care companion or service animal lists. When she told him the center couldn't accept lizards, the man burst into tears.
"He said, 'I lost my dog from the heat when I was living in my car. The only thing I could keep alive were lizards. They are my friends," Lloyd recalled. "Next thing you know, I'm helping the man get a reasonable accommodation."
Lloyd said he kept the lizards in an aquarium, and he was happy. Eventually he—and his lizards—found permanent housing.
"It's a really challenging place, but very, very needed and a wonderful place," she said. "We become a bit of a family. Everyone eats together in the dining room. We have table games and puzzles and a pool table, and also a greenhouse and gardening beds."
Residents tend the garden and have produced fruits and vegetables including tomatoes, kale and lettuce that they give to the kitchen to use in their meals. "[Gardening] is a very good mental health activity," Lloyd said.
Permanent housing—the ultimate goal
Ending veteran homelessness is a top priority for the VA. In March, it pledged to place at least 38,000 unhoused veterans into permanent housing and to ensure at least 95 percent of those housed do not return to homelessness that year. Lloyd said the VA stipulates four goals for organizations working with unhoused veterans: to increase their financial income and stability, address health and well-being, address their sobriety, and eventually obtain permanent housing.
The companion animals, along with gardening and art classes, support residents' well-being and help fulfill one of these goals. Lloyd said the VFC connects residents with service providers who can help them get doctors' appointments, and the center has a pain management group. It also offers "Rent Well," a landlord/tenant information class, and Lloyd teaches a budget bootcamp class.
To ensure veterans' success when they obtain permanent housing, the VFC has four programs. First, emergency transitional housing for 30–60 days, which houses individuals from treatment centers or hospitals. Second, bridge housing, for veterans who already have a housing voucher or steady income and are waiting to get into an apartment, generally for three to six months. Third, service intensive transitional housing, for those who have been chronically homeless or unhoused for an extended length of time. The average stay is nine months, but they can stay up to two years. Fourth, the Booth Veterans Residency Program, a fee-based, renewable one-year lease program.
How The Salvation Army Serves Veterans
– Providing shelter to unhoused veterans:
According to The U.S. Department of Housing and Urban Development (HUD), approximately 40,056 veterans are homeless on any given night.
– Helping veterans explore recovery: Veterans are at a higher risk for PTSD and drug and alcohol addiction upon returning home from combat.
– Creating community: Many veterans struggle with loneliness and depression after serving. The Salvation Army provides access to family reunification, job training, food pantries, housing placement and more.
"It's for folks who have extended obstacles that they have not resolved during their program; maybe it's extreme debt, maybe it's mental health issues," Lloyd said. "They're just simply not ready. Could be sobriety—they just don't have enough time under their belt to be sober on their own."
If veterans leave and experience problems, they can return.
"It's on a case by case basis," Lloyd said. "We have one person that's been with us for three years. And we've had veterans who have no family, who have physical ailments…they've stayed until they died. We've seen them all the way through to Glory."
If the center sees a need, it will work to address it. To that end, it's adding a new program in the fall, a clinical program for drug and alcohol recovery, starting with 10 recovery beds. A certified drug and alcohol counselor will be on staff. Lloyd said 60 percent of their veteran population deals with a substance issue.
She said she looks forward to the day when renovations are complete, and the whole facility radiates opportunity and hope for the future. It's what happens inside that matters most, though.
"They don't forget us veterans here," said one resident as he prepared to leave the VFC for his new home. "I always knew that people here cared about me and valued me."
"That, to me, is the goal," Lloyd said, "to honor them for their service, and to help them know that we care enough that we are providing them with a clean, healthy, up-to-date, safe space."
---
Do Good:
Have you ever found yourself wanting to volunteer but unsure of what to do or how to go about it? Here's the key: You can make an impact for good with whatever time and skills you have. Whatever your interest, there is a you-sized need for goodness in the world. Get the guide on How To Be An Impactful Volunteer with nine habits to make a difference when giving back.