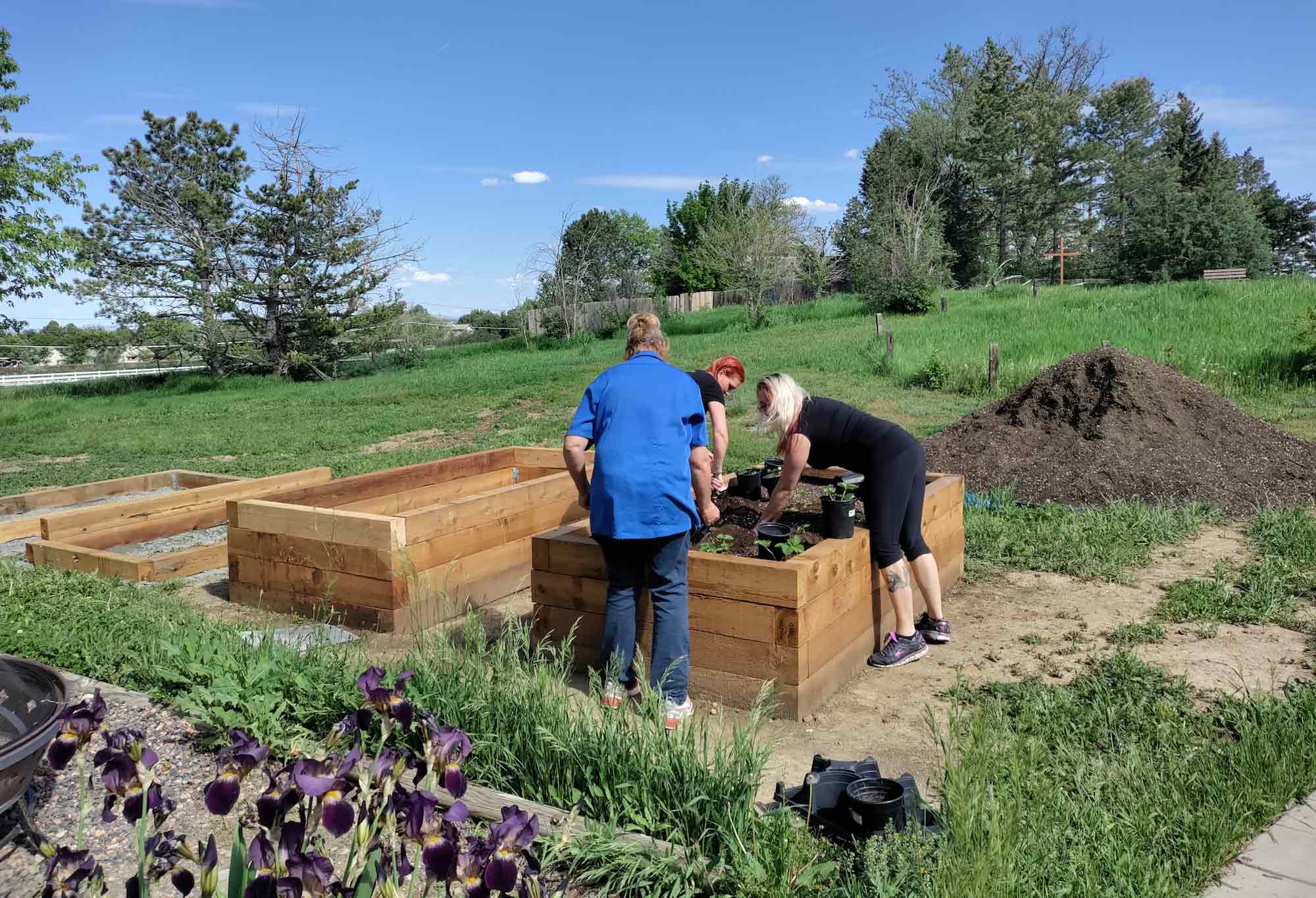 How gardening is helping those recovering from addiction in Colorado
The Cottonwood Women's Residence at The Salvation Army Denver Adult Rehabilitation Center (ARC) sits on several acres of land in Arvada, Colorado, where those struggling with addiction can find help through a six-month, no-fee drug and alcohol rehabilitation program.
"We're blessed out here, I mean just blessed…It's a beautiful piece of property," Denver ARC Resident Manager and Intake Coordinator Julie Wirtz said.
In 2012, Wirtz graduated from the ARC program and started working at the center a year later. "I've always felt like this connection to Cottonwood…It saved my life and I wanted to help others do the same," she said.
Soon after taking on the role of resident manager at the center, Wirtz said she had the idea to build a community garden for program beneficiaries. After gaining approval from her supervisors, Wirtz said she "started digging" and the garden began to take form in 2013.
"For me, it's really relaxing and very calming," Wirtz said. "It doesn't really matter what kind of day you're having, you can go out there and all of a sudden you're nurturing and seeing all of this creation grow."
In addition to the mental and physical benefits research shows gardening can provide, Wirtz said there are also spiritual benefits that can be associated with gardening. "What I like to say is, 'when you're tending the earth, you're mending the spirit,'" Wirtz said.
Denver ARC graduate Samantha McCrea said when she felt overwhelmed while she was in the program, she'd go outside to the gardens.
"It was my safe place," she said. "It really made it feel like a home at Cottonwood."
For McCrea, the garden also served as a place for her to spend time with God. "I'd pray and I'd meditate…I would talk out loud to God and that's really where I met God," McCrea said.
"When you're in your addiction, it's such a dark place and you just want to hide and you forget how beautiful life is," McCrea said. "It was really a beautiful place to get sober."
During her time at the ARC, McCrea worked in the kitchen helping to cook the daily meals for other beneficiaries. "I loved the fact that we grew herbs and vegetables," she said, mentioning she enjoyed getting to use fresh basil in various dishes.
At the ARC, McCrea said she developed her love for cooking, which led to her enrolling in The Salvation Army's culinary arts program at Hope Harbor in Lodi, California, following her graduation from the program. "It was God's will for my life and it gave me a new passion," she added.
To see one's planting and tending efforts materialize in fruits and vegetables ready to harvest, Wirtz said is "really beneficial" to the women in the program.
"Not only is gardening benefiting you, it's benefiting the earth," McCrea said. "Not to mention, it's always good to get outside and get some vitamin D and a little bit of a workout, right?"
McCrea said she still remembers the day when Wirtz taught her how to garden and had her try a fresh radish when she thought she didn't like them. "Julie was really amazing. She never gives up on anybody and she is one of the best house managers I could have ever asked for," McCrea added.
Gilburt Croker graduated from the Denver ARC in 2010 when the Army also had a center for men. Since graduating, Croker said he stays involved with The Salvation Army through attending local chapel services and Celebrate Recovery meetings.
"The Salvation Army basically saved my life," Croker said. "It's still my program—that's my sobriety, I think, and it's important to keep nourishing that."
He's returned to the ARC to help with various projects, including building two crosses for the Cottonwood Women's Residence.
"Instead of being so self-serving, like I was before I started in the program, I've become more of a servant to others," Croker said.
As the garden continues, Wirtz said she hopes to add a chicken coop to provide fresh eggs for beneficiaries. Wirtz said there are also plans to build an alumni garden to honor and provide a space for those who have been through the program to return and build community to strengthen their recoveries.
A decade from now, Wirtz said she hopes to see the garden "still going strong," adding, "I hope people will continue to take care of it and take care of themselves while they're doing it."
---
Do Good: