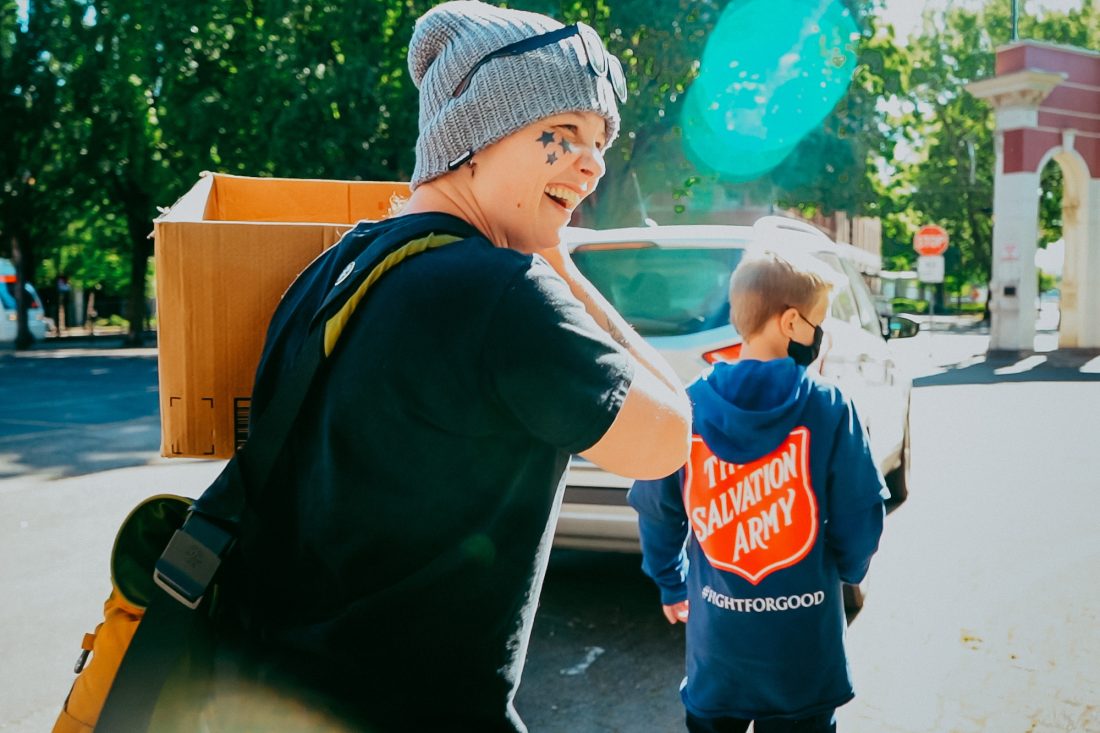 Veterans reclaim their lives at The Salvation Army Veterans and Family Center
The Beaverton, Oregon, center has been acknowledged for its work with veterans.
Initially, Tamela Ivie didn't think she was worthy of all The Salvation Army had to offer. Her steps toward positive change began at The Salvation Army Female Emergency Shelter (SAFES) in Portland, Oregon, and eventually took her to the Veterans and Family Center (VFC) in nearby Beaverton.
2013 was a dark year for Ivie. Back then, the United States Navy veteran was living on the streets of Portland, fighting an ongoing battle with PTSD, drug and alcohol addiction and the voices that lived in her head. Desperate for help, she turned to the SAFES program in downtown Portland—stopping in periodically for a shower, a meal and a glimpse of Christ-driven compassion and love. 
"A lot happened in a very short amount of time while I was there," Ivie said. "I got saved, I started going to outpatient treatment [for drug rehabilitation,] and I started staying indoors at the SAFES shelter… That was a huge deal. In downtown Portland there are drugs all around you, so it would have been a challenge [to stay clean in that environment]. But my focus was on Jesus."
Things were starting to look up, but there was still something missing from Ivie's life—her children. They had been separated for years, the kids living with their father in Idaho during Ivie's descent into homelessness and addiction. Now the father was facing a multi-year prison sentence, and the clock was ticking for Ivie to secure a stable living situation so that her kids could come live with her.

One day, Ivie attended a veterans outreach event and noticed a table advertising the VFC. Speaking to the Salvation Army staffers manning the booth, she learned that the VFC serves as a transitional residence center for veterans and their families, offering extensive support for veterans struggling with mental health issues, addiction or simply trying to get back on their feet in their communities. It was exactly what she needed.
"At that time, I didn't feel like I was worthy of any services because of all the stuff that was going on in my life," Ivie said. "But I talked to [the VFC staffer], and they helped me get out of SAFES and into the VFC."
Within a month of moving in, Ivie's 11-year-old daughter was able to come live with her. Three months later, her young son joined them. Together, they spent just over two years at the VFC. There, Ivie was able to access ongoing mental health treatment and participate in behavioral and spiritual health support groups. The VFC helped connect Ivie to the VA's Back to Work program and to financial assistance resources available to veterans.
"I was able to start getting some traction on things that I wouldn't have had access to otherwise, and in a supportive environment where there was constant encouragement," Ivie said. "The VFC really offered a place for us to be safe and grow as a family."
Getting veterans back on their feet
All told, the VFC hosts as many as 70 veterans at a time, along with their spouses, children and support animals.
"We have different programs they can participate in, all with the same four goals: permanent housing, financial stability, healthier lifestyle/self-sufficiency and sobriety," VFC Executive Director Major Rhonda Lloyd said.
During the time veterans spend at the VFC, Lloyd and her team work to help them get back on their feet in whatever way they need. For some, that means assisting them in securing appropriate employment or learning to live within their income. For others, that means connecting them to VA financial resources or healthcare to help with disabilities that developed as a result of their military service. Some residents, especially those who have been homeless a long time, have lost all of their official documents. The VFC helps them get their documents back in order.
"We just worked with a bunch of folks to try and get them on emergency housing vouchers, which can cover up to 70 percent of their rent based on their income," Lloyd said. "We help them find permanent housing in the area, and even helped them get furniture."
The VFC's ultimate goal is to get each resident to a place of healthy self-sufficiency, but in the meantime, they take good care of them, offering weekly case management, three meals a day, chapel and Bible studies, stress management classes, recovery groups, a wide variety of life skills classes, and even art and game nights for kids.

"Many of our veterans have mental health issues as well," Lloyd said. "Some have PTSD. We do our best to connect them with the mental health services that are available… For somebody who has done this heroic thing and then ends up homeless—the difficulties and shame and trauma that come with that are tremendous… We try to take a trauma-informed approach. Instead of [asking], 'what's wrong with you?' we ask, 'What has happened that has made your life challenging?' We appreciate what people have been through."
Recognized for excellence
While the program is full of challenges, it has yielded significant successes: elderly veterans fallen on hard times, helped into housing and healthcare; men and women struggling with anger and addiction, battling their way to recovery with the help of a supportive community.
In the summer of 2021, these successes were recognized, when the VFC received a $2.4 million grant from the Department of Veterans Affairs—funding which will allow the center to remodel its entire facility over the next two years, converting spaces to allow all veterans to have a single room with their own bathroom. In addition, the VFC received a 100 percent grade on Kitchen and Food Inspection from the Oregon Food Bank, and was awarded Gold Level Program status from The Salvation Army Western Territory for excellence in social service programming.
"They look at everything from the building to the services [we provide] to how well we meet the mission of The Salvation Army," Lloyd said. "We got 100 percent on our review, so we're pretty excited."
As for Ivie, in 2017 she and her kids were able to move out of the VFC and into a place of their own. Thanks to The Salvation Army, Ivie is back on her feet, drug and alcohol free, and living under her own roof with her family. Still connected with The Salvation Army, she gives back by volunteering to help people living on the streets, bringing them food and essential items.
"Without the support of The Salvation Army and the VA, I'm not sure how things would have worked out," Ivie said. "The VFC really goes the extra mile to meet people where they're at. Our time there was priceless."
---
 Do Good:
Watch Ivie tell her story

here

.

Hear this: Your story is uniquely yours. It's the one thing you have that no one else does. And you're the one who can tell it best.

Take our free email course

on how to find your voice, own your story and share it with others. 

You may think your day is too filled to the brim for anything more…but it's in his presence that you find rest. Where you are assured God is doing a beautiful work in you. Where you find a way to love—because he first loved you. Get inside the Caring Magazine Scripture Study Collection and find a suite of free, printable Bible studies to guide you through topics from New Beginnings Through Forgiveness, to Understanding our Imago Dei or Life Hacks From David.