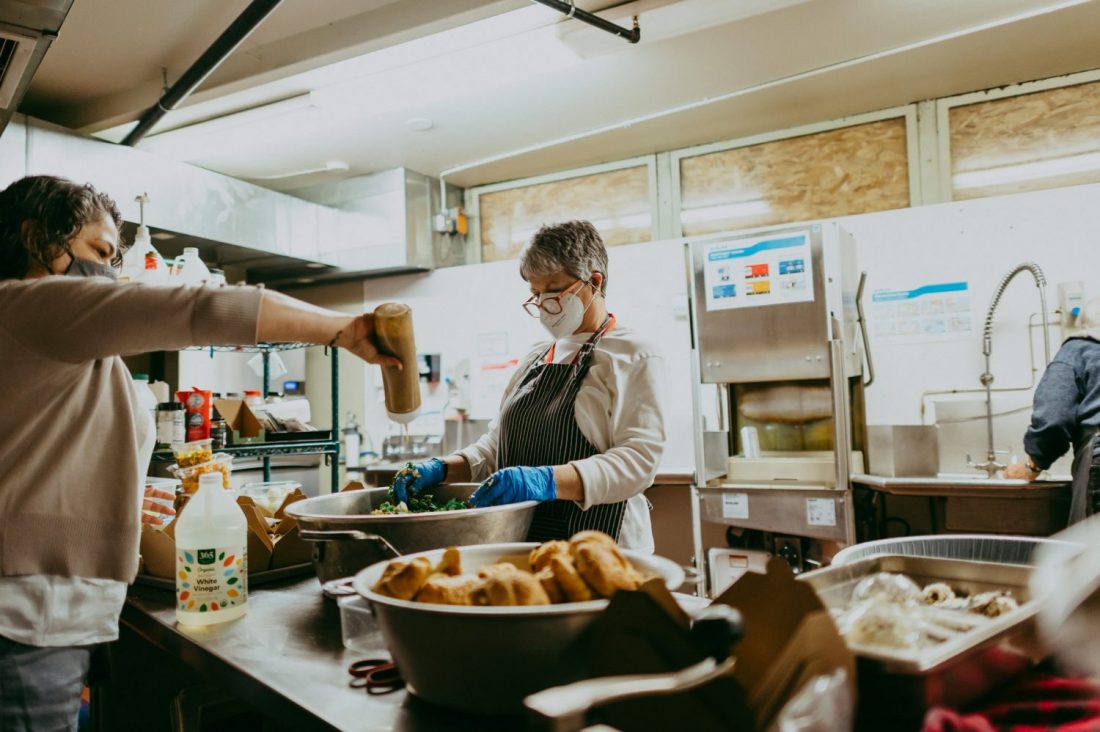 Salvation Army's Portland Female Emergency Shelter expands meal service to community in pandemic
Empowered by community donations, the Salvation Army SAFES program serves their houseless neighbors through the pandemic and beyond
Before terms like "lockdown" and "social distancing" and "flatten the curve" entered our vocabularies, The Salvation Army Female Emergency Shelter (SAFES) program in downtown Portland, Oregon was open to the public every day from 9 a.m. to 1 p.m.
Those who identify as women could stop by to eat a meal, take a nap or grab a shower. They had hygiene products for those who needed them, a clothing closet, laundry facilities and even a foot care center. But when the COVID-19 pandemic swept across the country, SAFES was forced to close its doors. 
"We had built relationships with the women who would come in on a regular basis," said Kristi Bugge, Business and Operations Manager at SAFES. "We were worried about how we were going to continue to serve."
Many businesses and organizations remained shut down for months, frozen to inaction by the crisis. Not The Salvation Army—within weeks, Bugge and the team had adapted SAFES to the new guidance. They converted the building's old clothing closet into a makeshift takeout window, installed panes of plexiglass to keep guests safe and continued their work.

"Right up front there were a lot more people [in need]," Bugge said. "We were pushing between 400 and 450 meals per day."
As the need increased, Bugge was approached by her daughter-in-law, who works as an assistant manager at a local Whole Foods. Limited by COVID complications, a local food bank had stopped picking up their normal supply of food donations. Suddenly the grocery store had an enormous amount of food at risk of going to waste. "Would you guys like to pick it up?" she asked. 
Bugge jumped at the chance. 
"My husband and I took turns," Bugge said. "We went six days a week to pick up these donations: mispicks, fresh salads, things that didn't get sold or were nearing the expiration date. There was so much different stuff, and as they were trying to accommodate to lower shopping [volume], there were huge amounts of food coming out."
Bugge, her husband and the volunteers would load up the donations into a van, inventory their stock and cook for the next day. With need higher than ever and food flowing in, SAFES no longer limited their distribution to adult women. Safely operating through their takeout style window, they gave generously wherever there was need. 
What's more, with high quality Whole Foods donations at hand, the SAFES volunteer team was able to prepare beautiful, well-rounded meals for their guests: salmon and chicken, tacos with guacamole and pico de gallo, green salads and fresh fruit, cookies and cakes. The menu looks a little different every week, but it is always high quality, healthy and delicious. The team also prepares sack lunches for guests to take and eat later in the day.
"The Salvation Army always serves the best breakfast," Sharon, a woman experiencing homelessness, who has been a frequent guest at the SAFES food service for around a year, said. "It's almost like [you're at] a fancy 5-star restaurant. And they're so nice. I love the volunteers."
Soon, Bugge started taking photos of the meals and sending them to Whole Foods to show the impact of their donations and say "thank you." 
"It's really cool," Whole Foods employee Griffin LaVictoire said. "You can recognize: 'Hey that's our bacon! Those are our greens! There are those mangoes we gave them last week!" 
LaVictoire was so impressed that he started volunteering to organize and drive the food donations downtown. He has even volunteered to help with the food service a few times.
"I was handing out food that I buy for the store, and I know how much that stuff costs," he said. "I'm handing out what I know is probably an $11 piece of salmon to somebody, and I'm just like: 'You know what? Get those omegas!'"
"People need good food," he added. "It's a basic thing, but it sure makes me feel good."
These days, working through the Oregon Food Bank's Fresh Alliance Program, Whole Foods donates $35,000 to $40,000 worth of food to SAFES every single month. Their donations allow Bugge and her team of volunteers to serve between 8,500 and 9,500 meals per month, around 350 meals per day.

They have also resumed distributing emergency clothes, hygiene products and even give out tents, sleeping bags, blankets and cold weather gear supplied by the Joint Office of Homeless Services. Meanwhile, SAFES' volunteer base has bounced back and then some—now more than double their pre-pandemic numbers.
One of those volunteers is Cathy Smith, a certified reflexologist who had been doing foot care for women at SAFES shelter before the pandemic. When COVID-19 lockdowns shut the program down, she found herself going stir crazy at home. 
"I called SAFES and said: 'I can't do this. I've gotta come down and do something,'" Smith said.
She has been volunteering at the food window ever since: getting to know the guests by name, building rapport and developing relationships over time. There's "Mr. Coffee," who likes his coffee light and sweet; "Bethany Beach," and a woman who calls herself "Goddess," who Smith describes as "a gentle soul."  
"I love it," Smith said. "I get so much more from doing this than I give. … This is part of God's work. I really believe that."
"It's really a beautiful thing," Bugge added. "It's heart-wrenching at times, but it's been really cool to be able to share the resources that have been made available to us by this community."
Bugge makes it a point to walk the line outside the food window every single day. She looks for people without shoes—asks them their size and has them ready when they reach the window. She looks for familiar faces, and if a regular is missing she asks around to make sure they're OK. 
"We care so deeply for everyone we serve," Bugge said. "We're keeping an eye out on our community."
---
Do Good:
Get support from moms who are right there with you.

Join the Caring Moms Collective

and find

a place of low-pressure, high-encouragement love anytime you need it, whether you know it or not. Get in the group today.  

You've probably seen the red kettles and thrift stores, and while we're rightfully well known for both…

The Salvation Army is

so much more

than red kettles and thrift stores. So who are we? What do we do? Where?

Right this way

for Salvation Army 101.