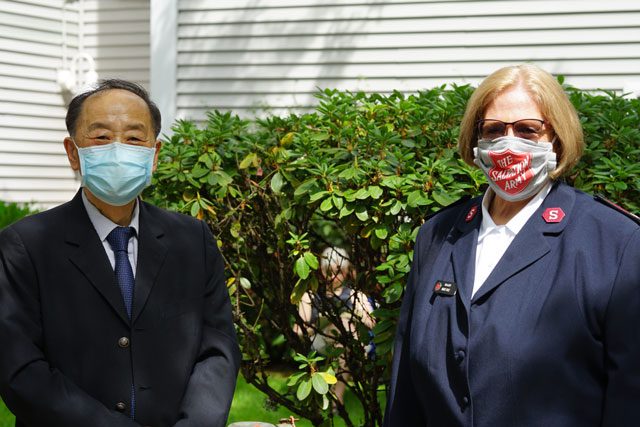 Oregon Chinese American community donates meals to Salvation Army's Portland shelters 
The Oregon Chinese American community partnered with The Salvation Army to make Mother's Day special for women living in shelters in the Portland Metro area during the COVID-19 pandemic.
The effort, named the Chinese American Food of Love Day, is a part of a national campaign by United Chinese Americans (UCA) across 100 cities in all 50 States on May 10. 
During Chinese American Food of Love Day, the Oregon Chinese American community provided over 400 meals from local restaurants, and delivered them to five of The Salvation Army's shelters in the Portland Metro area.  
"We really appreciate the kindness and expression of love our friends in the Oregon Chinese American community are bestowing upon those many people we are helping to socially isolate in our residential facilities," said Major Bob Lloyd, The Salvation Army Portland Metro Coordinator. "This generous meal on Mother's Day will affirm to our residents that our community cares for them on this special day." 
The date of the food distribution, May 10,  is significant in Chinese American history, according to UCA. It marks the completion of the Transcontinental Railroad, which early Chinese immigrants helped construct 151 years ago. The month of May is also designated as Asian Pacific American Islander Heritage Month.
"In this Asian Heritage Month and amid the global crisis, we make this donation to show our love on this special Mother's Day," said Hardy Li, Former President of the Chinese Friendship Association of Portland.
Chinese American Food of Love Day marks a historic first for the Chinese American community, according to UCA. 
"At a time when some people have attempted to stigmatize Chinese Americans, and when there have been numerous reports of harassment, discrimination and even assault against people of Asian descent, our community is undertaking these initiatives in part to demonstrate that whether we are fourth generation Americans, new immigrants or something in between, we are no less American. We care deeply about the welfare of our country and our compatriots and wish to do all we can to be part of the solution," a statement on the UCA website reads.
Several local Chinese American organizations worked together to fundraise for the meals donation, including the Chinese Friendship Association of Portland, Intel Chinese Employee Network and the United Chinese Association of Oregon.
Meals were distributed to residents of The Salvation Army Female Emergency Shelter (SAFES), West Women's and Children's Shelter, The Salvation Army White Shield Center, The Salvation Army Veterans and Family Shelter and The Salvation Army Silvercrest Residence. 
The idea for the partnership came to the division from Oakland Chinatown Corps Officer Captain Esther Hsu, who initially worked with the UCA to gather personal protective equipment (PPE) for those in the medical field. 
 "This gives them an opportunity to have somebody that has come in and just prepared something special for them, to be able to enjoy the day, and to realize there are people out in the community that care about them," Cascade Divisional Commander Major Nancy Dihle told Fox 12.






HOW TO HELP:
If you'd like to make a monetary donation, please

click here to make a gift.

Text 'GIVE' to 52000 to make a $10 donation to The Salvation Army. This will automatically add a one-time donation to your next mobile phone bill.

For information about volunteering, please visit

volunteer.usawest.org

.

To learn more about how to support The Salvation Army's relief efforts,

please click here

.