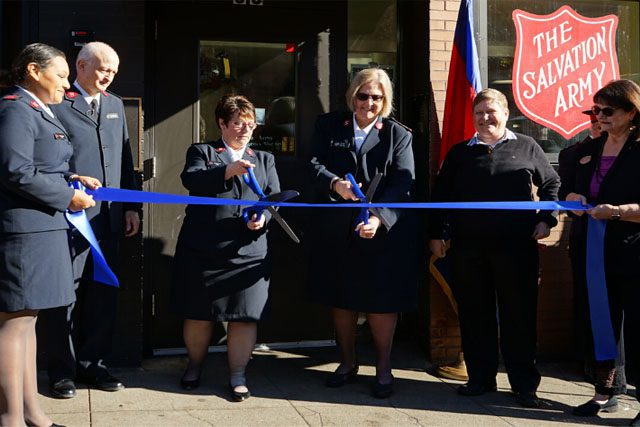 Salvation Army cuts ribbon on new program for Portland's homeless women
By Hillary Jackson
The Salvation Army's Female Emergency Shelter (SAFES) cut the ribbon Nov. 21 for its new hospitality program in Portland, Oregon. The program, set to open Dec. 2, will add to SAFES' offerings, and will provide basic social services, including hot meals, showers, clothing, laundry facilities, lockers, foot care and healthy activities that foster community. 
"This is a day to be so thankful for: that God has given us the resources, including staff who have the vision to see what this beautiful facility can be for women that need help in this area," said Cascade Divisional Commander and Divisional Director of Women's Ministries Major Nancy Dihle. "We are so excited for the opportunities that are going to be here through the love of the staff here, and the volunteers that come, to help women find a place of safety…so that they can move on in a healthy way in their lives."
Along with the ribbon cutting, SAFES held an open house to give the public an opportunity to experience the new hospitality program. Franz Family Bakery served up grilled cheese, and music from a brass brand and the Rose City Singers added to the festivities.
"The Salvation Army is committed to helping those who need it the most in Old Town in Downtown Portland," said Rebecca McBrayer, Executive Director of SAFES. "In this area of Portland, SAFES is the only resource solely for women experiencing extreme poverty, mental health challenges, addiction and social isolation." 
In addition to the new hospitality program,  SAFES includes Safe Harbor, an alcohol and drug-free, 34 single room occupancy (SRO), 12-month women's self-sufficiency program. 
Through Case Management and support, women are empowered to overcome individual barriers, build strengths and skills, and obtain permanent housing placement and long-term retention.
"We are going to be bringing women in, washing their feet, caring for them," said Major Robert Lloyd, Portland Metro Coordinator. "And doing all these [things] that we can do so that we can affirm homeless women, so that we can lift their spirits, let them know that they are cared for and let them know how privileged they are—and we are—to live in such a caring community."