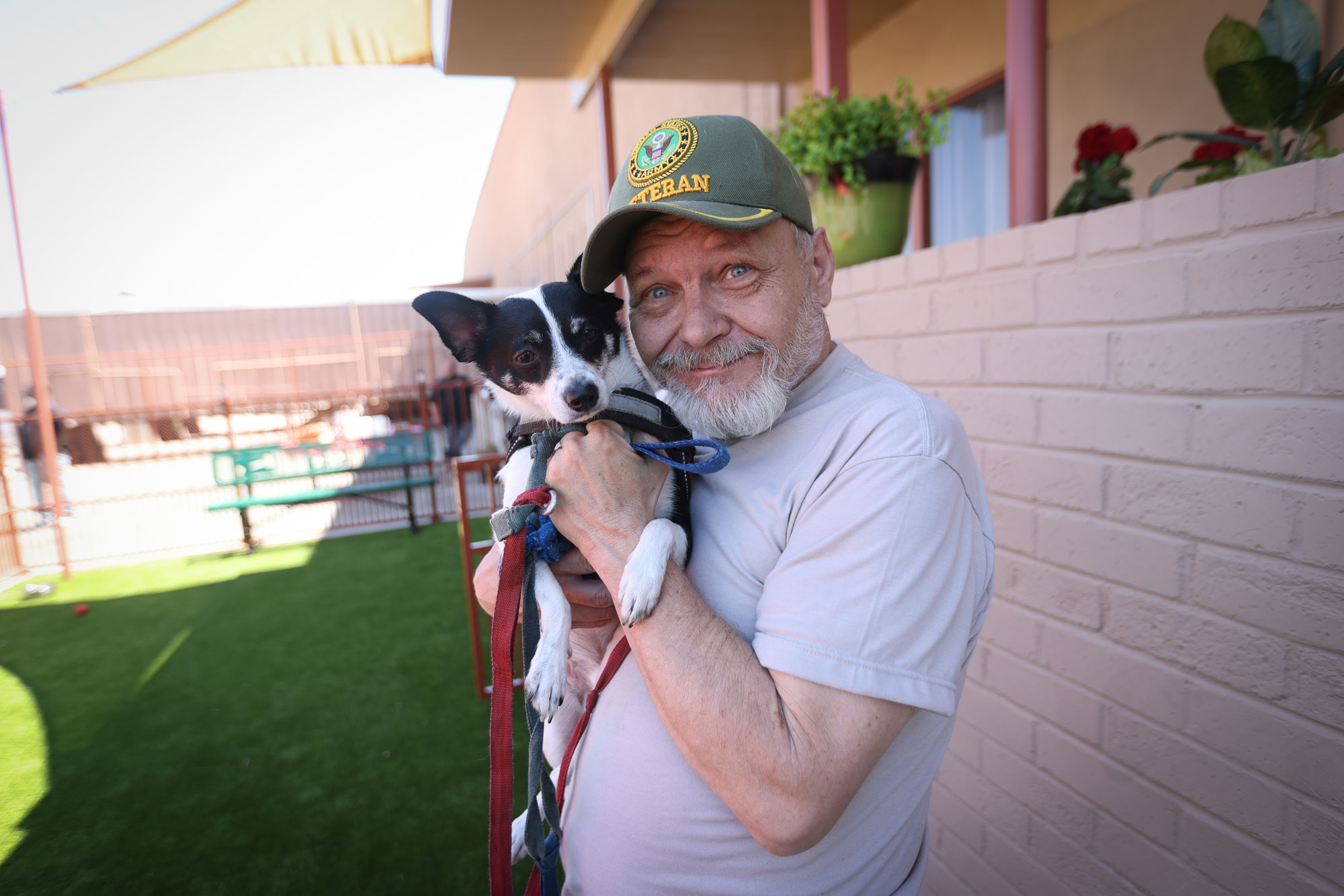 New dog park at The Salvation Army Bell Shelter enhances support for residents
The Salvation Army Bell Shelter opened its first-ever dog park to offer extended resources to residents and their canine companions.
In a heartwarming development aimed at offering enhanced support to veteran residents and residents with service dogs, The Salvation Army Bell Shelter recently cut the ribbon on its brand-new dog park.
Resident pets can now roam and play freely within the park. In addition, 10 kennels are now available for veterans to keep their dogs if they are out or working, ensuring their personal and pet-specific needs are well-supported.
The park was made possible by a $200,000 Pet Assistance and Support (PAS) fund from the California Department of Housing and Community Development.
According to Paula Del Pozo, Bell Shelter Program Director, there are currently 270 individuals living on the Bell Shelter property. Among these clients, 12 are living with their furry friends.
"Here at the Bell Shelter, we have the capacity to house up to 500 men and women between all of the complexes," Del Pozo said. "Veterans and non-veterans are present within all the programs, but this grant focused on veterans with dogs."
Del Pozo said Salvation Army supportive housing prioritizes the safety and comfort of all clients by meeting immediate needs and addressing long-term well-being through counseling, life-skill development, and vocational services.
The property holds The Salvation Army Bell Oasis Apartments, providing affordable permanent housing to up to 64 residents. In addition, The Bell Shelter Wellness Center is available for individuals seeking support in their journey toward sobriety. Furthermore, the property offers low-demand housing for those who do not require assistance with substance abuse dependency.
Considering the diverse range of clients and their unique needs, Del Pozo and staff wanted a place where everyone could come together, interact with animals, and socialize with their neighbors.
"The dog kennels were still under construction when we realized that we had about $80,000 left," Del Pozo said. "We couldn't spend it all on leashes, beds and dog houses, so we brainstormed and decided to get creative with a dog park."
She said the park came to life as the team renovated a pre-existing outdoor space, incorporating artificial grass, fences and an agility tube to provide additional enrichment.
"Luckily, this space already existed so it was mostly a matter of converting it into a park," said Amie Carillo, Bell Program Operations Director. "We had to hire a team to remove some tree stumps and build a partial roof for added shade."
A shed for dog supplies and essentials was also included, along with two washing stations to provide a convenient way for owners to bathe their pets.
After completing the construction phase, the team shifted to beautifying the park with flowers, garden decor and patio seating.
"We wanted the dog park to have life and draw people in," Del Pozo said.
During the ribbon-cutting ceremony, residents gathered with their dogs to celebrate. The occasion brought a sense of community as pet owners—and their furry companions—came together to socialize.
Oasis Resident Billy Morales was the first to put the park to use, giving one of his terrier mixes, Puppa, a bath.
"It's really a nice area, and the bath set-up is helpful because they have everything I need with the towels, soap and dryer," Morales said. "All I need to do is bring them."
Both Del Pozo and Carillo recognized that dog parks within supportive housing can offer enhanced opportunities for those seeking shelter and improve the resources available to those already on the property.
"We're excited that it's finally complete and so happy to see residents already enjoying it," Carillo said.
Alfred Eberlein, a Veteran and resident, was eager to attend the grand opening with his Chihuahua mix. He said he adopted the dog after extended family could no longer care for him. "This is just great. It looks nice, and we will probably be here often," he said.
The American Heart Association reported in a 2021 study that having a pet can be especially helpful in reducing stress, expanding social connections and creating an extended form of purpose.
Incorporating a dog park can significantly amplify these benefits of being around animals, even for individuals who do not have pets of their own.
Resident Casey Pereira said he looks forward to spending time at the park. "Now I don't need to get a dog of my own because I can come here and hang out with everyone else's," he said.
In the future, Del Pozo hopes to begin developing partnerships with animal care specialists and non-profit pet programs to offer additional resources through pet vaccinations, medical check-ups and obtaining official documentation for the dogs.
"It's a process, and everything brings its own challenges," Del Pozo said, "but we are committed to offering the best resources and care to those calling the Bell Shelter home."
---
Do Good: