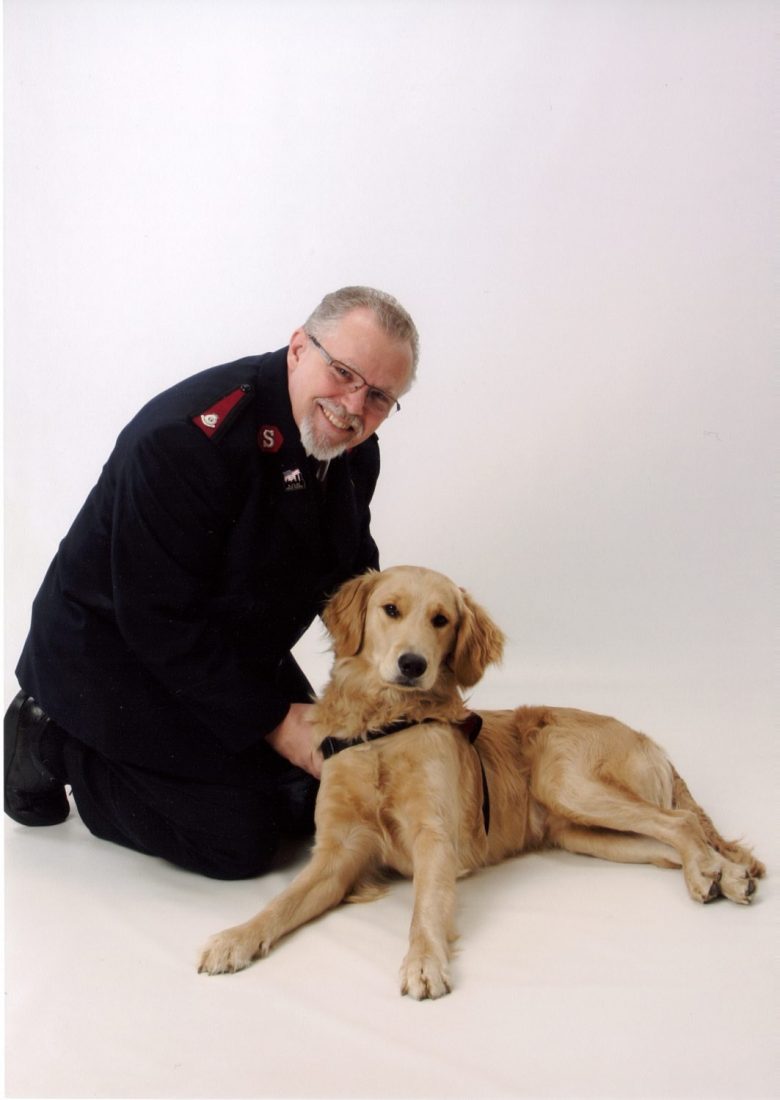 Therapy dogs
Canine companions serve as calming conduits for The Salvation Army
Daily trials, tensions and tribulations confront each of us with stress. Its repercussions can affect not only our mental and emotional health, but our physiological health as well. Stress can increase both heart rate and blood pressure, according to the American Institute of Stress, which are two of the most common risk factors for heart disease—the number one killer in the U.S.
The Salvation Army serves millions of struggling individuals all over the world according to their circumstances, but each one shares the palpable commonality of stress. To counteract this menacing burden, the Army utilizes an uncommon method—dogs, therapy dogs, specifically—in collaboration with several Animal-Assisted Therapy (AAT) organizations, which often require testing or accreditation for therapy dogs.
Specially trained to provide comfort and affection to people who need it most, a therapy dog primarily works in hospitals, retirement homes and schools, but also in the midst of disaster. A good temperament is a therapy dog's most important characteristic, regardless of the breed.
Billie Smith, executive director of Therapy Dogs Incorporated (TDI), an AAT program that has partnered with the Army for its annual Red Kettle campaign, believes that dogs offer a special type of comfort that humans can't.
"Dogs are very non-judgmental," Smith said. "They're good listeners and they're very calming. Plus, they can help drop the blood pressure of patients. It's a statistically proven fact."
Numerous studies have evaluated the physiological impact of therapy dog interactions, documenting significantly reduced heart rates and blood pressure in both medical patients and healthy volunteers. According to Dr. Blair Justice, author of Who Gets Sick: Thinking and Health, playing with a dog can elevate levels of serotonin and dopamine, nerve transmitters that are known to have pleasurable and calming properties, which leads to lower blood pressure.
Captain David Ebel, corps officer in Escondido, Calif., adopted Bucky, a three-year-old Golden Retriever, after Ebel decided he would need assistance with certain physical activities due to arthritis and chronic pain in his legs and back.
Ebel soon made a habit out of bringing Bucky along with him everywhere, particularly to Palomar Hospital, where Ebel serves as a volunteer chaplain. He enrolled Bucky in the hospital's RX Pets Therapy Dog Program, which allowed Bucky to visit with hospital patients. Though it is not a common practice to use a service dog as a therapy dog, Bucky flourished.
He quickly became a popular commodity among patients, developing a keen ability to pinpoint sick, stressed and depressed individuals. Ebel said Bucky's playfulness and calm repose visibly helps to lift the spirits and quell the anxiety of many patients.
"Bucky became a 'regular' on my rounds as a chaplain [and] it became evident that he had a gift to be intuitive and discerning regarding the needs of others, and would rise beyond his normal careful self and be a great comfort to many patients," Ebel said. It's not uncommon for Bucky to visit 50 patients a day on the "trauma floor" of Palomar Hospital.
"We came across one young lady, a single mother, who was diagnosed with sepsis [a potentially fatal blood infection] so the medical staff  had to put her in a medically induced coma," Ebel said. "The doctors had to amputate both of her legs and one of her arms to keep her alive. She was able to pull through but as long as she was at the hospital, all she wanted to do was cuddle with Bucky. She even said that the one hour a week she spent with Bucky was more beneficial to her than anything the doctors were doing."
One of the key advantages AAT holds over other therapeutic modalities is that it provides the patient a much-needed opportunity to give affection as well as to receive it. It is this reciprocity that makes AAT not only a legitimate route to healing, but a valuable one, according to Dr. Andrew Weil, director of the Arizona Center for Integrative Medicine.
Ebel believes the value of therapy dogs extends beyond their ability to help people destress.
"I've had some very powerful ministry opportunities just by walking in a room with [Bucky]," Ebel said. "I've been able to share the gospel in a number of situations thanks to Bucky."
Besides hospital visits, therapy dogs have also played a pivotal role in some of the Army's recent disaster response missions.
The Army partnered with AAT teams from the organization HOPE Animal-Assisted Crisis Response (AACR) following tornados in areas of Indiana last March. Two therapy dogs, Charlie and Brie, assisted Captain Cynthia Shiels, Eagle Creek, Ind., corps officer, and the emotional and spiritual care team. Charlie and Brie calmed  survivors, some of whom had lost homes and been detached from their families, and were overtaken with stress.
"It was amazing," Shiels said. "It was really hard to get some of [the survivors] to talk at first but all we had to do was walk up with the dogs and they started opening up."
Independent Therapy Dogs Incorporated (ITDI), another AAT program, is eyeing a collaboration with the Army in the near future. ITDI Founder Shirley Colman believes there is a misconception that therapy dogs are only useful for sick or bedridden individuals.
"One point that we try to get out to the general public is that most everybody has not been able to go through life without some pain, or grief, or disaster," Colman said. "Volunteers and medical staff can benefit just as much from interaction with therapy dogs, and so can the dogs. It lowers their blood pressure, too. It's a win-win-win situation."
ITDI utilizes therapy dogs in its "Ruff Readers" program, which allows children to improve their reading skills by reading to therapy dogs, unafraid of being judged or ridiculed in the event of a mistake. The dogs also visit college campuses at the end of each academic session to help students relax during stressful final exams.
Ebel hopes the Army further expands its use of therapy dogs to bring happiness in the midst of even the most turbulent times.
"Bucky is part of the corps family now," Ebel said. "Who knew that I would need Bucky and he would need me and together we would find so many in need? Never underestimate God's plan for your future."