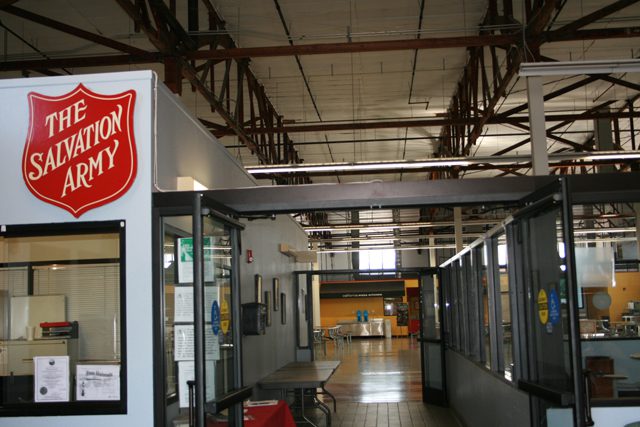 Bell Shelter to introduce permanent housing
The Salvation Army hopes to spur nearby cities to action with a forthcoming 68,000 square-foot project.
By Kristin Marguerite Doidge –
One of the largest homeless shelters in the Western U.S. will soon grow even larger as part of a plan to expand affordable housing efforts in Los Angeles County.
The Bell (Calif.) City Council and the Bell Planning Commission recently approved The Salvation Army Bell Shelter's plan to build 64 affordable studio apartment units as permanent supportive dwellings for the homeless, many of whom will meet a definition of chronic mental illness or disability and chronic homelessness.
"Los Angeles has been moving toward a system focused on permanent housing solutions," said Tom Waldman, director of communications for Los Angeles Homeless Services Authority (LAHSA).
The project, which will be completed in January 2018, underscores a years-long effort to increase low-cost housing in Los Angeles, and figures to meet a growing demand. Residents can stay as long as they pay rent. On-site case management will be provided by The Salvation Army, along with supportive services through referrals and agreements with other organizations.
"The big takeaway is that a small town in Los Angeles understands the importance of permanent housing," said Steve Lytle, Executive Director at The Salvation Army Bell Shelter. "Not every city is as accepting of these kind of projects."
But the city of Bell was, at least after working with The Salvation Army to understand the need for the development and how it will serve the community. "The size and structure of the Army helped the city of Bell feel like it was part of something bigger," Lytle said.
While the veteran homeless population has decreased during recent years due to help from the Veterans Administration (VA) and Los Angeles Mayor Garcetti's work with First Lady Michelle Obama to end veteran homelessness, there's a growing need for help among the aging population of homeless people with mental illness, according to Lytle. There are still an estimated 47,000 people who are chronically without homes in the county, according to a report released in May by LAHSA, which supported The Salvation Army's efforts on this project.  
Lytle said homelessness has already been declared a state of emergency for the city and the county, but noted that both The Salvation Army and LAHSA are lobbying Gov. Jerry Brown to make the declaration statewide, in order to secure additional funds.
Lytle said it can be a challenge to juggle the many priorities associated with a complex project such as Bell Oasis Apartments—working with government officials to secure support and approvals, creating a high-quality project with a limited budget, and applying for competitive funds outside of the Housing and Urban Development agency (HUD) for development. But it's not impossible.
The Bell Oasis Apartments project has already been awarded more than $2.5 million in development funding from the County Community Development Commission. It also received $1.2 million in development funds from the County Department of Mental Health, an additional $4.5 million from the State Department of Housing and Community Development, and about $3 million in Salvation Army funds. Additional low-income tax credits, bonds and grants will round out the ongoing funding for rental assistance. Vouchers for Section 8 and VASH through HUD will provide the subsidies for the units after construction for 15 years, with renewal likely.
Also noteworthy, funding helps allow The Salvation Army to expand its continuum of care for the homeless on site in Bell, where it already serves roughly 250 residents on an ongoing basis in its transitional and emergency/crisis centers. With the addition of the Bell Oasis Apartments complex, the campus will offer facilities for people in all stages of transition: crisis/bridge housing, transitional housing, and the now, permanent supportive housing. Case managers on site will help residents not only get into housing, but work toward financial sustainability.
"Case management is the most important of all of the services we provide," Lytle said. "It's like you have a partner who helps you with connections and services you didn't even know existed."
There will also be an on-site health clinic, employment services, an exercise room, gym, community room and it will be built to Silver LEED standards.
"This is one small project," Lytle said. "but if we keep doing small projects, we can solve this crisis."