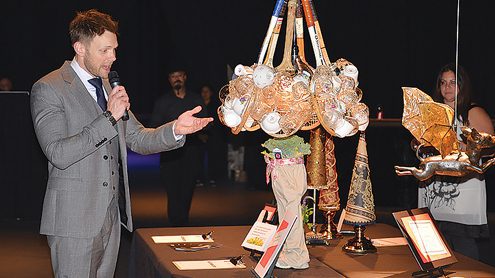 The Red Kettle Gala
A gala evening raised funds to support The Salvation Army's Women's Shelter in downtown Seattle.
By Lora Marini Baker
The Salvation Army Northwest Division welcomed actor and comedian Joel McHale Sept. 28 for the annual Red Kettle Gala that raises awareness and money for its women's shelter in downtown Seattle. Nearly 230 people attended the event at Seattle's elegant Fremont Studios, which featured dinner, a silent auction, entertainment and fundraising.
"We knew we could make it bigger and better [this year]," said Advisory Board member Patsy Pattison, who coordinated the event. "Next year, we will build on this success."
Joining McHale on stage were Chris Ballew, star of musical groups Caspar Babypants and Presidents of the United States of America, and The Microsoft Jumpin' Jive Orchestra.
The silent auction featured works by about 25 local artists, who created their pieces using items from The Salvation Army Family Store. Majors Doug and Sheryl Tollerud, divisional leaders, came up with the idea for the art auction.
"This art is quite impressive," Sheryl Tollerud said. "We are pleasantly surprised with the number of artists who participated in the event, and the quality of art is superb."
A jury including local arts enthusiast Nancy Guppy, gallery owner Greg Kucera, and collector Virginia Wright, selected three pieces as "winners."
The evening included a video testimony from Stacey, a woman who lived at the women's shelter this year. After spending 60 days in a drug and alcohol rehabilitation program, she had no place to live. A social worker recommended The Salvation Army women's shelter. Now, after three months, she has transitioned to independent living in a sober home and is looking for employment. She credits The Salvation Army with "saving her life." After Stacey's video, McHale led a "raise the paddle" opportunity for guests to make donations to the shelter.
The Salvation Army Women's Shelter in downtown Seattle offers a safe place for women to call home: a warm place to sleep, restrooms, laundry facilities and a kitchen. The women can stay at the shelter for several months, and receive caseworker support to help them transition to independent living. Currently, the shelter operates at full capacity with 24 beds. The goal is to increase capacity and help twice as many women.
McHale—star of NBC's "Community" and E!'s "The Soup"—donated his time as emcee for the event.