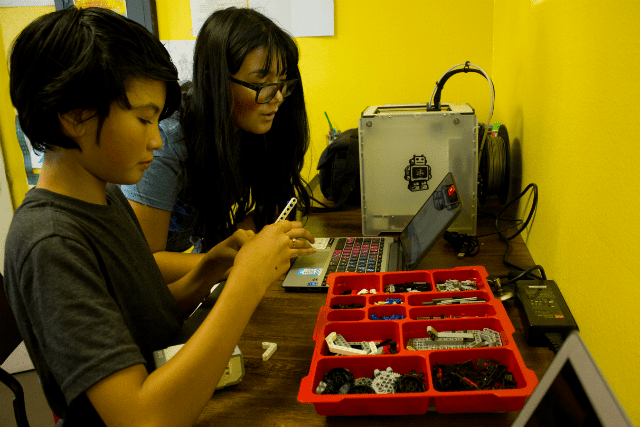 High schoolers turn mentors at Tehachapi Summer STEM Program
Tehachapi High School Robotics Team teaches Lego robotics and 3D printing to youth at The Salvation Army.
By Vivian Lopez – 
Youth are at work this summer building Lego robots and practicing their 3D printing skills at The Salvation Army Service Extension Unit in Tehachapi, California's annual summer STEM (Science, Technology, Engineering and Math) program. And for the second year in a row, high schoolers from the Tehachapi High School Robotics Team are stepping in as peer mentors to teach some of the lessons.
Last year, Kyle Yates—who was Tehachapi Youth Center coordinator at the time—wanted to bring in more people to the youth center and garner more community involvement for its Summer STEM Program, which is funded by Southern California Edison. So, he reached out to the local high school's robotics team with the idea for the partnership that would involve them leading some STEM sessions for participants in grades 6-12 during the summer program. 
"They were definitely all about that," said Yates, who is now the field representative for The Salvation Army Golden State Division Service Extension and oversees the Tehachapi Salvation Army. 
Initially, Yates talked to them about teaching only Lego robotics, but after seeing that The Salvation Army had a 3D printer at the facility, they volunteered to do lessons on 3D printing and modeling as well.
This year, the Tehachapi High School Robotics Team has again led a two-week session on Lego robotics, and will close out the seven-week Salvation Army Summer STEM program with 3D printing lessons in its final week. They bring in their own curriculum from their high school for the sessions, while The Salvation Army leads the remaining weeks of the program—this year on food science, colors and pigments, and roller coaster engineering.
"I'm really excited that I get to teach young people in our community," said Layla Lujan, 14, a Tehachapi High School Robotics Team member. "I'm really excited to give them opportunity to learn this."
What participants are learning is to create Lego robots and how to program the robots on the computer before putting the robots through different obstacles, such as having them lift and push blocks. With 3D printing, the team members use their own software to guide the students in studying the basic shapes and modeling program, learning the different functions of the 3D printing program, and designing their own models. They conclude by making a keychain they've designed on the 3D printer.
"These high school students come in and they're passionate about it…and they're really excited to teach other kids about Lego robotics and 3D printing and STEM stuff in general," Yates said. "It reaches kids on another level where it's like, 'I can do this when I get into high school.' They bring a level of enthusiasm to the STEM program."
Lujan, a high school sophomore, is determined to open up the minds of her mentees to the endless possibilities in STEM.
"I really want to give every kid an opportunity to see what the future is going to be like—preparing them for jobs of the future," she said. "At most, I want them to understand how this works because in the future we know that it's going to be almost everywhere—that technology is expanding so much. It's innovating so much that it's going to be part of everyday life, so we want to give them a good knowledge of it."
Through this, Yates and Lujan hope to bridge the gap between The Salvation Army and the Tehachapi school system. This is already beginning to happen, as Lujan noted that many of the team's members are the very students they have taught during the summer. 
Both Matthew Cardenas, 13, and Milo Lujan, 12, have enjoyed being mentored by the Tehachapi High School Robotics Team.
"They're nice. If we're stuck on something, they can help us," Cardenas said. "I like hanging out here with my friends, and…we go on the computers and play with robots."
Milo Lujan has especially liked the Lego robotics component that the team leads.
"It's cool knowing that you can now make robots do your bidding," he said.
Johanna Valencia, the current Salvation Army Tehachapi Youth Center coordinator, said the partnership has been so successful that a plan is in the works for the Tehachapi High School Robotics Team to help The Salvation Army start its own robotics team at the center.
"It's a very exciting partnership," Valencia said. "It's just an overall beneficial relationship as the team learns from teaching others and our Salvation Army participants are learning new information from someone who is at a peer level."
"It's been very positive," Yates added. "The high school students are very patient and very willing to teach and lead. There's something really special about students leading other students."