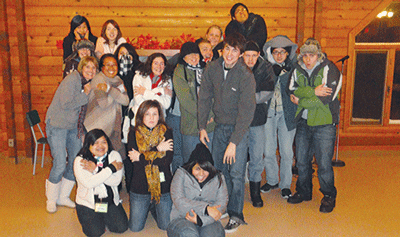 TAPIOCA—serving up social justice
Western Salvationist youth maintain
a dialogue on Facebook about
social issues.
By Ivan Wild, Major
TAPIOCA—Territorial Action Planning Initiative On Creating Awareness—is an acronym created by Andrew Smith, a Western territorial delegate to Time to be Holy, The Salvation Army's 2010 World Youth Convention.
During the convention, territorial spokespersons reported on what could be done in their territories to support holiness and social justice. Smith, the West's spokesperson, thought of TAPIOCA. It has since become a Facebook group connecting Salvationists around the territory in a dialogue about social justice.
Following the Time to be Holy convention, the West's youth department asked each delegate to read and discuss Major Danielle Strickland and S. Carvosso Gauntlett's book, Challenging Evil; Dispatches from the Frontlines of Radical Justice, which reviews stories from Salvation Army history on seven major social justice issues from human trafficking to prison reform. After each chapter, a discussion section challenges readers to think critically about the issues and ways to take action. Since TAPIOCA members are dispersed across the territory, Smith created the Facebook group to make communication easier. Each week, questions from the book are posted to Facebook, generating conversations on what The Salvation Army's past responses have been to social injustices and what we should be doing now about the same issues. After completing the book, the youth department will challenge TAPIOCA members to commit to action based on these ideas.
TAPIOCA members from the Golden State and Del Oro divisions had their first "official" call to action on April 9, during youth councils at Camp Redwood Glen. A social issues session took place, with TAPIOCA hosting stations highlighting specific social injustices. Members carefully prepared to become experts on the topics that they presented to youth councils' delegates. Following their presentations, they provided a Top 10 list to each delegate of the most practical things they can do to start making a difference. Delegates then gathered in corps units to commit to at least three actions to implement as a group to impact social injustice both locally and globally.
Check out TAPIOCA's Facebook page at https://tiny.cc/ogc3n