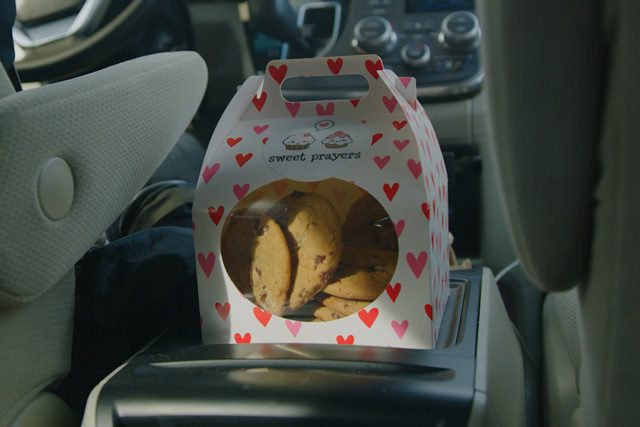 Sweet Prayers spreads love through baked goods
Ministry aims to let trafficked women know 'Jesus loves you.'
By Hillary Jackson –
When members of a Sweet Prayers chapter gather together to bake, it's not to eventually partake of homemade cookies, but to serve women trafficked through massage businesses.
The ministry started in 2015, after Captain Kari Rudd was inspired by a woman who spoke about taking sweets to those working in Canada's legal brothels at a social justice conference.
"I thought, 'We could do something like that. That's what we're all about. We're The Salvation Army,'" Rudd said. "Let's go out there in the darker spaces and let these folks know, 'Hey, Jesus loves you.'"
Rudd realized it was time to start visiting illicit massage businesses, and Sweet Prayers was born from offering women there sweet baked goods and prayers. Today, the program has expanded to seven chapters in the West, with more on the rise.
"It is inherent in our Army roots and DNA to reach out to 'serve a suffering humanity,'" said Territorial Social Justice Secretary Major Keilah Toy. "Beyond a cookie, a smile and remembering a name, we possess the answer to the transformative power of Christ. When the women need help or are ready to leave their situation, they will know the Army will be there for them."
Sweet Prayers fits in to The Salvation Army Western Territory's Fight for Freedom 10-year strategic action plan to combat human trafficking, focusing on four main areas: awareness and training, prevention and outreach, survivor services and recovery, and partnerships and advocacy.
"We're serving survivors of trafficking who have already been trafficked, and that are coming out of their trafficking situation," said Territorial Anti-Trafficking Initiatives Coordinator Priscilla Santos. "Sweet Prayers is a little bit more on the prevention side, so it is going out to the community and helping the women that are vulnerable to be trafficked."
Fake massage businesses operate as commercial-front brothels claiming to offer legitimate services, like massage, acupuncture and other therapeutic health and spa services. They are distinguishable from legitimate massage businesses in that they offer commercial sex to customers.
Sweet Prayers volunteers locate illegal massage businesses online, using an explicit website maintained by sex buyers, called johns, that details what's going on in each business. Details like the woman's name, a description of her appearance, what she does and how much she costs are listed. These sites estimate there are over 4,000 brothels disguised as fake massage businesses in the U.S.
"Human trafficking is one of the fastest-growing crimes in the world and it exists right in our own neighborhoods," Toy said. "Traffickers consider human trafficking more lucrative than drug trafficking, since drugs can be sold only once, but a girl can be sold and resold over again."
Many fake massage businesses have locked doors and use a buzzer system to control the entry of potential customers. It is common to see windows covered with bars, boards or dark curtains, and the businesses often monitor clients with security cameras. A massage business with all-male clientele is a strong indicator commercial sex may be taking place.
The same devices that protect operators of illicit massage businesses also confine women to inhumane working conditions.
"They don't have the ability to take breaks from their work or they don't have the ability to leave at will," said Santa Monica Corps Officer Lt. Erin Wikle, a Sweet Prayers volunteer. "These are things everyone should have access to."
But leaving isn't simple; the women haven't chosen "the life." According to SA Justice, victims commonly stay in trafficking situations for reasons including fear of law enforcement, debt, immigration status, lack of a support network, misrepresentation of working conditions, trauma and shame.
"[Human trafficking] is very, very complex," Santos said. "There's a lot of harm that could be done when you're trying to help, so in order to prevent that, we've tried to help people be as best equipped, as best aware and as best educated on the realities of human trafficking—because there's a lot of awareness out there that isn't necessarily true."
For officers interested in starting a Sweet Prayers chapter, SA Justice offers training and resources through its website.
Once a Sweet Prayers team determines a location to minister to, they not only offer baked goods, conversations and relationships with the potential victims, but practical resources to assist with getting them out of the life once they are ready.
"They know where we are at," Rudd said. "They have our contact information, and should they decide to leave, they have a safe place to fall."
See more of Sweet Prayers in action in a video by Share Change at helpsharechange.org/sweetprayers.