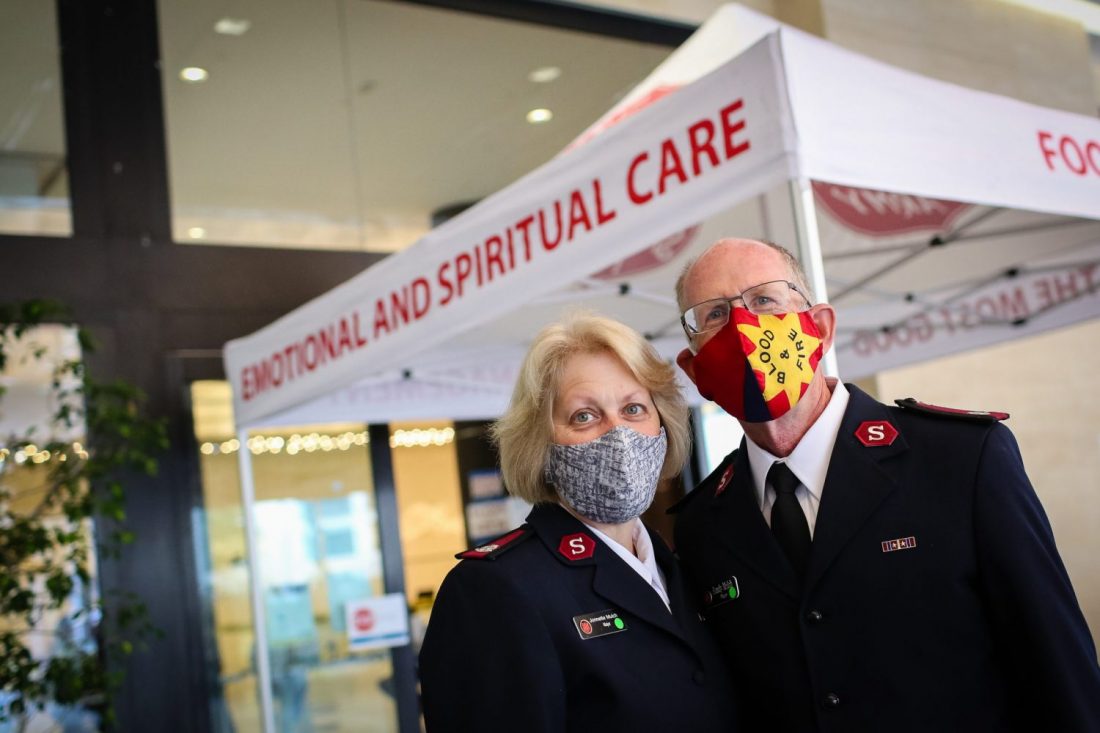 Stationed for prayer at LA hotel turned shelter
Majors Jonnette and Randy Mulch provide emotional and spiritual care as part of Project Roomkey.
By Caramie Petrowsky–
Audriene Goodlett, 61, has felt grateful lately. After experiencing homelessness, she moved into a downtown Los Angeles hotel, run by The Salvation Army. The shelter is part of Project Roomkey, a collaborative effort to secure hotel and motel rooms for vulnerable people experiencing homelessness to prevent the spread of COVID-19.
Although the housing is temporary, Goodlett is thankful for each day's three meals, consisting of "fresh, good food" delivered to her door. She has a clean, safe hotel room all to her herself. And helpful, caring people like Majors Jonnette and Randy Mulch are nearby to pray with her or help as needed.
It's a definite improvement from her 28-year-old son's car, which is where she'd been sleeping much of the time previously.
"A 60-year-old and a 28-year-old in a car—it wasn't easy," she said.
As of early June, the hotel housed 492 clients in 439 rooms, according to Jonnette Mulch who, along with her husband, is providing emotional and spiritual care to homeless clients. In the Western Territory, Jonnette Mulch is Assistant Program Secretary for Corps Ministries and Randy Mulch serves as Community Care Ministries Secretary, Men's Ministries Secretary, Older Adults Secretary and VAVS (Veterans Affairs) Secretary. Like all Salvation Army officers, during the COVID-19 crisis, the couple transitioned to emergency disaster service. They've been busy connecting with clients since the hotel opened as a shelter May 11.
"There are folks who have been homeless for years and some who are just recently homeless," Jonnette Mulch said. "Most of them are just grateful for the opportunity to be safe."
One woman the Mulches spoke with recently was the victim of physical violence—"she had quite a bit of road rash and only came with the clothes she was wearing," Mulch said. "We secured more clothing for her and within a day or two, after having food, showers, a few good night's sleep in a comfy bed, she looked like a different person."
Another older man, who is at risk of COVID-19 because of health issues, recently became homeless but is still going to school online. "He's grateful to have a place where he can access the internet and a quiet spot to continue his studies," Mulch said. "He's super excited to be in a safe place to accomplish his goals and is working toward more permanent housing."
For the first few weeks, the Mulches helped with the intake process and accompanied clients to their rooms. One day, while a woman was waiting to check in, Mulch struck up a conversation. "I chatted with her about how she was doing," she said. "[The woman] said she'd been on the streets the last few months and was very concerned about the virus. She said this had been a real growing time for her personally."
When the woman mentioned she hadn't been able to bring her Bible, Mulch was quick to help find one.
"Within a few minutes I could place a Bible in her hands," she said. 
Along with helping with the intake process and taking clients to their rooms, the Mulches primary job has been to offer emotional and spiritual care to people and to pray with them. There's a prayer box on each of the hotel's 10 floors and slips of paper are available to everyone—clients as well as the hotel, security and nursing staff on-site, many of whom have submitted prayer requests. While some have left their prayer requests anonymously, others have included their names.
"We've gone to their rooms and chatted with them and prayed with them from their doorways," Jonnette Mulch said. "We collect the prayers every day and have a special time of prayer for them."
After seeing the same faces for close to a month, and praying with and for many of them, the officers have developed a connection with the people.
"Now people will stop and say 'hi, how are you?'" she said. "They keep us updated on things happening in their lives—like, 'I was able to get my clothes, or contact my family.'"
After only being at the hotel just a week thus far, Goodlett called it a "blessing."
"Whoever came up with this idea," she said, "God put it in their mind to do it."
HOW TO HELP:
If you'd like to make a monetary donation, please click here to make a gift.
Text 'GIVE' to 52000 to make a $10 donation to The Salvation Army. This will automatically add a one-time donation to your next mobile phone bill.
For information about volunteering, please visit volunteer.usawest.org.
To learn more about how to support The Salvation Army's relief efforts, please click here.