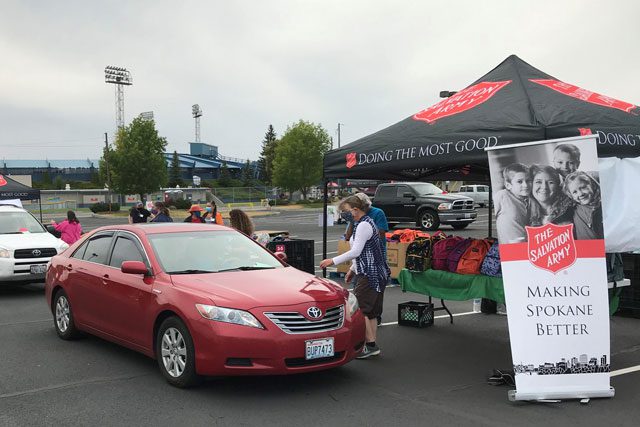 Spokane Salvation Army and Cenex Zip Trip host drive-through 'Backpacks for Kids' distribution
Despite the pandemic, The Salvation Army of Spokane, Washington, in collaboration with Cenex Zip Trip, distributed 3,138 new backpacks—representing 1,277 families—with school supplies and face masks to local students, grades K-12, at the 11th Annual Backpacks for Kids event August 12.    
Because of COVID-19 precautions, the Spokane County Fair and Expo Center allowed The Salvation Army to host this annual event drive-through style in its large parking lot as it couldn't be held on The Salvation Army's Spokane campus.
Children were still able to choose what they wanted, as they simply pointed to and asked for their age-appropriate backpacks that were on tables.  Volunteers then put the backpacks in the cars and gave each family a resource bag with information and goodies from local sponsors.   
Since its inception in 2010, The Salvation Army of Spokane has distributed approximately 47,000 backpacks to local youth; allowing children to return to school with the tools needed to assist in their educational growth. 
During July, Cenex Zip Trip collected donations at its convenience stores for this cause.  As a thank you, contributors received a coupon for a free 20-ounce fountain soda or 20-ounce coffee.   
 Even during this challenging time, Cenex Zip Trip raised more than $31,000. In the past 10 years that Cenex Zip Trip has partnered with Backpacks for Kids, it has raised close to $450,000 for this event.  
"This year has been challenging to say the least," said Spokane Citadel Corps Office Major Ken Perine. "Thanks to Cenex Zip Trip, its customers and the Spokane County Fair and Expo Center, we were still able to help thousands of students as they return to school. When children are prepared for the new school year—even if it's virtual—their performance in the classroom improves."
The Salvation Army also thanks Avista, BECU, Molina and United Healthcare for their contributions to this event, as well as the many groups and individuals who volunteered to help prepare local school children for the new school season.
HOW TO HELP:
If you'd like to make a monetary donation, please

click here to make a gift.

Text 'GIVE' to 52000 to make a $10 donation to The Salvation Army. This will automatically add a one-time donation to your next mobile phone bill.

For information about volunteering, please visit

volunteer.usawest.org

.

To learn more about how to support The Salvation Army's relief efforts,

please click here

.