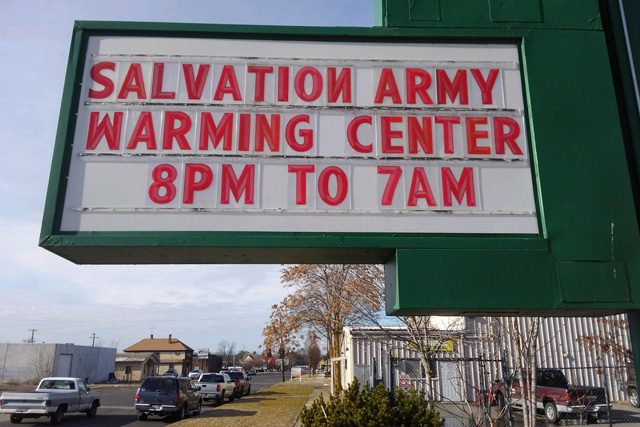 Salvation Army in Spokane provides shelter from the cold
Salvation Army warming center is largest in city.
This winter, The Salvation Army in Spokane, Washington, opened the city's largest warming center inside a former furniture store. Partnering with the City of Spokane, the Army is providing sanctuary from the cold seven days a week from 8 p.m.–7 a.m.
When it first opened in January, the center could accommodate 50 people, but soon it was able to accept up to 120. In February, when the temperature fell below 10 degrees, the center arranged to open two hours earlier each evening.
"We're not just about getting them out of the cold, although that is obviously important," said Spokane Corps Officer Major Kenneth Perine. "Our goal is to provide more than a safe place for these forgotten neighbors, who many of us see every day but don't notice. If we're going to help restore our community, we need to make an impact beyond housing, and we're doing that here."
Each guest at the warming center checks in at the front desk, where they receive a sleeping mat and blanket for the night. They might also be greeted by center's mascot, the warming center bear. The facility is pet friendly, provided pets are leashed or crated.
The Salvation Army assesses each guest's situation and offers resources, both through the Army and its partner organizations. The goal is to transition each person toward a stable housing situation.
"We've referred several men and women to our Celebrate Recovery programs, the AA meetings that meet on our campus, and into The Salvation Army Adult Rehabilitation Center in Seattle," Perine said.
The Army's efforts have paid off. Perine told of one man who had been living on the streets; he gave him the pseudonym, Eugene.
"What Eugene didn't realize was that he was a prime candidate for many of the programs here in Spokane designed to help people like him," Perine said.
The Salvation Army helped Eugene get into permanent housing.
"Eugene was so grateful to be off the streets that he came back to the warming center with peanut butter and jelly sandwiches and bologna sandwiches that he paid for out of his own pocket," Perine said. "Eugene was all smiles as he handed out the sandwiches to the people there, some of whom he knew, who were now sleeping where he'd been sleeping just a few days prior."
And there's Curtis, who first came to The Salvation Army a few years ago when the Army ran a warming center on its Spokane campus. Perine said that although Curtis struggled with substance abuse and lived on the streets, he was always friendly and polite at the center. Eventually Curtis entered a local recovery program, and afterward he returned to The Salvation Army as a volunteer.
"He's smart, capable, and his testimony regarding where he's been and where he's come has been amazing," Perine said. "Curtis has blessed us so much that it was a true joy to be able to bless him by offering him the position of Assistant Resident Manager at the warming center. His unique experiences have enabled him to reach out and help the people whom he sees on a nightly basis."
According to the city's Director of Community Housing and Human Services, Kelly Keenan, Spokane hadn't operated warming shelters either of the last two seasons, opting to focus instead on the 24/7 shelter model. But the need grew apparent.
Perine said he's proud of the work The Salvation Army is doing in Spokane.
"It's a reflection of God's love for us, as we reach out to his children who are truly seen as 'the least of these,'" Perine said.