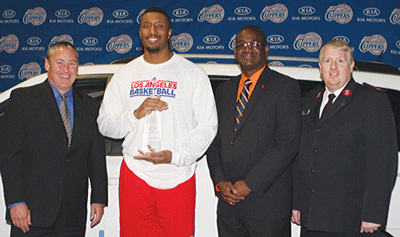 Siemon Center benefits from "The Power to Surprise"
LA Clippers present a new Kia to the South Los Angeles youth center.
The Los Angeles Clippers Foundation—now with "The Power to Surprise," a local charity courtesy of Kia Motors—recently selected The Salvation Army Siemon Youth and Community Center to receive a 2011 Kia Sedona.
A Clippers spokesperson said, "[The Siemon Center's] commitment to serving families and children in our community merited this special donation to help with your transportation needs and outreach efforts."
Mortimer Jones, executive director of the Siemon Center, spoke about the impact of this gift: "South Los Angeles, where our center is located, has rampant gang activities, making even a short commute from the local school to our center quite challenging to our children. Parents and the school principal have made a direct request for us to shuttle kids to our after-school program as a safety measure for the children. Additionally, the center is sorely in need of transportation for summer day camp activities, especially field trips. More often than not, lack of transportation limits the opportunities that at-risk, low-income youth in South Los Angeles have to escape the stresses of inner-city life, experience the world outside, and build hope for the future. Our youth program participants come from low-incomes households in which the parents are unable to afford transportation expenses attached to positive learning/recreational experiences for their children."
The official presentation took place at halftime during the Clippers vs. Washington Wizards game on March 23.