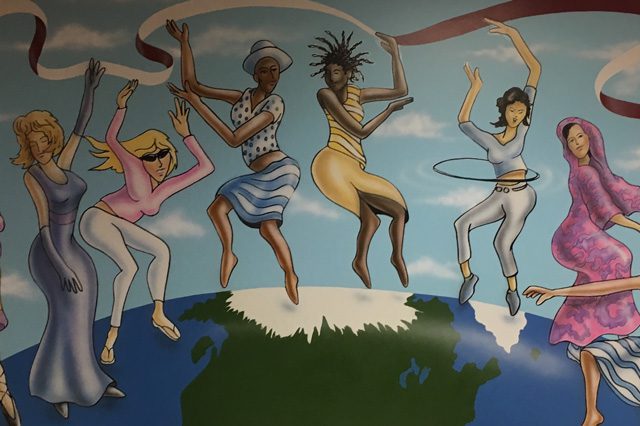 Shelter director sees longtime dream of mural realized
The dining room at the Seattle Social Service Center just got a little more colorful.
The Salvation Army recently unveiled a new mural at the Seattle Social Service Center, the product of several years of planning and brainstorming.
In partnership with local artist, Tom Bogle, The Salvation Army selected the theme "Women of the World" for the piece.
"We envisioned an inspiring image of a diverse group of women celebrating life," said Lisa Borders, Director of Corporate Engagement for The Salvation Army Northwest Division.
The 8-by-14-foot mural depicts a group of women from different backgrounds, all dancing on top of the Earth together. According to Shelter Program Manager Kushma Chetty, the mural was strategically placed in the dining room to inspire hope, joy and a sense of community among women.
"The mural has made a huge difference in some of the residents that we are seeing," Chetty said. "It sometimes takes away from their depression, mental health [issues] and feelings of isolation that they have been facing as homeless women."
The center offers a multitude of services for women in the community, including meals, case management services, domestic violence shelter and other housing needs. The center also runs a food bank, which serves more than 800 people a month, and the Emergency Financial Assistance Program, which provides rental and other financial assistance, advocacy, legal support and resource information.
Chetty is proud to see her longtime dream of a mural realized.
"I see a once-empty wall that has now been replaced with beautiful artwork completed by a very kind artist that took our ideas of culture, unity and inclusion and created a masterpiece that is shared with many individuals that walk through these doors," she said.