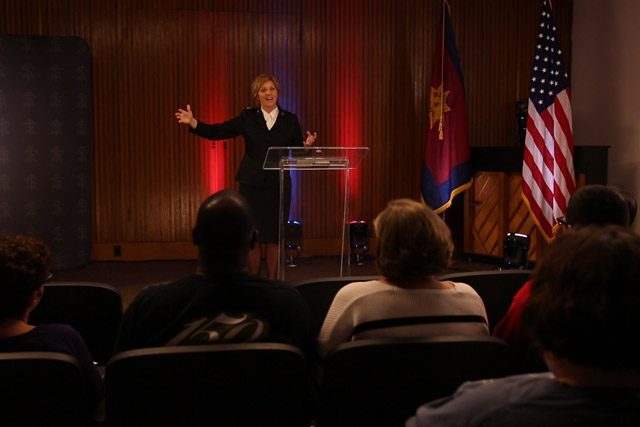 Series acts as 'Call to Arms'
New online training aims to make disciples  
"Call to Arms"—a new discipleship training series—taped its first episode in late January at the College for Officer Training (CFOT) at Crestmont with featured speakers Territorial Social Justice Secretary Major Danielle Strickland, Mickey Jordan of the OC614 program and Envoy Roy Snapp-Kolas of the Bell Lighthouse Corps.
"Jesus asked his disciples to follow him and instructed them to go into all the world and make more disciples, in every nation, so as Christians, discipleship must be a part of who we are and what we do in the world," said Aleen Bradley, territorial director for leadership, evangelism and discipleship, and the series organizer. "Discipleship is following Jesus and making more followers of Jesus, which is not something that happens without intentional effort. We want to help people find quality material that can help them live into this."
Once a month, the series will record Salvation Army leaders and friends presenting a short, live lecture with a compelling ministry idea, approach or philosophy. The video will then be available online.
The goal, Bradley said, is to provide opportunities for corps leadership and members to be nurtured in their spirituality and prepared to better witness to others.
"I believe that we serve a good and infinitely creative God who has given us the truth of his Word, as well as unique ministry gifts and talents to reach the lost and witness in his name," she said, noting motivation found in Proverbs 24:3-6: "By wisdom a house is built, and through understanding it is established; through knowledge its rooms are filled with rare and beautiful treasures. A wise man has great power, and a man of knowledge increases strength; for waging war you need guidance, and for victory many advisers."
"The video of that lecture will be shareable not only among ourselves but with anyone, and will connect people with resources for further discussion, instruction and engagement based on what is shared," Bradley said. "This is just getting off the ground, but I think it could be a great way to get people thinking and talking about the way we do and approach ministry and help train and equip people in a new way."
Strickland spoke about her philosophy in the first live lecture.
"Justice is a way of discipleship. To follow Jesus is to do justice. Justice is love in public," she said. "When justice flows from intimacy, which is discipleship with Jesus, it comes out sweet, and it's essential to do that well. As Salvationists, we're called to intimacy and justice."
The second lecture will feature Captain Annalise Francis, curriculum officer at CFOT, talking about approaches to studying the Bible, and David Witthoff, territorial director of Christian education discipleship, on approaches to Christian Education.
Find Call to Arms at youtube.com/TSAWestVideo or sadropbox.com.