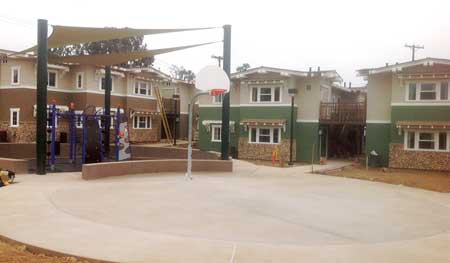 San Diego opens its Door of Hope
The expanded transitional living center has 24 new apartments.
After three years of planning and construction, The Salvation Army's Door of Hope in San Diego is once again open with 24 new apartments for homeless mothers and children in need of transitional living assistance. Commissioners James and Carolyn Knaggs, Western territorial leaders, will dedicate the new buildings June 21.
The transitional living center, located at the Margaret A. Cargill campus, needed to expand to meet the community's growing needs, as the facility was always full and the waiting list consistently averaged 20 to 25 families.
"The expansion was necessary in order to improve and enhance services to the community," said Major Jessyca Elgart, social services coordinator for San Diego County.
In 2010, four unused buildings were torn down to make room for the expansion. Construction, however, did not begin until 2012. The completed campus includes the Haven Program (for pregnant and parenting teens), the Transitional Living Center and the Adult Rehabilitation Center women's residence.
"We are also looking into providing emergency shelter for women and children in the existing buildings," Elgart said.
An ongoing Virtual House Warming drive is underway for people to donate to the restored campus, with registries available at Bed Bath and Beyond and Target. Interested persons can buy items and bring them to Door of Hope for the new apartments. The drive will stay open until the dedication ceremony, which will include tours of the new apartments, community room, garden and offices.
A kick-off event is planned for September.