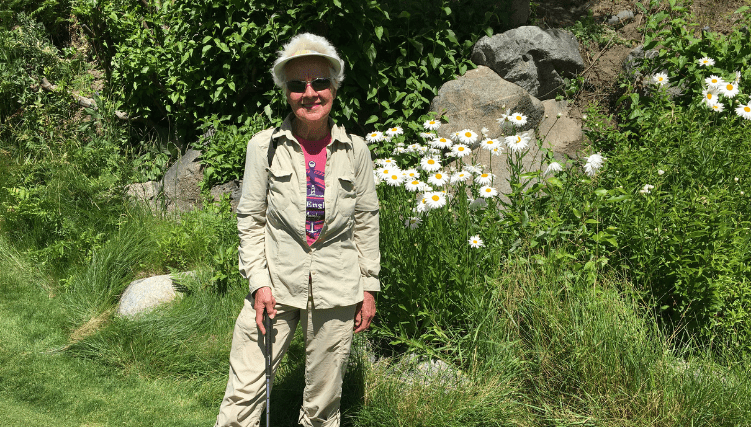 Salvation Army volunteer inspires kids—and adults—at the Kroc Center
Bonnie Sandford aims to make people's days a little better by spending time with them.
Bonnie Sandford's motto has always been "work hard, play hard." And she did get to play hard at The Salvation Army Coeur d'Alene (Idaho) Kroc Center. Sandford, almost 80, started out as a member at the Kroc Center, and has filled a couple of volunteer positions there since it opened in May 2009. 
"I joined the Kroc Center when it opened," said Sandford, who at time was 67 years old. "I wanted to volunteer and became a greeter. I love people and enjoyed getting to know them when they came in."
After some years as a greeter, she considered canceling her membership due to the cost. She applied for a scholarship but was told she made too much money.
"A few days later I was asked if…I would like to come to work in the Playcare Center and they would pay for my membership."
Sandford accepted the offer and began working—and playing—with the children in the new, unexpected role. She still volunteered as a greeter when she could and also volunteered with the Salvation Army Sunbeam troop girls once a week at the Kroc Center.
"It has been such a blessing to me," she said. "I never would have dreamed at this point in my life that I would be on the floor playing with Barbies, Legos, Lincoln Logs, doing puzzles, reading stories, doing crafts, teaching kids how to catch a ball, playing with race cars and listening to their stories."
Each day, Sandford would come to work and hear, "Miss Bonnie, Miss Bonnie!" The kids would always have a lot to tell her.
"I cannot put into words the joy in my heart when I came into work in the morning," she said.
She recalled the children would greet her with statements like, "You're my favorite teacher," or questions like, "Can you come to my birthday party?" 
They had other questions for her, too.
"They'd ask: 'Why are your hands all wrinkled?' or 'What are those lines on your face?' or 'Why do you have a blue eye and a brown eye' or 'How old are you anyway?'  They truly made my day," she said. 
Susann Draper, who recently retired from the Kroc Center as its Volunteer Coordinator, felt Sandford's impact so keenly that she felt compelled to write Sandford's story before she left her job. The two met several times, covering the many facets of Sandford's life, including her time at the Kroc Center. 
"She is light to all she meets here, and such an inspiration to many," Draper said.
And her hair is a known conversation starter.
"I started coloring my hair —pink, purple, blue, teal—and it has been so much fun," she said. "The kids love it, and it always brings a smile to people.  It has opened many opportunities for conversation with people of all ages.  I've met and shared with so many people because of the color of my hair."
Sandford worked in Playcare for four and a half years, retiring just recently to devote more time to interacting with local seniors. She is motivated by a love for others and a zest for life that keeps her going.
"I get so much joy helping others and loving on them," Sandford said. "I just want to make their day a little better than it would have been by spending time with them."
During her time at the Kroc Center, she influenced more than just the kids with her infectious joy. Major Ronda Gilger, Kroc Center Corps Officer, has also been inspired by Sandford. 
"I know that she has a life goal of doing a walking marathon in every state across the country and has only a few more to go," Gilger said. "I know that she took her first swimming lessons here at the Kroc, at almost 80, and was so proud that she finally is able to swim solo after a lifetime of being afraid of the water. [And] I know the children in childcare just love her and that she is one of the most positive, brave women I know."
Lt. Colonel Lani Chamness, California South Divisional Director of Women's Ministries met Sandford while serving in the Northwest Division.
"One of the many exciting things about the Kroc Center is meeting people whose lives bring so much inspiration to the Kroc community," Chamness said. "Bonnie was one of those extraordinary people who, in every connection and conversation, motivated and encouraged others by her life accomplishments and uplifting spirit."
Sandford reflected on what motivates her.
"I have always strived to be the best I can be spiritually, mentally, physically and emotionally," she said. "The environment at the Kroc Center helps me do this. I believe God's gifting to me is to inspire and encourage others. A common comment I receive is 'I want to be like you when I grow up.'"
During this time Sandford rededicated herself to Jesus.
"On my 70th birthday I went to a 10-day silent meditation retreat in Canada and God showed me I was leading a life that was not pleasing to him," she said. 
"When I returned I went to a Christian singles picnic and the speaker opened my eyes and I rededicated my life to Jesus and was baptized a few weeks later in the Spokane River. Since that time, I have felt that indescribable peace and joy and feel truly grounded. God never left me all those years but I never felt like I do now. I enjoy unexplainable peace and joy and feel so anchored."
Sandford attends Sunday church services and mid-week Bible studies every week, and reads the Bible every day.
"I just can't get enough," she said. "I have a relationship with our Father that I have never had before. Praise God, I can do all things through Christ who strengthens me (Phil. 4:13)."
---
Do Good: