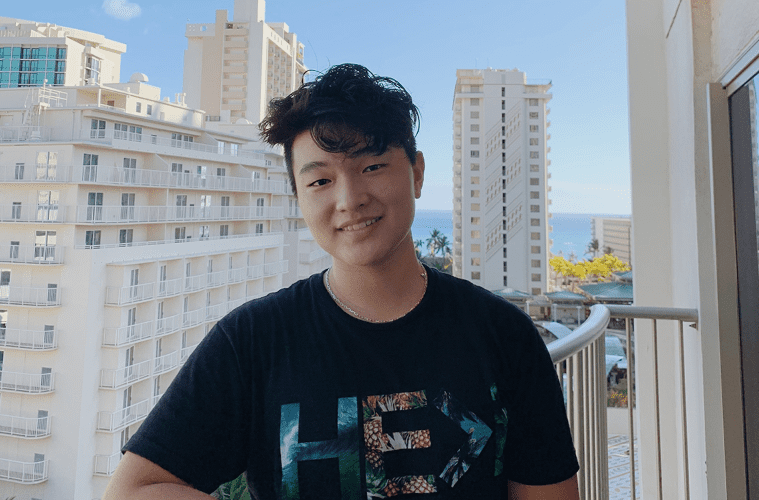 High school senior volunteers to be listening ear during pandemic
A high school student witnesses the power in ministry of presence.
High school senior, Valor Ahn, wanted to help people affected by COVID-19. When he saw a post on his church's website about a volunteer opportunity, he reached out and found himself serving during the summer for The Salvation Army Pathway of Hope on Oahu. 
The experience impacted him in ways he had not imagined and inspired him to write a first-person essay, which was entered in the 2020 Hawaii Access to Justice Commission's High School essay contest, "Standing Together, Six Feet Apart." 
Ahn was one of six winners of the contest. The winning students—and their teachers—received a cash prize and recognition during an online celebration in October.
"This summer Pathway of Hope had some of the best talents volunteer in response to COVID-19," said Anna Stone, former Pathway of Hope director. "One of them is Valor Ahn, senior at Kaimuki Christian School…Your life-changing experience was at The Salvation Army."
Here is Ahn's award-winning essay, which he titled, "Volunteering during the pandemic: An unexpected lesson to remember."
"Please…please bear with me, sir," her frail voice trembled through the phone. I set my mask to the side and scooted closer to my desk. Hearing the pain and desperation in her voice, I knew this would be no ordinary conversation.
COVID-19 kept me cooped up indoors for the majority of my summer, and upon seeing an advertisement on my church website asking for volunteers, I felt purpose and excitement fill my body. The motto, "doing the most good," resounded in my head as I drove myself to The Salvation Army site early that morning.
Due to the global effects that COVID-19 created, many people were left unemployed and some even homeless. As a result, countless people called The Salvation Army hotline, leaving a voicemail and asking for assistance. A kind woman named Sarah instructed me to return those voicemails and ensure they qualified for their requested aid. Sarah handed me a thick stack of papers filled with names like a phonebook.
I dialed a number and a weak voice answering my call squeezed out a response, "H—hello, who is this?"
"Hi ma'am, this is Valor with The Salvation Army, returning your call about financial assistance."
"Oh, th—th—thank y—you, sir," she said. Her stuttering immediately melted my heart.
Explaining that she was in a care home with Alzheimer's, she was requesting financial assistance for her situation. Thinking of my sweet grandma who underwent surgery after a recent unfortunate incident, my heart was immediately stolen by this lady. 
Snatching my pen from the table and grabbing a new form, I was determined to help her like a marathon runner determined to finish his last mile. "I will do what I can ma'am," I assured her.
Throughout the call, I could hear her desperately scrambling in the background to find her records of information. She would leave me in silent anticipation for a few minutes and then return with a hopeful voice when she finally found the needed information. Apologizing for the wait, she pleaded with me, "P—please sir, s—stay with me."
Realizing that helping others goes beyond just filling out their form, I sunk right back into my chair, planted my feet and turned up the volume on my phone to hear her more clearly. As she struggled to articulate her words, she explained that she was involved in an accident in which a van blindsided her on the way to a food bank, which left her immobile. As a result, she sought the help of local organizations, such as The Salvation Army. 
One hour later, I found myself on the verge of tears.
That summer day, I felt deeply humbled, and my eyes were opened to this fact: everyone has a story, and some just need a listening ear.
---
Do Good: