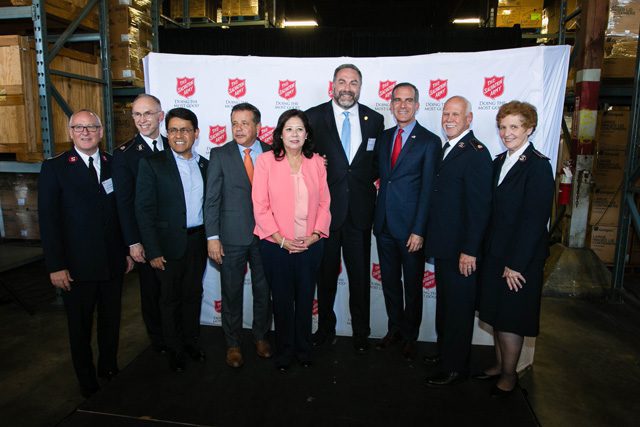 Salvation Army publicly announces effort to double impact on homelessness
By Christin Thieme –
The Salvation Army hosted city officials, local business leaders, the media and guests in a special event at the Bell Shelter in Bell, California, including a forum and press conference announcing the Army's intention to double its impact on homelessness in the next five years. 
The public announcement of The Way Out initiative came in response to striking statistics in the region and beyond. Los Angeles officials reported in June that the number of people living on the streets, in vehicles and shelters increased by about 12 percent over last year, putting the number of those experiencing homelessness at nearly 59,000 countywide, according to The Los Angeles Times. Within the city of Los Angeles, the number jumped to more than 36,000—a 16 percent increase. 
"At this extreme, this is not a problem that has an overnight solution; there's no silver bullet," said Los Angeles Mayor Eric Garcetti at a luncheon in one of the shelter's warehouses. "On the other extreme, do not give up hope that homelessness is a solvable problem…It requires faith that we, together, will solve a human-caused problem with human solutions. I want to thank The Salvation Army for being that."
Supervisor Hilda Solis, Los Angeles County Supervisor for the First District of Los Angeles County, also participated throughout the event and presented a county commendation to The Salvation Army for its good work.
"We have learned a lot from your leadership," Solis said of The Salvation Army's work in the county. "I hope everybody does come forward and help. We face many people who don't understand what is at stake."
In his announcement of the Western Territory's intent, Territorial Commander Commissioner Kenneth G. Hodder said, "The Salvation Army would not be The Salvation Army if it did not ramp up what it does to address homelessness. It is a scourge upon our nation." 
Hodder said that includes doing more in terms of prevention, rehabilitation, emergency shelter and permanent supportive housing across the territory. He noted The Salvation Army in the west currently provides beds for more than 12,000 people a night.
"That has to increase. We have to do more in terms of meals served, in terms of programs to help people find good work, programs to help people afford the kind of housing they need—and The Salvation Army is intent upon doing it," Hodder said.
He also invited "anyone and everyone who feels the same way" to be part of the effort.
"Join us. Let's work together. Let's make homelessness in this country a thing of the past," Hodder said. "Let's make sure every man, woman and child knows they are loved by God and valued by their fellow man. That they have a future that is bright and can be better. That the situation they are in now need not be one they always find themselves in."
The announcement followed a discussion about the issue from a range of perspectives, including those who have experienced homelessness. Moderated by Joey Zumaya, Salvation Army advisory board member and the Public Sector Manager at LinkedIn, the panelists included Martha Varela, a Salvation Army alumni; Captain Nesan Kistan, California South Divisional Secretary for Orange County; Kristine Ridge, Santa Ana City Manager; Gita O'Neil, Assistant City Attorney, Director, Homelessness Policies and Strategies, Los Angeles City Attorney's Office; Antonio Wilson, a Salvation Army alumni; and Bill Taormina, CEO and Founder of Clean City, Inc.
"The face of homelessness is not the old, scraggly white guy holding up a sign. It is women and their children," said Varela, who lived in and out of her car for two months with her 12-year-old daughter before connecting to The Salvation Army. "I have 20 years of nonprofit experience and a master's degree; that's not supposed to happen to me. But when hard times fall, they fall hard."