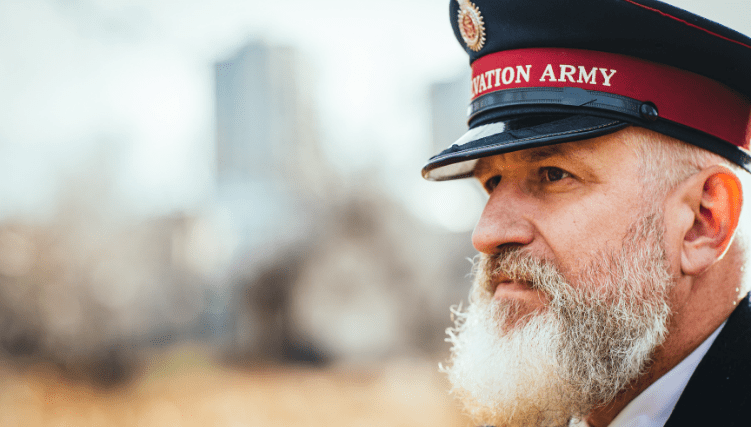 Salvation Army officers aim for growth with goals, accountability and mental health support
While any officer will tell you it's the greatest joy to serve the Lord through The Salvation Army, there is no denying there are challenges involved—the role is demanding. 
And that's not unique to Salvationists. A 2020 Barna research study found 59 percent of pastors have experienced depression during their ministry tenure, up 13 percent from when Barna posed the same question in 2016.
Just as Salvation Army officers provide social services and emotional and spiritual care to countless individuals throughout the USA Western Territory, they receive support behind the scenes from the Officer Care and Development (OC&D) department.  
This is done through two primary ways: managing mental health needs for officers and their families and providing counseling services. 
"We provide a range of services for officers," said Officer Care and Development Director Dr. Jack Anderson. "A big part of it is we help manage all of the mental health needs for officers and their families, so when an officer is struggling emotionally and they want to find a therapist or counselor, we help them find somebody who's suitable…A second thing we do is we have pastoral care officers. They don't provide therapy…they do provide counseling. They make contact with all of the lieutenants once a year and all of the overseas officers."

The Officer Care and Development team has no central location; its members are spread out throughout the West and are largely split into two sections—pastoral care officers and clinical staff. 
The pastoral care officers side of the OC&D team is comprised of retired officers Commissioner David Hudson, The Salvation Army's former national commander who focuses on coaching and mentoring; Major Harry Lacey; Major Charleen Bradley; and the newest addition, Captain Ligia Ambriz. Ambriz, who retired with her husband, Aurelio, in July 2020, brings nearly 40 years of  ministry experience and is bilingual, adding not only language, but cross-cultural understanding as well. 
"Although we have retired, we acknowledge that ministry is a life-long calling," Ambriz said. "I am prepared to continue serving the Lord as he opens doors of ministry."
Licensed Marriage and Family Therapist Stacie Brown, and Anderson, a clinical psychologist, round out the department's clinical staff side. 
Tracking growth 
For more than a decade, the OC&D team has used the Ministry Development Plan (MDP) as its primary performance appraisal tool for officers in the West. Historically the MDP has been done with paper, transferring physical files each time an officer receives a new appointment, but a new online application platform developed with the Western Territory's IT department is helping to streamline the process and make it more user-friendly. 
"It's called a performance review or a performance app and that doesn't do it justice," said Collaboration and Workflow Analyst Eric Peterson, who helped develop the new MDP. "When it's taken seriously, it can be a focal point on 'how I'm managing my life and making progress.'"
The MDP, which rolled out in February 2021, focuses on gathering information on an officer's core competencies in a 360-degree feedback loop. The officer being reviewed rates themself, a staff officer at divisional headquarters conducts a supervisor review and three outside evaluators, like soldiers from an officer's corps, an advisory board member or someone from the community, also give reviews. The feedback collection culminates with an interview with the officer during which he or she develops several significant goals. 
"One of the design goals was to make this so intuitive and easy to use so that the tech part can disappear in the background and the officers using it can focus on the content, looking at their core competencies and it can lead quickly to goal setting," said Anderson.
All of this information is accessible to the officer through the platform. When an officer logs in, they have a profile that Peterson compared to a baseball card. It has the officer's image along with their goals and evaluations. Divisional leaders can log in to see all of the respective cards for officers in their division. The site is responsive and can be viewed on a mobile device. 
"The end objective of this is to increase performance and wellbeing," Anderson said. "Not just ministry goals, but sometimes mental goals. It's much more about the officer as a whole and how they're doing."
A healthy Army
When an officer sets goals, Anderson said there are two main types: problem-oriented and growth-oriented. Goals oriented on rank and position are discouraged. 
"I helped an officer who was really struggling with managing his temper," Anderson said. "We set a goal on emotional intelligence and how to navigate conflict and problems in a healthy manner. The goal included steps like emotional intelligence training, finding a mentor that he could process with and finding a role model who could help to guide emotional intelligence."

Growth-oriented goals encourage officers to think about their future self. If they could have what they wanted, in ministry and in life, what would it look like three years from now? Then they consider the steps toward those goals and what it would entail in the day to day or week to week. The officers who are working through this process are assigned a divisional staff person to work with them on it.
"We use this analogy of 'Are you laying bricks or are you building your cathedral?' and the idea is to motivate the officer to come up with something that will have a significant impact on their life," Anderson said.  
Sometimes growth-oriented goals can look like establishing relationships with other churches in the community, or learning how to improve at community relations and run a capital campaign for the first time.
"People who have significant goals in life tend to be emotionally healthy people…Goals energize. They activate other parts of the brain," Anderson said. "Symbolically, your eyes are at the start of the brain; they're always focusing on something. I think this version of MDP is helping people capture that idea. It's not just a divisional or organizational requirement but the idea that this is part of my life and how I progress through life."
---
Do Good:
You've probably seen the red kettles and thrift stores, and while we're rightfully well known for both…

The Salvation Army is

so much more

than red kettles and thrift stores. So who are we? What do we do? Where?

Right this way

for Salvation Army 101.

Are you best suited to join the Fight for Good in disaster relief? Mental health? Social justice?

Take our What's Your Cause quiz

and discover where you can make the biggest impact today. 

Listen to this interview on the Do Gooders Podcast with Dr. Jack Anderson:

"How to cope with anxiety and find calm."