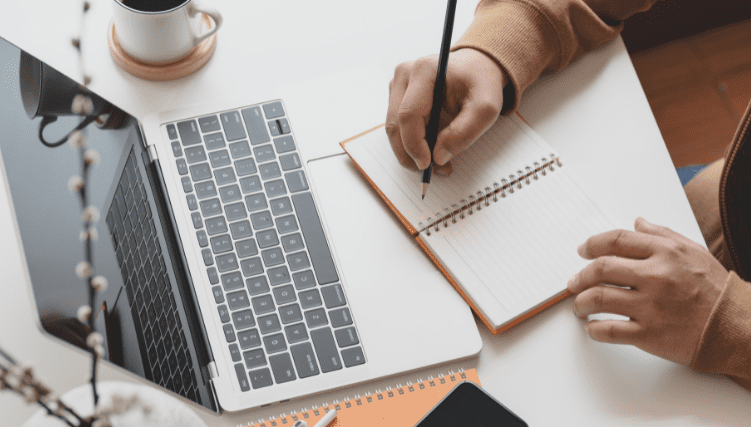 5 ways to protect your emotional wellness in the in-between
We're in the in-between phase of our transition out of the pandemic and this is one situation none of us have ever been through before. We'll each be navigating in different ways depending on our specific situations—working from home or not, sending kids to school some days or having them at home every day. Whatever your situation, one thing is clear: Our mental and emotional health have been impacted in the last year. 
Anxiety, depression and grief due to the collective trauma and life-changing event of a global pandemic have significantly increased. Now, it's important to be intentional about taking care of ourselves during this transition to a post-pandemic world. It is a positive thing to be able to slowly return to our "new normal lives," but it can be very emotional and conflicting. 
Here's five ways to take care of yourself in this in-between season: 
1. Reflect on the last year—where you've been and where you'd like to go.
Go at your own pace. You don't need to rush things and get back to "business" so fast. Our schedules and routines were impacted without notice, and now we can take it slowly if we choose to do so.
Acknowledge the things you want to change or continue. What are you looking and not looking forward to? What are your fears, questions and hopes?
What lessons did you learn and what challenges did you overcome? Don't discount or dismiss what you've gone through as what we were called on to do this past year is not sustainable. 
This self-reflection process allows us to adjust and adapt easier.
2. Identify how you are feeling right now about transitioning to a post-pandemic world.
Do a self-check and name the emotions you are having. This allows you to increase your awareness and cope in a healthier way. Emotional grief has affected us and we may barely be starting to process and heal from this experience. We were in survival mode for many months, so it's normal that we may start feeling more intense emotions about what we've been going through.
Practice self-acceptance, self-compassion, self-kindness, positive self-talk instead of feeling pressure to feel a certain way. It's normal to feel both excited and stressed out or anxious. I feel sad and happy about different things at the same time.
Find a healthy outlet to express or release these positive and difficult emotions—journal, pray, talk, draw, or seek therapy. 
If you find it difficult to name your emotions, try starting with the four core emotions: Do you feel happy, sad, angry or fearful?  
3. Be intentional about real self-care.
Self-care isn't a trend, it's a must. We're all tired. Mentally, emotionally, spiritually, physically—it's all been a lot. Our bodies store the stress and manifest it in different ways. The transition will be draining, so take care of yourself!
Determine what kind of self-care is sustainable and consistent for you. Do you need physical activity, to sing, to ask for help more intentionally, to do deep breathing and relaxation or mindfulness techniques? 
Say no to being busy all the time. Disconnect as needed to do nothing, including no media intake. Use affirmations to increase your motivation and confidence. Each morning, try saying to yourself: "I am doing my best." "I am strong." "I am worthy of setting boundaries."
4. Set clear boundaries.
Identify with your family how you want this transition to go and what is comfortable to you. Think about the areas where you still have a choice to feel more empowered. Start with small decisions.  
Communicate these decisions to others and expect to get good and bad responses. Not receiving someone's support for your decisions doesn't mean you have to change them. Don't assume people know or should know your preferences.
Don't compare your decisions to other people's choices. You are allowed to create, communicate and maintain your boundaries without over explaining or seeking anyone's approval.
5. Pay attention to you and adjust as needed.
Build a support system whether you already had one or not. 
Listen to yourself—your body, your mind, your needs—to know if the choices you're making are working for you and if any adjustments are needed. Don't "should" yourself; there isn't a right or wrong way to go through this. Give yourself grace.
Identify the positive and identify your success. Again, this is new for all of us and we may go through days that feel really good and some that don't. That is OK. 
Set realistic expectations for yourself—and be flexible. 
---
Do Good: