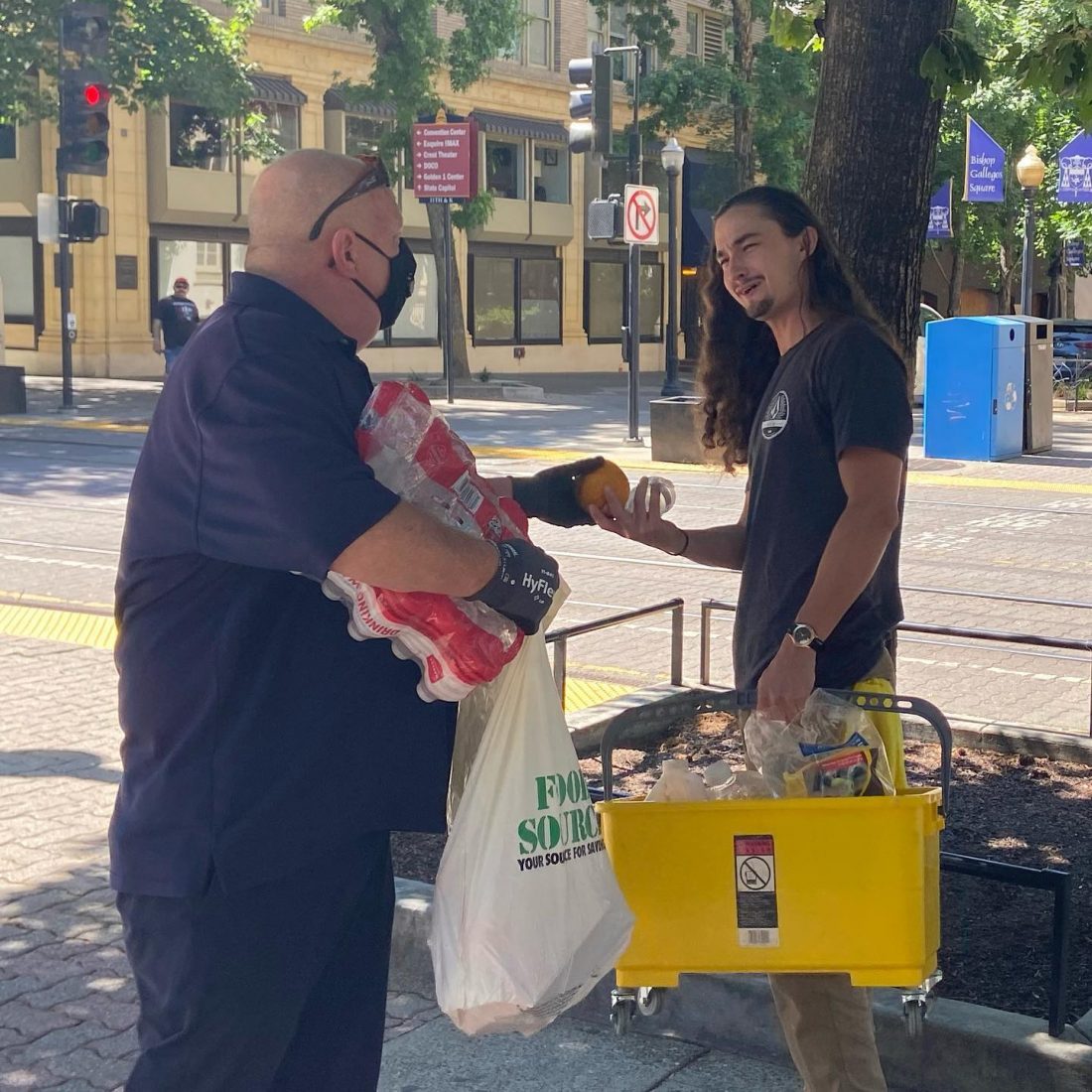 Salvation Army offers ministry of presence amid protests and turmoil
As unrest spreads across the nation after the death of George Floyd, The Salvation Army continues to advance the message: Hope is greater than fear. 
"Our human answers to the pain and injustice we see and experience are simply not enough," Territorial Commander Commissioner Kenneth G. Hodder shared on Twitter June 1. "God's answers are eternal and powerful. Micah 6:8 '…What does the Lord require of you but to do justice, and to love kindness, and to walk humbly with your God?' #JusticeForGeorgeFloyd"
Hodder led a time of prayer for peace May 29.
"The events of the last few days in Minneapolis, Minnesota, have shocked us all," he said. "The brutality that we have witnessed is not only inconsistent with the values and aspirations that we hold as Americans, but they are inconsistent with the Gospel of Jesus Christ that we as Salvationists proclaim, so it seems appropriate this morning that we should gather as a people of God, and to pray for peace."
In Minneapolis, Minnesota, over the weekend, The Salvation Army offered water, sandwiches, music and prayer to passersby. A prayer walk is planned for June 2 along East Lake Street. "We'll be praying for peace, justice and restoration of our community," reads a statement promoting the walk. 
Hodder is in Santa Monica, California, June 1, visiting the corps located just off the iconic 3rd Street Promenade, where facilities were vandalized and broken into.
"Many have called or texted to check in on us. We are okay. It's been an incredibly overwhelming afternoon and I can't quite describe how I feel," Corps Officer Lt. Erin Wikle posted on Facebook May 31. "Our 4th and 5th Street facilities have been vandalized (graffiti), our 5th Street facility suffered a shattered window and our commercial kitchen trashed. No one was injured."
She drove past the rioting and looting to get home. 
"I don't tend to feel afraid often. But today, I was afraid," she wrote. "My heart aches for those who are deeply hurting. My heart hurts for those so beaten down by racism and generations of oppression and abuse. My heart hurts for all those deeply, deeply hurting. Today I've wrestled with my own bias and prejudice. My own anger and grief…Tonight, I prayed over our staff during an urgent Zoom call, that the Holy Spirit would settle over our city… bringing peace like a blanket weighing down all anxiety over an unsettled people."
Reports of vandalism at Salvation Army locations also included the Oakland (California) Adult Rehabilitation Center. 
Representatives are distributing water and snacks in downtown Sacramento as volunteers help clean up the streets. 
"We're walking up and down the streets and so many people from all different kinds of backgrounds are coming together to clean up this beautiful city," said Del Oro Divisional Commander Major Ivan Wild in a video from the effort. "I was just passing out water and all of a sudden I found a broom in my hand and so I started sweeping up the glass as well."
The same is happening in Denver. 
"It's nice to be here to be a part of the community and help clean it up with those who are out here helping," said Rachael Fowler, Intermountain Division PR and Special Events Director, in a video posted to the division's Facebook page. "There's a lot of good going on today and we're happy to be a part of it." 
In Seattle, The Salvation Army relocated its emergency shelter usually housed at Seattle City Hall, due to building damage. The Army has also reached out to Seattle Police and Fire departments to offer support and has all Seattle-area corps on standby to do just that.
In Southern California, The Salvation Army reached out to all county emergency operating centers June 1 to extend support and will be providing 350 hot dinners for the next two nights at the Los Angeles Police Station on West 6th Street. 
Lt. Melissa Jones, Santa Clarita Valley Corps Officer, posted to Facebook May 29 a 3D photo from a protest in Santa Clarita after the Sheriffs Department asked local clergy to come and help keep the peace. 
"I am so glad I got to stand up for my people and the oppressed today!" she wrote. 
Jones shared from her own life experience in a recent Caring Magazine article in which she said "this is merely a black issue; this is an Imago Dei issue."
"If we fail to recognize the precious image of God that is imprinted on all of us, we have failed to love as God has called us to. We have failed to live as Christ lived. That is not a failure I want to live with," she wrote in Caring. "We must change, not because it's popular or because we want to be more welcoming. We must change because that is what God has called us to do. He has called us to transform the world, not to conform to it. We have conformed for far too long, and we can no longer be silent. Not only will more people die, or be imprisoned, or simply looked over. Your silence will continue to affirm that we, black people, are different and less than. Your silence will continue to chip away at the soul of this nation, and at our souls as black folks."
Over the weekend, the International Social Justice Commission also re-shared The Salvation Army's International Positional Statement on Racism. It reminds us:
"Racism is fundamentally incompatible with the Christian conviction that all people are made in the image of God and are equal in value. The Salvation Army believes that the world is enriched by a diversity of cultures and ethnicities."
For those in need of someone to talk to, The Salvation Army's trained counselors are on standby between 6 a.m. and 10 p.m. PT at the national Emotional and Spiritual Care hotline at 844-458-HOPE (4673).