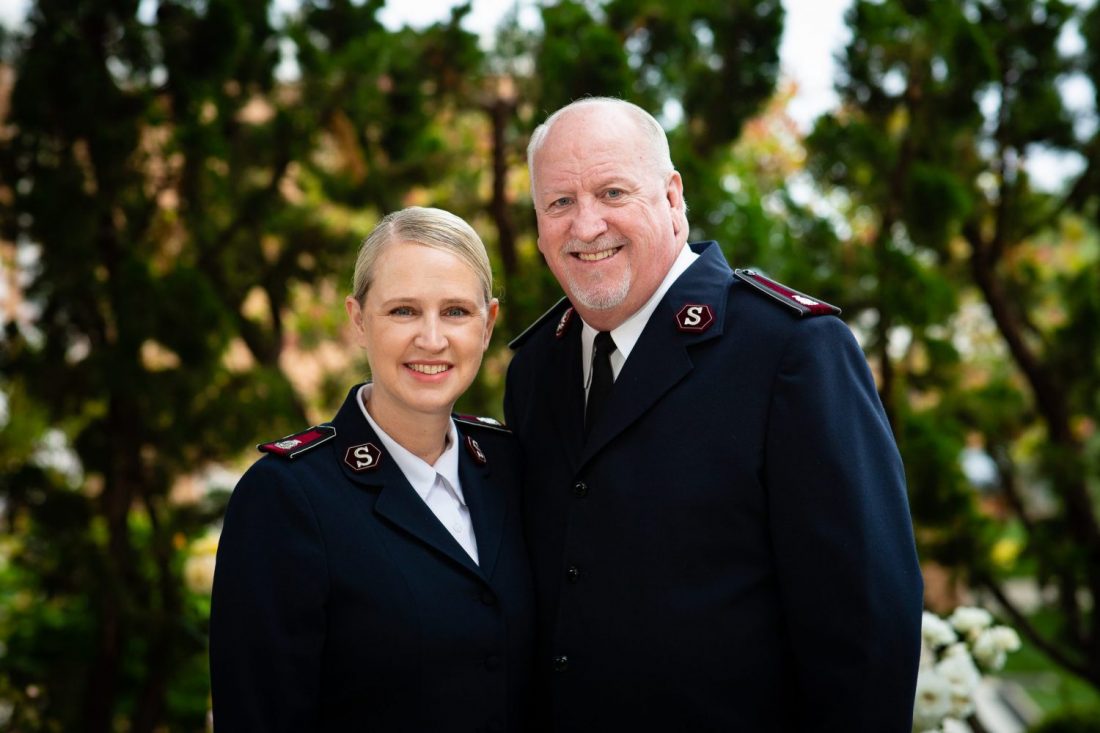 Salvation Army introduces new Western Territorial leaders
Western Territory now under new leadership
By Christin Thieme–
Be Thou my Vision, O Lord of my heart
Naught be all else to me, save that Thou art
Thou my best Thought, by day or by night
Waking or sleeping, Thy presence my light 
As Commissioners Douglas and Colleen Riley sang the hymn, "Be Thou My Vision," during the Covenant Service for the Messengers of the Kingdom this June, they reflected on their own covenant—signed 25 years ago on the same stage of the Crestmont Campus chapel. 
"Christ put a passion in my heart to serve people and draw people to him, and I had a love for The Salvation Army. He brought those two together—a passion and a love," Douglas Riley said.  "Today, it remains as the essence of my life—a love for God and a passion to serve and share that love with others." 
That combination, now 25 years later, has led the Rileys to new leadership roles as the Western Territorial Commander and Territorial President of Women's Ministries, respectively. Colleen Riley will also continue in her role of Territorial Secretary of Spiritual Life Development.
"That Covenant Service was important for us. As we sat and watched the cadets sign their covenants, we remembered the very spot where we signed ours," he said. "Ever since, we have served and loved with that passion and love that drew us to become officers—a love for people, ministry, this Army. The joy and fulfillment of life have come together as an officer, so my excitement for the future and what God might do drives me and brings me expectant joy."
Colleen Riley said Isaiah 43:19 has come back to her over and over again in recent days: See, I am doing a new thing! Now it springs up; do you not perceive it? I am making a way in the wilderness and streams in the wasteland.
"There's just so much desert out there right now and yet he still promises that we're going to have streams in the wasteland, that he is doing a new thing," she said. "Only he knows what that is so we are trusting in him—and we can't wait to see what God has in store for us as we go together."
Both Rileys are concerned with the hurts of officers and soldiers across the territory that have been voiced in recent weeks and they want to make needed changes within the Army's ministry, especially being sensitive to diversity and inclusivity.
"We have to be listening. We have to be advocating. We have to lead with love and grace. Now is the time, as we are at a crossroads," Colleen Riley said. "How can we be advocates? How can we walk alongside and be brothers and sisters together? We have to not only listen but hear what is being said—hear the hearts of the people who are struggling—we have to be intentional and make change for the betterment of the Church and his people.
"It's the church's job to lead with love," she said.
And leading with love is exactly what the Army focused on since the coronavirus pandemic made landfall in the West in mid-March. As of June 16, the territory had provided more than 3.9 million meals, beverages and snacks, nearly 380,000 nights of lodging and some 278,000 instances of emotional and spiritual care. 
"We've been aggressive in our response to COVID-19 and have seen innovation and creativity at its finest. I think we, as Salvationists from the West, should be proud of the way the Army has stood up and done its part through the pandemic," Douglas Riley said. "Because we have stepped up in our reach to others, we now have government entities, governors and mayors asking for the Army. They're reaching out to us, recognizing the Army and relying on the Army. They are aware of the breadth and depth of what this Army can do. Perhaps, we are designing a modern-day icon from that which has carried us for the last 100 years. We see it—to be the hands and feet of Jesus."
And despite the troubled times we find ourselves in, Riley said, there's one absolute: Jesus' love.
"I think we need to acknowledge that these are uncertain times—a time of disequilibrium," Riley said. "We must find a new normal, but everything's going to be fine—Jesus is still in control. He is the great stabilizer that has the power to calm the storm."
And he always has been, the Rileys will tell you. The pair met while working at Camp Mt. Crags in Southern California and were married there in 1991. They were later commissioned as officers in 1995 with the Messengers of Hope Session—he as a fourth-generation and she as a fifth-generation Salvationist. The Rileys have served in corps appointments, including six years at the Portland Moore Street Corps, and as divisional leaders in the Del Oro Division and former Southern California Division. He holds an MBA from Pepperdine University and she a master's degree in ministry leadership from Indiana Wesleyan Seminary. They have four sons—ages 19 to 25—who they say are the love of their lives.
"You always think about them, are concerned for them and want the very best for them. I think that shapes my officership in that it reminds me that future generations are deciding if church is for them," Colleen Riley said. "What does the future of our church look like? What does the future of the Army look like? What is it that's going to hold our children and the future generations in being part of the church?"
It's a question the Rileys intend to hone in on—how to reach, grow and retain young adults in The Salvation Army.
"We can't just keep doing the same programs and expect the same outcomes," Douglas Riley said. "Taking church online during the pandemic has been a good thing to expand our reach. Current issues have driven us outside our church walls and we're reaching more people online than we ever have. It's an opportunity to say, 'this works, this doesn't,' and really zero in on the things that work to be more effective, with this age group especially. But what will be our future and how will we reach and hold onto the youth and young adults?"
For one, the Rileys want to see the territory grow in its discipleship efforts.
"That involves developing relationships, and we have to be much more intentional about discipling our youth," he said. He's also looking for ways to attract a younger generation, having watched young adults previously in the Army go to other churches or stop going to church altogether.
"I just heard about TikTok today," he said. "And if I can figure out how to get a message in there, I'll do a dance video. We can't be afraid to step out into new areas. Our conservative nature is only keeping us from reaching people and reaching the youth of today."
The Rileys acknowledge that they're taking leadership in an extraordinary time—where there is much ambiguity for the organization and the individuals in it. 
"We all want some kind of certainty, answer or something we can hold onto that is absolute. Yet, until the cloud of this pandemic lifts, we continue to walk by faith," Riley said. "We're out there, but with it comes a great opportunity to rethink and reset in many areas.
"I think this is a great opportunity for us to make sure that we are being grounded; that we take time to refresh our souls," he said. "In the days ahead, we are going to focus a lot on spirituality. We want to love people. We want to encourage people. I think if you're loved and encouraged that you can't help but to share that. And in these times, it acts as a great stabilizer."
And that's where Colleen Riley says her heart is, too.
"That's really where the foundation of The Salvation Army, the foundation of our church, is—our spiritual life and our relationship with the Lord," she said. "Yes, we have to take care of the finances, we have to be good stewards, we desire to recruit people, but I think if the essence of who we are is in our relationship with Christ that's going to carry us through."
She pointed to Colossians 3:14: And over all these virtues put on love, which binds them all together in perfect unity.