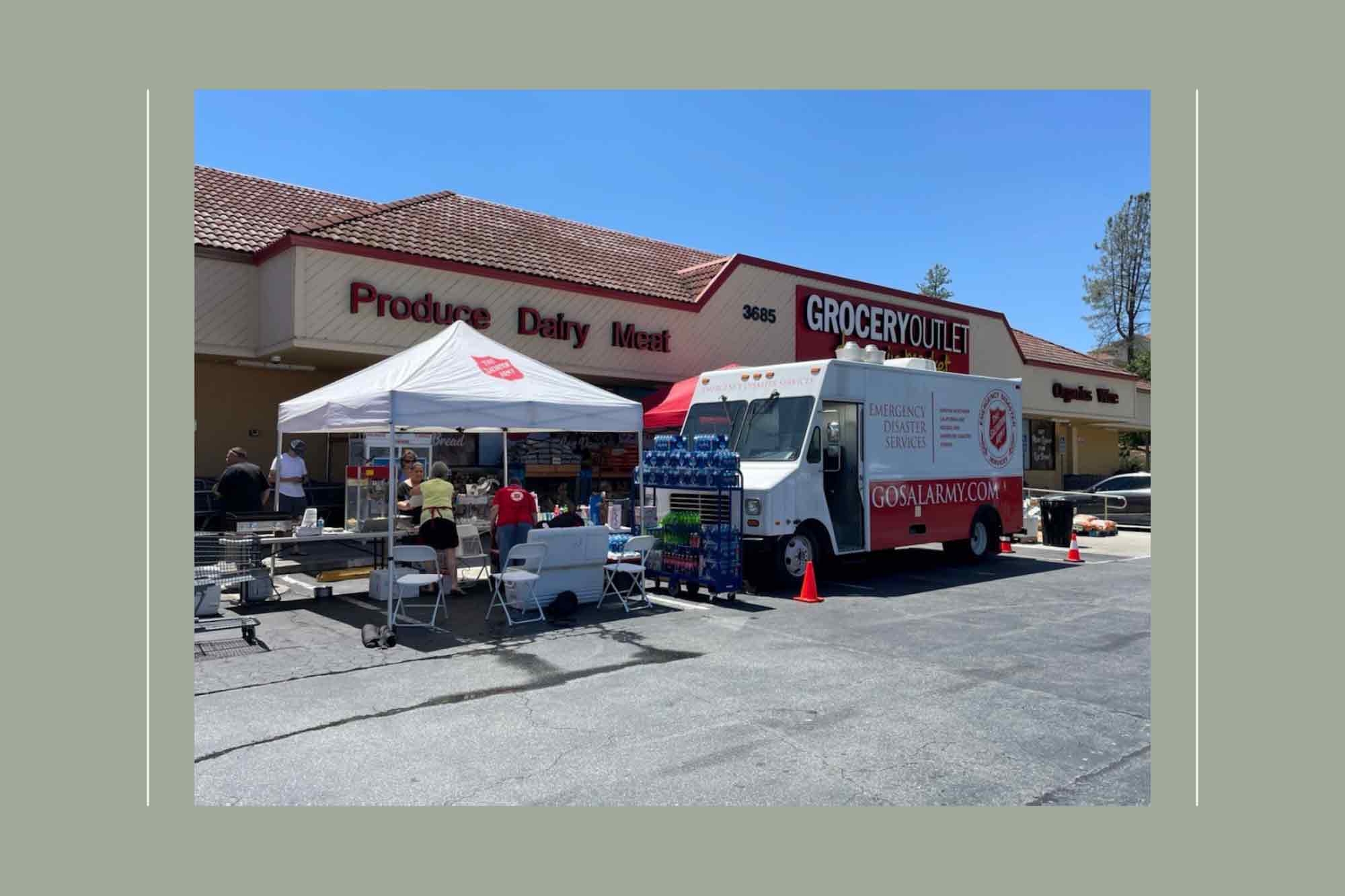 Amid increased food costs, corporate partners help Salvation Army fight food insecurity
With food costs on the rise and supply chain backlogs increasing, more people have been turning to food banks and pantries for support. In the Western U.S. alone, The Salvation Army provided more than 6 million meals to those in need from October 2021 to June 2022, working daily to support individuals and families challenged by food insecurity. These efforts cannot be accomplished without the help of community partners.
Extreme-value grocery retailer Grocery Outlet Bargain Market's 12th Annual Independence from Hunger Food Drive enhanced The Salvation Army's efforts to curb hunger in 14 communities across the West. Across the nation, the drive aims to fight food insecurity and support families by giving back to community organizations, like The Salvation Army.
"Partners like The Salvation Army are an integral part of helping us mobilize resources in the community to alleviate hunger," said Eric Lindberg, Chief Executive at Grocery Outlet Inc. "Each year, we are blown away by the unwavering support of our local partners, allowing us to be one step closer to eliminating food insecurity for all families across the nation."
Throughout the U.S., families, adults and children are at continued risk of experiencing food insecurity, lacking the basic nutrients necessary for the development of an active, healthy life. The U.S. Department of Agriculture (USDA) estimates that as many as 30 million adults and 12 million children are currently living in food insecure households.
For the month of July, a number of Grocery Outlet store locations—which are each independently owned and operated—helped collect food and cash donations in-store and online, benefitting local organizations, including 14 Salvation Army Corps across California, Oregon and Washington. A unique point-of-sale program at stores in Redding, Santa Clara, Stockton, Tulare and others was matched at 100 percent by the retailer's Emeryville, California, corporate headquarters.
Community members made donations as they shopped for farm-fresh, organic produce, fresh meat and other grocery items through the aisles of their local stores. Every $5 donation or donation of a prepacked food bag stayed local to support their neighbors.
In Redding, California, The Salvation Army also held four food truck events during the month-long campaign. At the events, the Army's Emergency/Disaster Services canteen sold food, drinks and sweet treats to families to help raise additional funds for those in need.
Redding Corps Business Administrative Assistant Lilly Conforti said Grocery Outlet provided the breads and meats for the events and prepared tri-tip for sandwiches to sell. When the Army's equipment failed, Conforti said Grocery Outlet purchased a snow cone machine and meat slicer.
"The wonderful collaboration with Grocery Outlet has brought a tremendous support for our food pantry both with fundraising at the Independence from Hunger event and with their donations of groceries weekly for our recipients," Conforti said. "We are so very grateful for Ron and the Grocery Outlet family in Redding, California, for investing in our efforts to help people with food insecurities. They have hearts of gold."
Conforti said that while the final total of donations was still being calculated, as of Aug. 18, $4,000 was raised through food sales with an additional $1,000 donated at the red kettle that was present throughout the events.
"When a community is filled with reliable, generous, kind people, there are no limits to the amount of help and support you can share with those in need," Conforti said. "Watching our [more than] 120 recipients and veterans weekly enter our corps and see they are leaving with bags filled with the most important food items makes our hearts happy."
This year, Grocery Outlet's national campaign spanned more than 400 Grocery Outlet store locations across America, benefitting various local food agency partners. Lindberg said that they were "thrilled" to have raised nearly $2.6 million through the Independence from Hunger program this year, equating to more than a million meals for families in need.
The Salvation Army and Grocery Outlet are longtime partners, not only fighting hunger in the summer with the Independence from Hunger Food Drive, but also at Christmastime. Each December, Salvation Army volunteers can be seen collecting donations for the community in iconic red kettles at various local Grocery Outlet stores.
"Since the start of the pandemic, generous donors and corporate partners like Grocery Outlet have come forward with significant support to help us meet the increasing needs of the communities we serve," said Maria Todaro, Salvation Army Territorial Director of Corporate Engagement. "We are so incredibly grateful."
The Salvation Army is grateful to partners like Grocery Outlet, Kroger, Walmart, Albertsons/Safeway, Raley's, the LDS Church, Toyota and so many others who have made it possible to meet the steep increase in food insecurity over the past few years.
---
Do Good: