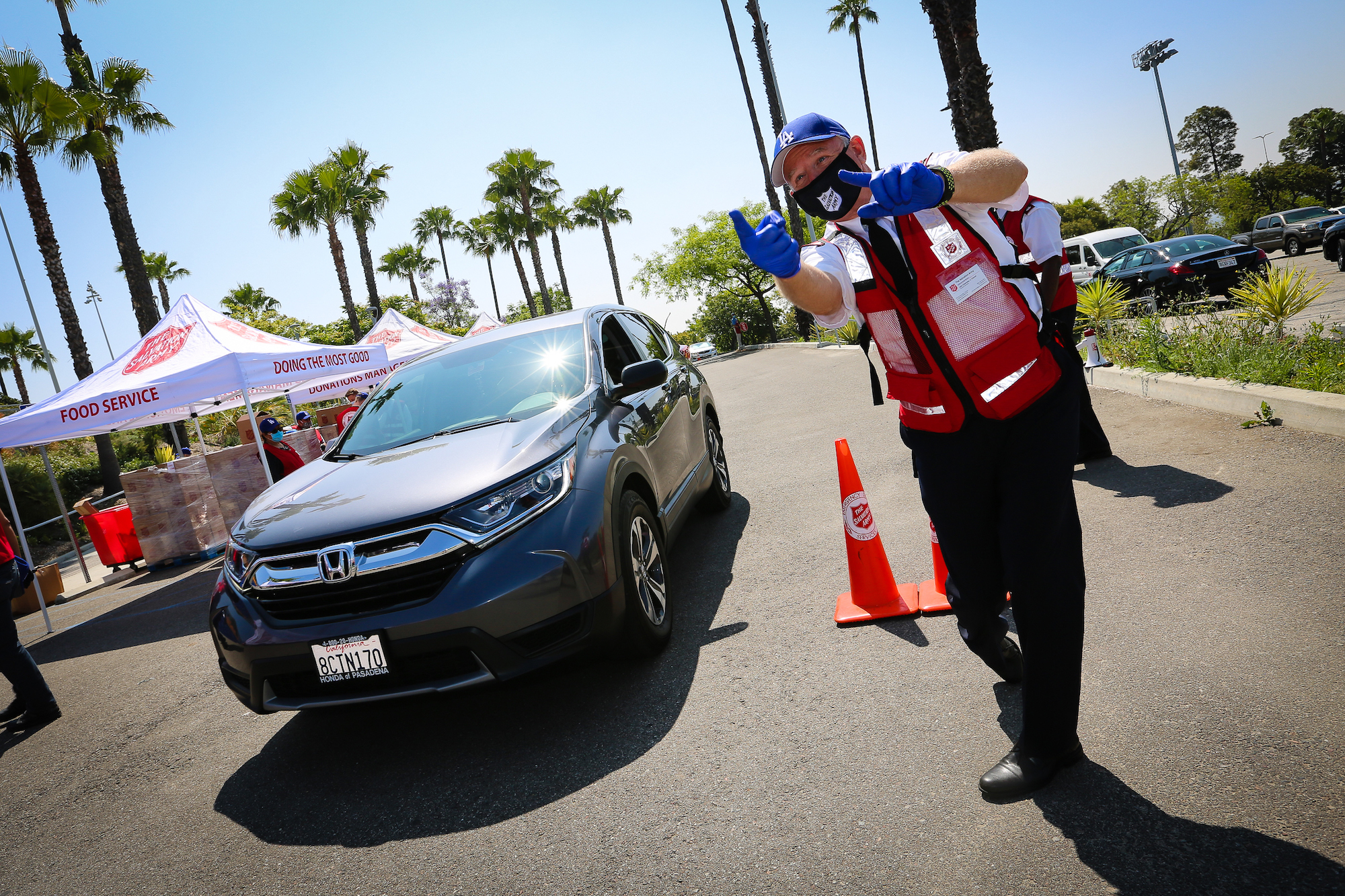 Why we engage corporations for the common good
And what we've seen in the midst of a pandemic.
In corporate engagement, we are matchmakers of sorts at the intersection of profit and purpose—margin and mission.
We work with companies to help them meet business and philanthropic impact objectives as they invest in the mission and work of The Salvation Army. A big part of my role is to support the corporate engagement directors across the Western Territory as they do just that.
Like everyone, we watched in March 2020 as the pandemic brought shut downs and subsequent economic devastation, which increased the need for social services. Along with the entire nonprofit sector, we worried the state of things would mean less available funding as more people needed help. The uncertainty was just about the only thing that was clear.
News reports showed more and more people were becoming unemployed and struggling to make ends meet, which meant the people who needed The Salvation Army's help sharply increased. In a single year, The Salvation Army increased its direct assistance by $100 million resulting in a 34 percent increase in the number of people served from 2019–2020, including 225 million meals served. The year 2020 marked the worst year on record for job losses in the U.S. at 9.4 million jobs lost.
The organization had to quickly pivot to keep people safely housed in the nearly 600 Salvation Army shelters and transitional housing facilities across the country. Staff worked overtime to roll out rigorous cleaning protocols, keep longer hours of operation in emergency shelters to allow people to remain there in off hours and shift from congregate food service to individually packaged meals.
Meanwhile, the need for food increased exponentially and the traditional ways of providing food assistance had to be adjusted from self-select pantries and gatherings to drive-through distribution, delivery and takeaway—also at a large scale.
This all happened on our end while corporations were also pivoting to transition their massive workforces to remote work, making difficult and sweeping decisions related to layoffs due to the economic impact, and in some cases drastically altering their business model.
In those early days, we thought our corporate partners may need to conserve, pull back from making large donations, and re-asses—but they did the opposite.
They called, emailed and texted to say, "How are you? How is The Salvation Army responding? How can we help?"
It turns out the majority of businesses actually gave more—nearly 72 percent of responding corporations ramped up their giving in the first few months of the pandemic, according to a July 2020 report from Charities Aid Foundation (CAF) America. Not only did 7 in 10 U.S. corporate funders increase their charitable contributions, another 44 percent awarded more grants.
We saw the influx ourselves, as The Salvation Army nationally received nearly tenfold the support from the corporate sector in 2020 as it did over the previous year. In the USA Western Territory, our team saw a 23 percent increase in giving from corporate partners. In 2021, we saw the trend continue with an additional 18 percent lift in giving from corporations.
More importantly, we were able to engage in innovative and meaningful ways. We had real-time conversations about needs and resources, took quick action to get items where they were needed most, connected about the shared experience, talked about our families, saw one another's homes through Zoom and met dogs and children who were passing by in the background. This was a refreshing shift from only knowing one another in boardrooms and suits.
Everyone shared a deep desire to leverage resources for good and the resulting partnerships were fresh, scalable and impactful.
Right after the pandemic hit, AT&T gave $586,000 to support The Salvation Army's services for first responders across the U.S., including the provision of free day care and meals for hospital staff. They also called us when their global supply chain had pandemic supplies to share, including masks, sanitizing and paper products, all of which were difficult to find at the time. They donated more than $2 million in supplies throughout 2020 and into 2021.
The Church of Jesus Christ of Latter-Day Saints wanted to be sure families had the food they needed and gave a generous donation that allowed The Salvation Army to provide more than 25,000 food boxes, largely given in massive drive-through distributions. Our grocery partners, including Albertsons Companies, made sure we could access food when the supply chain was interrupted and store shelves were turning up bare. They continued their support in 2021 with an additional significant gift to provide food to families in need.
As that first winter approached, the fate of our iconic annual Red Kettle Campaign outside of brick-and-mortar stores was in question with social distancing guidelines, plus a growing preference for delivery and curbside service.
We put safety guidelines in place and talked with partners about how we could work together to keep customers and employees safe, while still giving them an opportunity to help their neighbors. We went into the first holiday season of the pandemic expecting a nearly 50 percent decrease in income from this critical fundraising campaign and instead saw a 12 percent increase due to the generosity of our partners and their customers.
Mattel's Play it Forward heard about The Salvation Army's efforts to Rescue Christmas and donated $2.3 million worth of toys in 2020 and 2021 to make sure that parents who were struggling across the country could put toys under the tree for their children.
And the list goes on and on.
It was inspiring to see the corporate and nonprofit sectors come together for the common good, even as we dealt with uncertainty and sometimes even tragedy in our own lives. Everyone rallied together to ensure people were fed, housed and cared for.
Today, the fallout of this unprecedented time is far from over. More than 8 million families have fallen into poverty since May 2020, and 20 million people report their household doesn't have enough to eat. More than 62.6 million people are having trouble paying their bills and 7 million others are behind on rent.
This wave of pandemic poverty is calling nonprofits, foundations, corporations, government entities and individuals to come together in new ways to make a bigger and more sustainable impact and to make sure the solutions are equitable for all.
We have a lot of work to do, together.
---
Do Good:
It's because of people like you that The Salvation Army can serve more than 31 million Americans in need each year. (That's almost one person every second, every day.) Your gift helps The Salvation Army fight for good all year in your community. It's an effort to build well-being for all of us, so together we rise. And that good starts with you. Give to spread hope with a donation of funds, goods or time today
You've probably seen the red kettles and thrift stores, and while we're rightfully well known for both…The Salvation Army is so much more than red kettles and thrift stores. So who are we? What do we do? Where? Right this way for Salvation Army 101.
Are you best suited to join the Fight for Good in disaster relief? Mental health? Social justice? Take our What's Your Cause quiz and discover where you can make the biggest impact today.