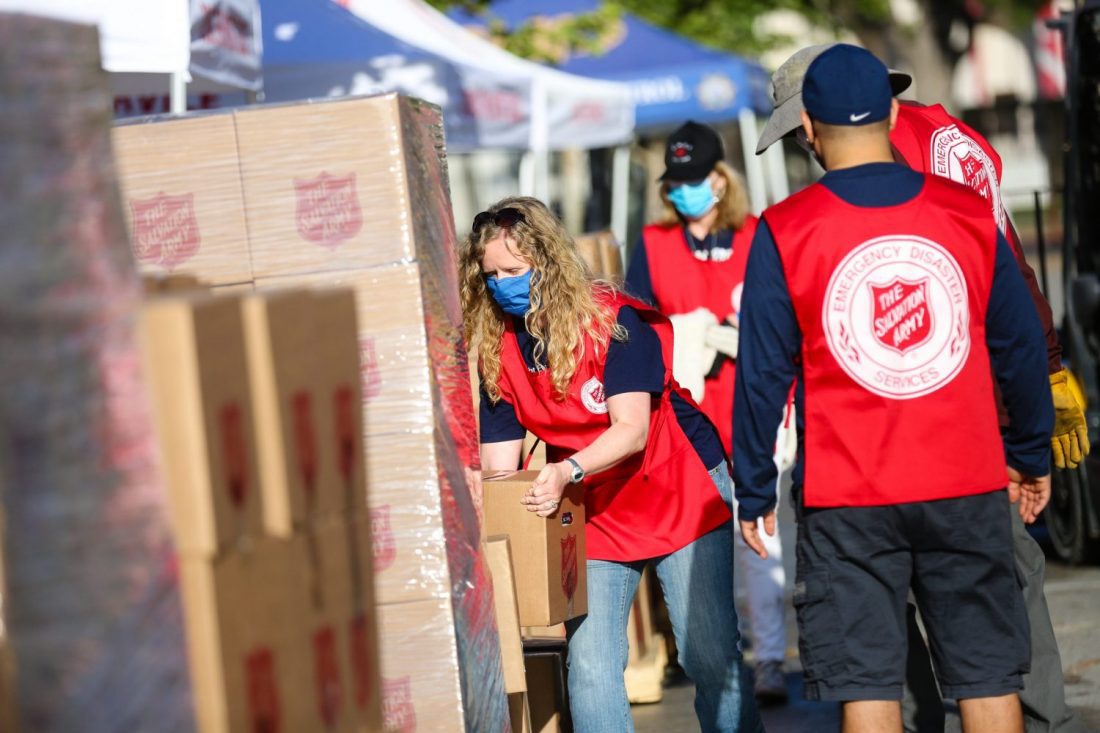 Salvation Army responds in force to COVID-19 out West
In the COVID-19 pandemic, The Salvation Army Western Territory continues to serve humanity through the ways it always has—offering food, housing, resources and emotional and spiritual care—but the volume of need, at one time, has far surpassed anything the Army has ever known.
Since The Salvation Army began its COVID-19 response in the west March 13, it has served more than 2.7 million meals, provided more than 469,000 food boxes, along with nearly 285,000 nights of lodging and more than 263,000 Personal Protective Equipment (PPE), as of May 18. Additionally, the Army has made nearly 187,000 contacts for emotional and spiritual care.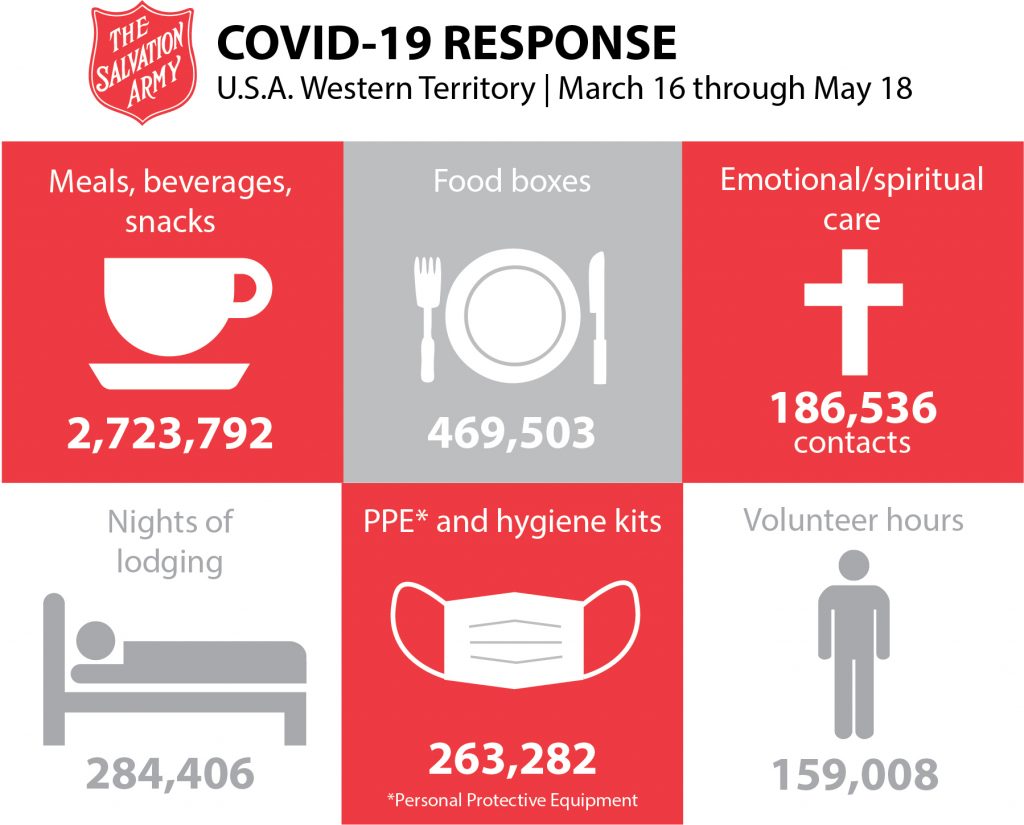 "I remain convinced that there is no other organization that is capable of addressing the broad variety of human needs that have emerged as a result of this crisis," said Territorial Commander Commissioner Kenneth G. Hodder. "The Salvation Army has the personnel, we have the infrastructure, we have the credibility, and above all, we have the mission."
Compared to February 2020, a month before the pandemic, the need for food boxes alone has increased by more than 200 percent, according to data from the Western Territory's Social Services and Emergency Disaster Services. In one case, in Riverside, California, the need for food boxes has grown to 1,000 per week, with about 75 percent of recipients seeking assistance for the first time, according to Corps Officer Lt. David Cain.
In San Francisco, officers, staff and volunteers continue to deliver meals to 784 individuals experiencing homelessness in 51 encampments around the city. In Portland, Oregon, three corps banded together for a food distribution event series named Operation Share Hope, held three times a week beginning May 4, aimed to serve four times as many people. 
Throughout the territory, large-scale food distribution efforts have been supported by various forms of donations and partnerships. In Hawaii, The Salvation Army put out a need for protein and the Cattlemen's Association came forward with 16,000 pounds of ground beef. In the Southwest Division, the Army has received donated food from a range of companies, from the Venetian Resort on the Las Vegas strip to 18 pallets of assorted beverages from Arizona-based Hensley Distributing, owned by the family of the late U.S. Senator John McCain.
In partnership with Latter-day Saints (LDS) Charities, food distributions in locations across the West in mid-May provided 24,000 boxes of food to families in need.
"We're serving 2,000 families that were identified by the L.A. School District," said California South Divisional Commander Lt. Colonel John Chamness at one of two distributions in Los Angeles. "Those 2,000 families will get 2,000 boxes which are equivalent to 36,000 meals." 
The West's infrastructure for doubling its efforts on homelessness, The Way Out, helped the Army meet the need for lodging during COVID-19 by opening new congregate and hotel shelters. Across the territory, lodging was up nearly 295  percent from the month before. 
In the Northwest Division, the Army opened a 200-bed temporary modular structure at the Memorial Stadium at the Seattle Center. The Army is working with the Los Angeles Homeless Services Authority (LAHSA) to open a 400-bed hotel shelter in Downtown L.A., the fourth hotel shelter opened with Project Room Key. In Orange County, California, the Army transformed a pair of thrift stores into shelters.
Across the West, The Salvation Army has helped cover costs for those trying to stay housed. In Colorado, where there have been no moratoriums on evictions, the state has issued a nearly $500,000 contract to the Army for rent assistance. The Intermountain Division's call center, covering four states, is receiving about 1,100 calls looking for the assistance a day—a number it would usually receive in a month—and in addition to calls to the national "hope line" call center.
While thrift stores across the U.S. closed, Adult Rehabilitation Centers (ARC) continue to provide care to those in recovery. Even as stores begin to re-open, programs have supported local corps with various response efforts, and in the California South and Hawaii divisions, ARCs have turned to divisional camps for recreation and work projects, as the 2020 camp season was canceled. 
"The decision was reached for the protection and safety of all concerned," said Chief Secretary Colonel Douglas Riley, who chaired the camp task force. "We will reopen when we can meet and resume full operations in a safe and secure environment for kids to enjoy the great outdoors."
Throughout the territory, Ray and Joan Kroc Corps Community Centers opened their doors for emergency childcare for frontline workers, and the Coeur d'Alene (Idaho) Kroc Center is also providing virtual fitness classes. In Anchorage, the Army opened a shelter for children who need to be quarantined away from their family. 
All corps have moved worship online during the pandemic, in many cases, reaching more people than traditional in-person worship meetings. Some divisions have set goals to keep up corps' online presence once in-person worship resumes.
In Seattle, The Salvation Army's shelter programs are charting new ground during COVID-19 with a team of Salvation Army officers dedicated to providing a ministry of presence, meeting clients and staff at their point of need.
While the Western Territory remains in the response phase of its efforts, it is clear the work is far from over. While the economic fallout and challenges related to COVID-19 persist, The Salvation Army will continue to be a source of support in the post-virus world. Most of the West's divisions are considering what an eventual reopening will look like, as states begin to relax stay at home orders. 
"The whole virus itself may be waning [in Alaska]," said Alaska Divisional Commander Major John Brackenbury. "But the economic effects will be with us for years to come."
HOW TO HELP:
If you'd like to make a monetary donation, please click here to make a gift.
Text 'GIVE' to 52000 to make a $10 donation to The Salvation Army. This will automatically add a one-time donation to your next mobile phone bill.
For information about volunteering, please visit volunteer.usawest.org.
To learn more about how to support The Salvation Army's relief efforts, please click here.