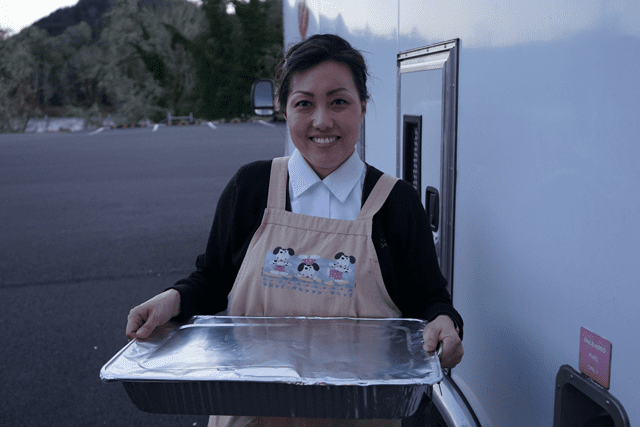 Salvation Army feeds rural residents after winter storm
By Hillary Jackson –
After a sudden, unexpected snow storm dumped nearly one foot of snow, and toppled trees and powerlines Feb. 24, residents of rural parts of Douglas County, Oregon remain without power.
The Salvation Army Roseburg Corps stepped in to serve meals in nearby Elkton, Oregon as a part of the Douglas County Community Organizations Active in Disaster (DC-COAD) group to ensure the rural residents' needs are not forgotten.
The rural city nearly 40 miles from Roseburg is part of the county that remains without power, according to Douglas Electric.
"They're lovely people, they're resilient people," said Roseburg Corps Officer Captain Kristy Church. "They're used to having no power for a while, but this is much longer than what they're used to."
Originally The Salvation Army was asked by the Red Cross to help feed people in Elkton two times, but the superintendent and the mayor of Elkton met with Church and asked the Army to be there until March 19.
"We'll be feeding dinner for those that need us and taking food boxes since there's no food pantry in Elkton," Church said.  She estimates 30-40 people continue to need meals each day.
So far The Salvation Army has served over 370 meals, which may seem like a small number, but the population of Elkton is 198 people. The Army has also distributed water had left over from Christmas and summer water ministries and passed out leftover stuffed animals to the kids who come for meals.
When Cascade Director of Communications and Marketing Alexa Morris visited Elkton, she spoke to a family who just had their power turned back on and decided to give back by baking cookies to bring to the shelter at Elkton High School.
"People look after each other in this town, because although the power has been out, people are still going to work, kids are going to school and students have softball and baseball practice," Morris said. "I'm so glad The Salvation Army can be there at the end of the day to ensure everyone has a hot dinner because these families shouldn't have to worry about where they are going to get their next meal."
At the start of the power outage  people still had food in their homes, so meals weren't the main focus.
"What's happening is the surrounding areas, in the smaller communities, their main need was not food, but it was firewood and hay for their animals, but we don't have access to those things," Church said, so she posted the needs on the corps Facebook page for people to help.
The DC-COAD group was formed through the Douglas County Sheriff's Department in preparation for natural disasters, like earthquakes and fires. Once the Sheriff's Department dispatches the group, they get to work.
According to the Chairman of the DC-COAD group Reed Finlayson, who represents the Church of Jesus Christ of Latter-Day Saints, many of the organizations who make up DC-COAD were already helping the community's snowstorm relief efforts prior to being dispatched.
"The Salvation Army and [United Community Action Network] and the county have been remarkably helpful. The Sheriff's office has been helpful," Finlayson said.
Finlayson anticipates the DC-COAD group will receive requests for help with snowstorm-related needs for months to come.
"As hard as it's been, it's a blessing to show people what they need to have as far as a disaster," Finlayson said, as many people did not have alternate plans for heat and water.
"We know we're needed and we are going to serve as long as they need us," Church said.