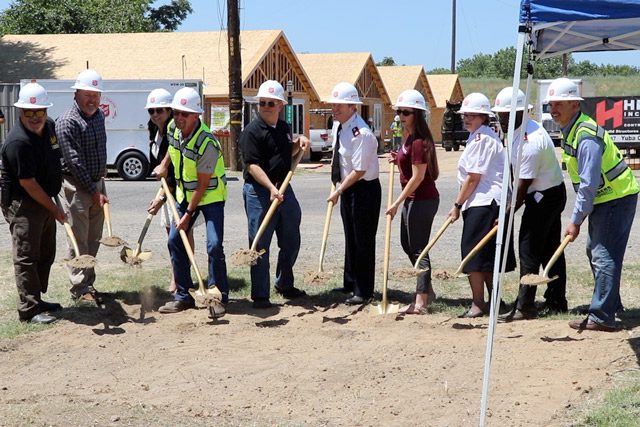 Salvation Army creates new housing for Camp Fire displacees
Eligible families will gain access to wraparound services for up to 18 months.
By Abagail Courtney – 
Nov. 8, 2018 is a day that will never be forgotten in Butte County, California. That's the day the Camp Fire set out on its devastating path, claiming 86 lives and nearly 14,000 homes The vast majority of the city of Paradise was lost in what was later deemed the deadliest and most destructive wildfire in state history. 
Nearly nine months later, the news vans are long gone. Some residents have moved out of the county, others out of state. 
Then, there's a sizable cohort who still remain displaced within Butte County. The Salvation Army is working to make sure they're not forgotten. In nearby Olivehurst, it is currently building a group of eight, two-bedroom transitional housing units specifically for Camp Fire survivors – Hope Vista. 
Backed by a large state grant and several individual donors, these "turn-key" homes will house families who may be couch surfing or living in mobile homes or temporary trailer units after losing everything in the fires.
Slated for a January 2020 opening, Hope Vista will give preference to Camp Fire victims in the greatest need of wraparound services, to be provided by an on-site case management team. Residents will stay for an estimated 12-18 months at Hope Vista. Eventually, the units will be incorporated into The Salvation Army's long-standing transitional housing shelter on the same property. 
"We are taking a holistic approach to those who are affected by the fires as the community rebuilds, and the people rebuild. It is not just about getting a building rebuilt; it is everything about their lives," said Del Oro Divisional Commander Major Ivan Wild. "It's not just about surviving the fire and being physically OK. It's about the post-trauma experience they are going through, too." 
According to Yuba Sutter Corps Officer Major Julius Murphy, it's important to realize that there may be several barriers preventing someone from securing housing.
"Sometimes it's not that they haven't found it," Murphy said. "It could be a lot of other reasons—bad credit history, in recovery, low income; we want to help remove those barriers effectively." 
While awaiting the completion of Hope Vista, The Salvation Army is helping individuals with move-in costs, work supplies, medical assistance and even disaster clean-up. The organization has also provided day camp scholarships for 40 children whose families were affected by the fires and another 50 scholarships for summer camp.
"There was a man in Chico who lost all of his tools of trade in the fire and couldn't work without them, so we bought him all new ones," Murphy said. "We want to assess the needs and then meet the needs." 
In order to complete the homes, The Salvation Army still needs three to five business sponsors to help them obtain final furnishings such as sofas, beds and kitchenware.
The Yuba Sutter Corps is also currently in the process of obtaining two additional lots, one north of the Hope Vista site to build two or three additional two-bedroom homes, and an adjacent lot for a community playground.