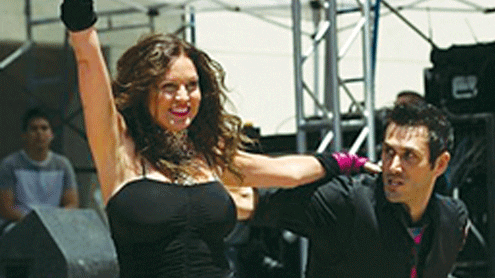 Salsa anyone?
Television personality enters a dance
competition to raise funds for her corps.
By Buffy Lincoln
Lisa Guerrero trained five weeks with a professional to prepare for the annual Salsa Festival in Oxnard, Calif., which took place on July 31. A longstanding member of the Oxnard/Port Hueneme Corps, she was dancing not only for the trophy, but also to raise money to support the corps' Free Medical and Dental Clinic.
"Lisa's commitment goes beyond salsa dancing. She also put her name and money to our annual golf tournament for the last few years. We are blessed to have her," Corps Officer Major Eric Lo said.
Guerrero, the chief investigative correspondent for "Inside Edition," is an award-winning broadcaster, actress and mosaic artist. As a member of the Oxnard Corps with a background full of Salvation Army history and service, she had no problem designating a charity to support.
"Both sides of my family have deep roots with The Salvation Army going back several generations from my dad's family—Walter Coles—from England and my mother's family—Lucy Guerrero—from Chile. So when the Oxnard Salsa Festival asked me to compete for my favorite charity, there was no doubt that I would choose The Salvation Army's Free Medical and Dental Clinic in Oxnard," Guerrero said.
Each year the contest features dancers representing six area non-profit organizations. Due to the large number of non-profit groups, they are on a rotation cycle; this year the Oxnard Corps had its turn.
Guerrero placed in both categories: 1st in technical and 2nd in people's choice—determined by votes and the donations each dancer received. She raised over $13,500.