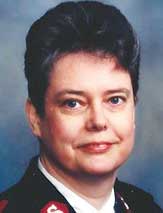 promoted to glory_Major Kathie Timpson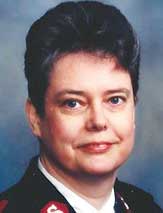 Major Kathie Timpson, 66, was promoted to Glory from Sun City, Calif., May 22.
Kathie Crosby was born in Denver, Colo., April 23, 1947, to Edward and Evelyn Crosby, the first of three daughters. Her parents entered The Salvation Army Training College in San Francisco and were commissioned in 1953. She went with them to appointments in Idaho, California, Montana and Washington.
Crosby graduated from Everett (Wash.) High School in 1965 and entered the Training School with the Witnesses to the Faith Session. She was commissioned in 1967 and served as an officer for eight years before stepping out to work in the private sector.
At the dedication of the Concord (Calif.) Corps in September 1978, Crosby was reacquainted with Neil Cal Timpson, and the two wed in 1979. Neil Timpson entered the training school in Rancho Palos Verdes, Calif., with the God's Soldiers Session and was commissioned in 1981.
The Timpsons served in corps appointments in Colorado Springs and Englewood, Colo., and in adult rehabilitation center (ARC) appointments in Anaheim, Santa Monica and Long Beach, Calif.; Colorado Springs, and Portland, Ore. They returned to corps appointments at Juneau, Alaska; San Francisco Turk Street and Las Vegas Citadel.
The couple retired in 2003 to Sun City, where Kathie Timpson spent nine years as a real estate agent.
Timpson is survived by her parents, Majors Ed and Evelyn Crosby; her husband, Major Neil Calvin Timpson; sons, Neil Calvin (Samantha) Timpson II, and Edward (Steffanie) Timpson and their children Brooke-Lynn and Cameron; Neil's daughter, Lava Timpson; and sisters, Karren Crosby and Linda Chamberlain.
Major Edward Covert officiated at a celebration of life service at the Riverside ARC on May 29.