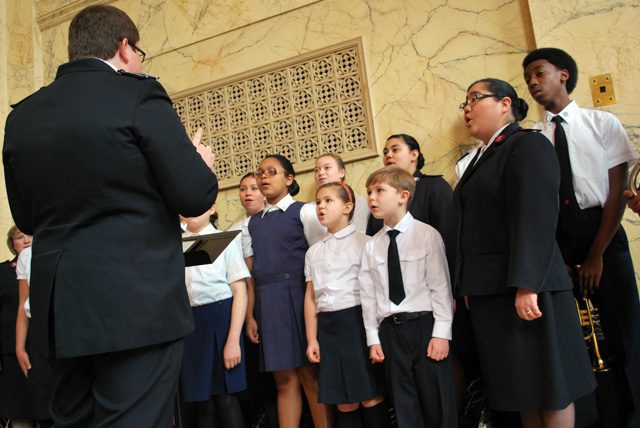 Portland experiences 'Something Grand'
Annual music extravaganza raises money for The Salvation Army's local after-school music programs.
By Teresa Steinmetz – 
Ten grand pianos filled the stage at Arlene Schnitzer Concert Hall April 4 in Portland, Ore., for The Salvation Army's fourth annual Something Grand fundraiser, which raises money for its local after-school music programs.
"Today, more than ever, our kids need the support of programs that instill hope and confidence," said Major Nancy Dihle, Cascade divisional secretary for program and Portland Metro coordinator. "They need a place to go where they can dream, grow, build lasting relationships and discover that they truly are great. The Salvation Army, with the help of many others in our community, have dedicated ourselves to ensure that children throughout the Portland Metro area have these opportunities."
The show began with musicians at all 10 pianos performing the "William Tell Overture." Individual pianists played pieces ranging from Mozart and Beethoven, to original works, boogie woogie and the pop hit "Uptown Funk." In addition, four pianists played on two pianos, performing "Linus and Lucy" and a medley of seven children's TV show theme songs.
Hailey Rowden performed her original work, "Blossom and Bloom." Rowden began learning music at The Salvation Army and her talent caught the attention of the corps officers, who connected her with Michael Allen Harrison, a well-known Portland pianist. She began training with him, and today she is pursuing a career in music.
The event was a community affair. Portland Police Sergeant Jim Quackenbush played a medley from "Star Wars" accompanied by the other nine pianos. Jamie Hood, the new divisional music director, took center stage to play flugelhorn with the pianos accompanying him.
For the finale, two young sisters, the 10 grand pianos and youth from the Portland Youth Philharmonic performed the hit "Let It Go" from the Disney movie "Frozen."
Harrison first brought the idea for Something Grand to The Salvation Army, proposing a family friendly and affordable version of his successful Ten Grands show that would raise money for the Army's music programs and allow them to expand music education to more at-risk youth in the community.
"[Today] you have witnessed people who have been given the chance to achieve greatness," Dihle said at the event. "Countless young people wait in our own backyard for that same chance. Philippians 2:4 reads 'let each of you look not only to his own interests, but also to the interests of others.'"