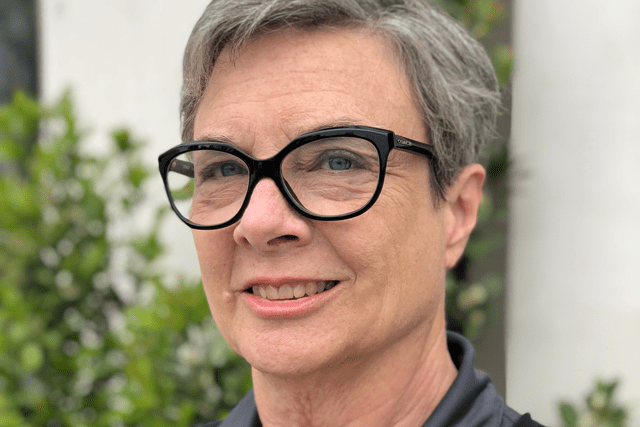 OC social worker awarded for excellence
Jean Watkins receives 2019 Salvation Army Award for Excellence in Social Work.
By Hillary Jackson –
When Jean Watkins started at The Salvation Army in Orange County, California, the Army only had family services and a shelter.
When she retired from her post as Director of Social Services 17 years later in 2018, Watkins supervised five family service offices, two transitional housing programs and facilities, an emergency shelter, an anti-human trafficking program and a county-wide Christmas distribution effort.
Watkins is scheduled to receive the 2019 Salvation Army Award for Excellence in Social Work at the upcoming National Social Services Conference in Kansas City, Missouri. While she was "totally shocked" about her selection, those who have worked with her recognize her commitment to the work of the Army and its legacy of holistic care.
"In the time that Jean was responsible for the social service program and activities in Orange County, we saw continued expansion in the services provided and ongoing strengthening of both the professional service delivery and the advancement of the ministry and mission of The Salvation Army," said Lt. Colonel Lee Lescano, former Orange County Coordinator.
Often expanding the Army's services meant using her "quiet, but steady voice" in community meetings, HomeAid Orange County Executive Director Scott Larson recalled. "She played an important role in making The Salvation Army's voice heard."
Watkins and Larson worked together in county collaborations to end homelessness. The pair also brainstormed how to transform the dated 1950s Hospitality House building. In 2016, their plans came to life, when the revamped space was opened. Larson said Watkins' work with the Hospitality House has become a template for operating emergency shelters countywide.
While Watkins invested in the community through her role, she cared for those under her leadership, too.
"Jean demonstrated a clear understanding of how to bring out the best in her staff and always had a positive and encouraging manner," Lescano said. "She was well-loved and respected both by those who reported to her and by the entire O.C. officer and professional staff."
Each week, Watkins met with staff to check in.  "Her first question was always 'How are you? Not just work wise,'" Shannon Lamb, Senior Manager of Homeless Services, said.
"In The Salvation Army, it's different than a lot of other workplaces. In social services especially, the people you're working with, the people coming to you for help, have a lot of trauma and needs and hurt and you're constantly giving of yourself," Watkins said. "That's one reason my leadership wasn't just overseeing and making sure someone was doing something well, but also seeing who they were."
Four years ago, Watkins used her annual staff continuing education day to talk about the spiritual concept of rest and avoiding burnout, and continued to build on it over the years.
"She was a very pastoral and forceful leader, very calm and nurturing," said Lamb, who worked with Watkins for seven years. "She didn't really get rattled…she was always the calm voice in the midst of what's going on."
Formerly a Methodist minister, Watkins started as a hospital chaplain when she moved to California with the calling to work with the urban poor. Her ministry brought her alongside social workers. Something clicked, and she got her masters in social work. For her second-year internship, she was paired with The Salvation Army in Orange County and later became the first case manager with a masters who worked one-on-one with clients.
When Lamb was hired as Case Manager, Watkins was promoted to Social Services Director. Still, clients asked for Watkins. "Everyone always wanted Jean," Lamb said, adding, even in retirement, clients still ask for her. "She really just left such a positive impression on every person she touched."
"I can recall…how sincerely she rejoiced in the growth and success of the people she worked with in all aspects of social service," said Lt. Colonel Michele Lescano, former O.C. Coordinator. "Her genuine understanding of people as 'living souls' who simply needed someone to walk alongside them for a time made her one of the finest possible Social Service Directors one could ever have the privilege to work with."
One of those souls is Rosie Littlejohn, who was a client of Watkins' before she was hired on. The pair met in 2008 when Watkins interviewed her for a job, but it didn't pan out. Still, they kept in touch. When a position opened up on site for case manager, Littlejohn gave it another go. Today, Littlejohn is the Army's Program Manager of Homeless Services in Orange County.
"Jean has made such a huge impact, not just on my life. I've watched her make a big impact on everyone she's come in contact with," Littlejohn said. "She's the peace in the middle of the storm. Everyone is running around crazy and she is calm and quiet."
On the day of the funeral for Littlejohn's mother, her husband relapsed. Watkins served as support and spoke at the service.
"Jean helped bring closure for me," Littlejohn said. "She really walked me through one of the most difficult moments of my life and gave me a different view on death and what that means, and there was no one in my life who could do that at that moment."
While Littlejohn can no longer drop by Watkins' office for prayer, she knows she's not far away.
"She is one of those people that you'll probably never have out of your life," Littlejohn said.
The month before Watkins retired, the Army got approval for a 600-bed homeless shelter. Watkins sees it as a fitting end—she believes she was meant to serve in the time she did, and it was time to move on.
"It was a good time for my strengths and what God had poured into me to lay a good foundation for a bigger work," Watkins said. "It was a God thing."
When Orange County opened its new, 224-bed emergency shelter in January, Watkins was there greeting guests as a volunteer.
"She's still on our team," said Littlejohn.