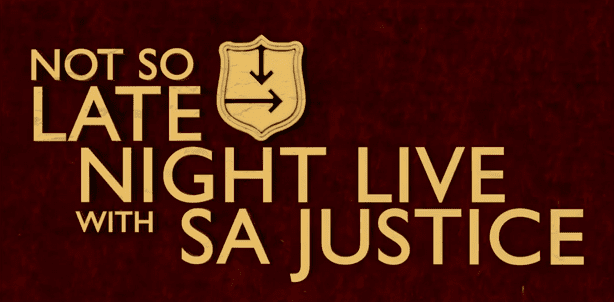 'Not So Late Night with SA Justice' premieres  
Hosted by Major Danielle Strickland, the evening's guests included Commissioner James Knaggs, author Captain Lisa Barnes, Envoys Roy and Karen Snapp-Kolas and a musical performance by The Territorial Youth Chorus.
By Jackeline Luna – 
In true Jimmy Kimmel style, Territorial Social Justice Secretary Danielle Strickland kicked off the "Not So Late Night with SA Justice" live show at the Pasadena Convention Center June 11.
Joining her on stage were special guests Territorial Commander Commissioner James Knaggs, "Love to a Whore's Daughter" (Frontier Press, 2015) author Captain Lisa Barnes, Envoys Roy and Karen Snapp-Kolas and musical guests, The Territorial Youth Chorus.
The 90-minute show included several segments: Live polling, soapbox sessions, interviews and musical performances.
Strickland began the show by sharing her three rules of engagement: 1. Seek to learn something new tonight. 2. Choose not to get offended. 3. Pick something to do.
She tested the audience by holding up signs with social justice issues such as gender inequality, #BlackLivesMatter, the refugee crisis, fair trade uniforms and the upcoming presidential election written across them. She asked the audience to help categorize each issue, and used the signs to explain why we avoid dealing with these issues.  
"We file injustices, especially the ones facing us, into these categories: too political, too personal, or just plain too controversial," Strickland said. "By the time we file all these injustices, we're kind of left with some other Salvation Army issues to deal with."
Throughout the evening, Strickland invited audience members to participate in live polls and soapbox sessions in which speakers were given 58 seconds to talk about an issue they are passionate about.
Knaggs, the first guest of the evening, discussed his reason behind creating a social justice department.
"Sometimes in our movements, we reduce ourselves to a club," Knaggs said. "And that's not what God wants…He wants us to be social activists…We have to make sure that's clearly a priority of the movement."
The evening's musical guests took the stage with yellow strips of tape over their mouths to bring awareness to the human trafficking campaign, "We Shall Not Be Silent." They performed a medley of songs.  
The second half of the show included appearances by Barnes and the Snapp-Kolases.
Barnes discussed her book and shared about her experience with the foster care system. She introduced a new manual and journal, "Brave," designed to help groups put on one-day events for foster care girls.
The Snapp-Kolases debunked some of the biggest myths on homelessness.
In Strickland's closing remarks, she reminded the audience of her three rules of engagement, and urged each attendee to hone in on rule three, saying: "Pick something to do, this isn't all just talk."