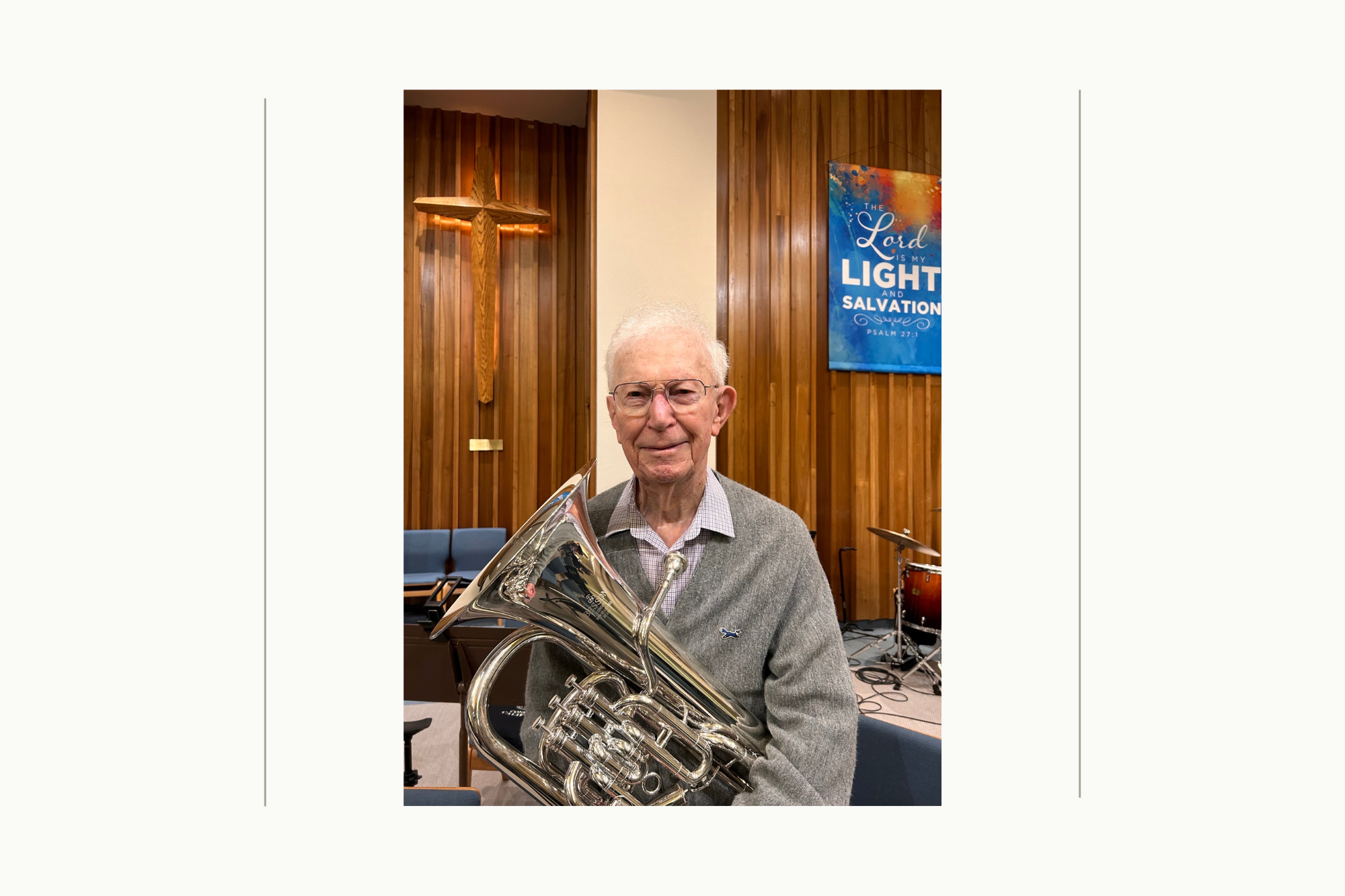 97 years with The Salvation Army: Wisdom for a long and joyous life
Now in his tenth decade of life, Kenneth Hill is an active soldier at the Concord (California) Corps.
Nonagenarian Kenneth Hill found his place early in life. It wasn't a geographical location, but instead a home base he could return to almost anywhere in the world. It was his church, The Salvation Army, which currently exists in 133 countries.
"There's joy in The Salvation Army," Hill said.
The Salvation Army is the thread connecting the different seasons of Hill's life, from his childhood and youth in the United Kingdom, to his service during WWII with the Coldstream Guards, to his years in the United States where he raised a family, to now—the "golden years" that find him soldiering at the Concord (California) Corps.
"He is a super star—97-years-old and still plays in the band and sings in the Songsters," Concord Corps Officer Major Gwyn Jones said.
Hill was born April 26, 1925, in West London, a third-generation Salvationist with deep roots in Salvation Army music.
"My grandfather on my father's side was the Army's first band inspector, which is now the Secretary for Bands and Songsters [Music Secretary]," Hill said. "He was one of the founders of the music board of The Salvation Army."
Even though his grandfather died when Hill was just seven weeks old, Hill said his memory lived on. "I was introduced as Band Inspector Hill's grandson, and he has been my inspiration for taking the course that I have—endeavoring to further Army music," he said.
Hill participated in youth bands from age 8 until he was commissioned in the senior band in 1942. From there, he went on to become a bandmaster, serving as such for many years.
God, music and community—not only at the Red Kettle
Music keeps Hill connected with both God and other people.
"I guess I could go on for hours," he said. "[The music] is my experience of getting deep in The Salvation Army religious worship; this is where the [worship] experience grew from."
He recalled the impact the Army's music groups have had in the community, too, especially at Christmas, when they would venture out to carol, not just at the Army's red kettles.
"We used to go and form a ring in the street, because there wasn't any traffic," Hill said. "We'd play our carols and spread the good word. People would come and listen to us."
He said those people weren't looking to the Army to fill physical needs but instead a more intangible one. "Their main objective was coming for worship and exposure to the Lord," Hill said. At church, they might find a community of like-minded people, as Hill did at The Salvation Army.
Concord Corps Officer Major AnnMarguerite Jones said Hill practices his brass instrument, the euphonium, every day, and makes the weekly rehearsals at the corps a priority.
"To me, he is an encouragement—a constant presence," she said. "My heart is warmed every time I see him. The words he shared during one of my messages were inspirational: 'Be faithful. It's not all about receiving, but giving. Use your gifts for the Lord. Use your gifts to bless others.'"
Leroy Thieme, Director of Finance for the Adult Rehabilitation Centers Command, remembers Hill from the Richmond (California) Corps, where Thieme served as Corps Officer in the 1990s. Hill was Bandmaster and soldiered there with his wife, Olive, until the corps closed, when the Hills transferred to the Concord Corps.
"As far as Ken was concerned, the band and songsters were always on duty—and so was he," Thieme said. "Perhaps more personally important was the support my family and I received from Ken and Olive. They were truly gracious and loving people who would support us, serve with us and love us through all the ups and downs in the corps…They were true Salvationists and more importantly, true Christians. Ken was not only a mentor to me but also a father figure. I am so grateful to have known him all these years."
These days, Concord Corps Sergeant-Major James Black finds Sunday mornings in the corps' band room amusing, as each individual who has ever been a bandmaster greets the others: "Good morning, Bandmaster," "How are you, Bandmaster?" "Very well, Bandmaster…I'm sure [Hill] knows the respect and affection we have for a man who faithfully taught and led many young people to discover joy in music," Black said.
Hill said The Salvation Army is his life. And through all the changes Hill has experienced in 97 years, one thing has remained unchanged, and it's what he said he'd advise young Salvation Army soldiers to hold onto.
"What has stuck with me most is: For the Lord is good; his mercy is everlasting; and his truth endureth to all generations [Ps. 100:5]," Hill said. "This has been a comfort for me and a motivation for me. I feel very sure about the truth and the blessings the Lord bestows."
Hill returned to how a person can find happiness. "Be happy in what you do for the Lord," he said. He recited a favorite chorus, one from former Salvation Army General Wilfred Kitching: "I give thee my best, nothing less, nothing less. How gladly I give thee who loved me, my best."
"The guidance and directions the Lord gives to each of us are a joy to receive and I just say, do what the Lord tells you to do, or shows you to do or commands you to do," Hill said. "But always do it with a cheerful heart. The Lord loves a cheerful giver. He also gives a cheerful disciple blessings."
Fellow band member Doug Madsen called Hill his hero because of his faithful service to both his church and the Lord.
"I always greet him as 'Young Ken' as a term of endearment and acknowledgement of his nearly 100 years in this world," Madsen said. "At 65 years old, there are few people I can look to as an example of how to live my life but Ken still shines like a Northern star to guide me."
---
Do Good: