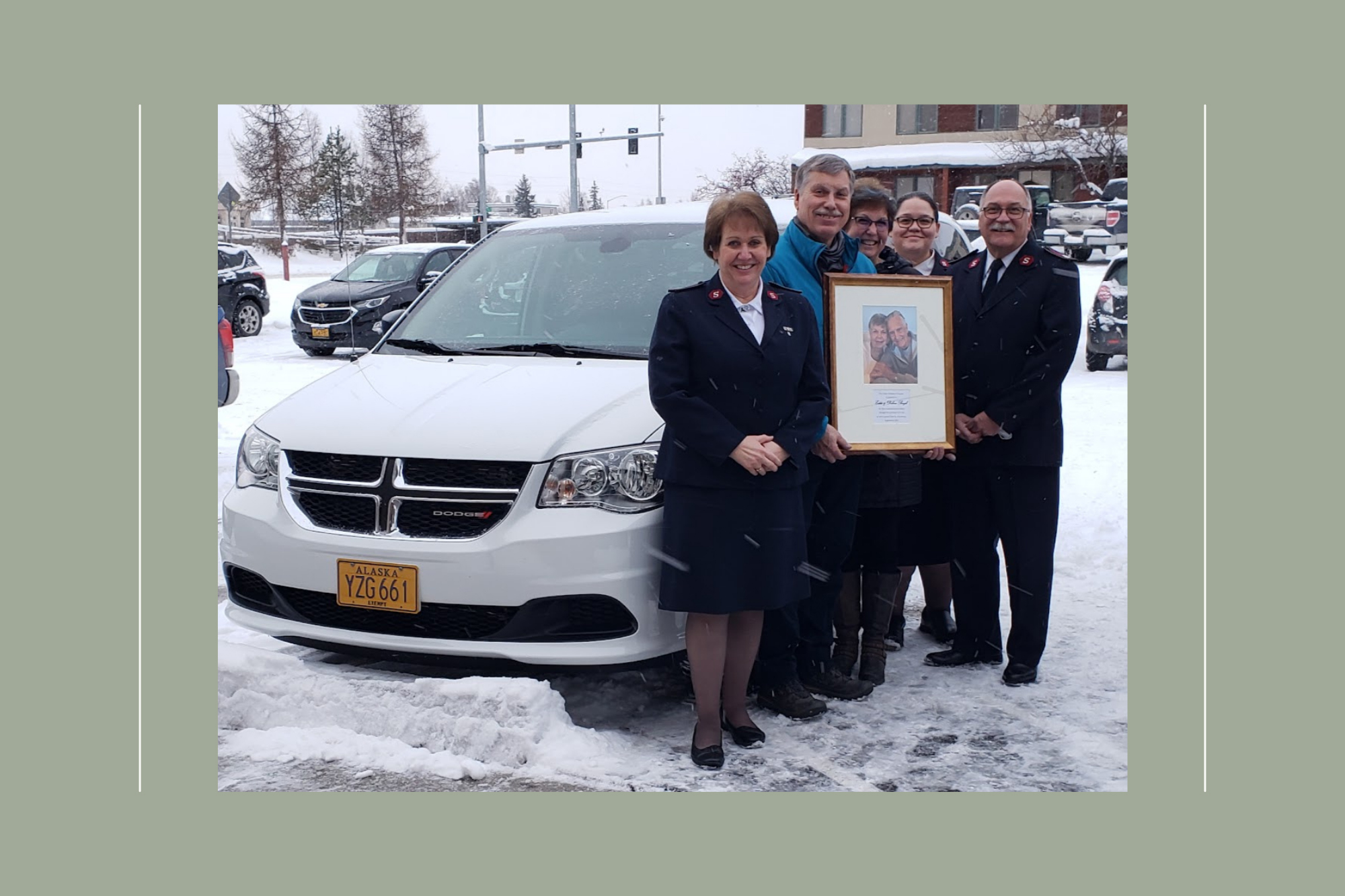 Van donation helps Salvation Army feed seniors through Older Alaskans Program
Every day The Salvation Army's Older Alaskans Program (OAP) delivers 500 hot meals to seniors. And for a while, the effort faced challenges from having to "make it work" with its fleet of older vehicles that were sometimes unpredictable.
That was until a donation allowed the OAP to purchase a new van in March 2021 that has streamlined the process for assessments into the program, keeping the meals coming to older Alaskans. 
"We wasted a lot of time," said OAP Manager Uwe Schaetze, of the pre-van days. "Now it's not a big deal. The van is in good condition and we try to keep it in good condition." 
The donation, made by Beth and Steve Bergh, was in honor of Steve's parents, who had a lifelong connection to The Salvation Army.
"My mother and father would have been honored to help others," Steve Bergh said.
Steve Bergh's father, Eddie Bergh, was the son of Salvation Army officers who served in Chicago at the Mont Clare Corps. After his father passed away, Eddie Bergh followed in his parents' footsteps and also went to work for The Salvation Army by driving a donation truck.
Though life led Eddie Bergh and his family on a different path outside of the Army, they lived in Chicago and stayed connected, both with Salvationist friends and by attending special Salvation Army events. With his wife, Delores, Eddie Bergh would visit their son Steve and daughter-in-law Beth, in Alaska.
The pair were married for 67 years and still very much in love when Eddie Bergh passed away, finally being Promoted to Glory. When Delores passed two years later, the remainder of their savings was left to the family.
The Bergh children said they felt it would be appropriate to give a portion of that amount to honor the Lord's work and thought The Salvation Army would be the most thoughtful place to entrust that donation.
So the funds went to help Alaskans through the OAP, which provides home-delivered meals and group meals sites to Alaska seniors.
"It is important to make sure people, especially the elderly, are not slipping through the cracks," Steve Bergh said. "The Older Alaskans Program helps do exactly that. It is encouraging to see The Salvation Army active in this area. Donating to this cause is a blessing."
The OAP delivers hot meals every weekday, and provides frozen meals for the weekends and holidays. Each meal contains one-third of the required daily allowances for nutrition.
"A lot of them cannot go shopping by themselves—they have health conditions, or there's no family close or the family cannot provide it every single day," Schaetze said. "Very often we are the only social contact they have."
The OAP's meal delivery helps to give seniors the opportunity to continue living independently along with a lifeline to the outside world. Schaetze said the OAP team hangs the meal bags on the individual's door. They knock, step out and talk a little.
To be eligible for services, a person must be age 60 or older and complete an online client profile. While there is no charge for meals, donations are always welcome.
"We are very thankful that we have that van," Schaetze said. "And we're very thankful for that couple that donated that van to us."
---
Do Good:
See how The Salvation Army fights hunger.
It's because of people like you that The Salvation Army can serve more than 31 million Americans in need each year. (That's almost one person every second, every day.) Your gift helps The Salvation Army fight for good all year in your community. It's an effort to build well-being for all of us, so together we rise. And that good starts with you. Give to spread hope with a donation of funds, goods or time today.
Learn about how The Salvation Army is delivering food boxes with dignity in Juneau, Alaska.