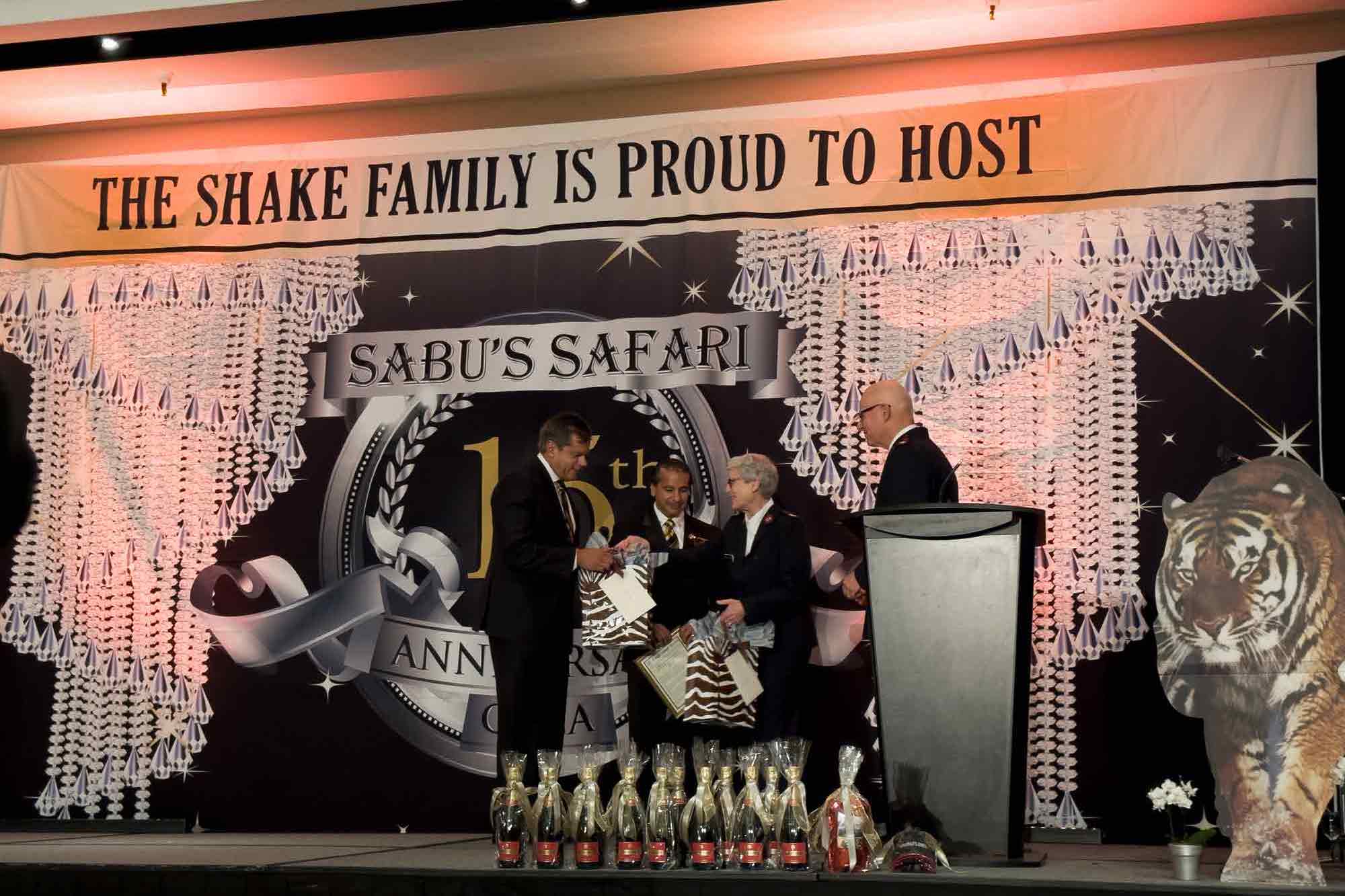 How Sabu Shake Sr. unleashed a 'great tide of compassion' in Monterey
Since 1999, the Sabu Shake Sr. Memorial Foundation has raised almost $6 million to support The Salvation Army in Monterey, California.
In Monterey, California, the Sabu Shake Sr. Memorial Foundation, established by Sabu Shake Jr. and Chris Shake to honor their father, has raised millions of dollars to support the local Salvation Army, funding social services and raising community awareness about The Salvation Army and what it does.
"We've been able to reach out to a lot of people who did not know about The Salvation Army," Sabu Shake Jr. said. "Some people have told us that The Salvation Army was just feeding homeless people—and that was it. But they were very happy to see what The Salvation Army does."
For restaurateur Sabu Shake Sr. and his family, giving back was a way of life. The family owns four restaurants, including Old Fisherman's Grotto, their first, on the wharf in Monterey. Over time, as the family's community involvement grew, they developed a relationship with the local Salvation Army, recognizing their values aligned with the organization. Shortly after forming the foundation, the Shake brothers decided that all funds raised would go to support the work of The Salvation Army Monterey Peninsula Corps.
To date, the foundation has raised almost $6 million, which has allowed The Salvation Army to provide a variety of social services within the Monterey community through the Sabu Shake Sr. Good Samaritan Center, a day center for unhoused individuals; a transitional living program and holiday assistance, among other services.
Learning compassion through example
Originally from Pakistan, Shake Sr. immigrated first to England for school and then, in the 1950s, to the United States, settling in Sacramento, California. Arriving with nothing, he began working as a dishwasher. He saved money and learned the restaurant business. While honeymooning in Monterey with his wife, Isabelle, the couple decided to move there. Once there, Shake Sr. soon launched his restaurant. Meanwhile, the Shakes raised six sons, all of whom grew up working in the restaurant.
"Our dad was a very giving person," Chris Shake said. "You could almost say the Good Samaritan Center was at Old Fisherman's Grotto on the wharf because he truly was one of the leaders in the community that helped a lot of the homeless people and people in need."
Chris Shake said if someone was hungry, his father would feed them. And while he didn't ask for anything in return, he would offer the meals in exchange for dishwashing or sweeping up outside the restaurant, giving people a hand up and not just a handout.
"He was also very generous and charitable to churches and nonprofits," Chris Shake said. "Clergymen and nuns used to come into the restaurant. He would never charge a fee and would say, 'You're welcome here and enjoy a nice meal as my guests.''
Their father's compassion rubbed off on his sons.
"Those [behaviors] are some of the things that my brothers and I learned over the years watching him," Chris Shake said. "And he was very fond of The Salvation Army because everything that he did in life was similar to what The Salvation Army is doing."
Sabu's Safari
For 15 years, one of Monterey's most anticipated events has been Sabu's Safari, an annual fundraising gala organized by the Shake brothers. Each Safari featured a different theme, along with a silent auction and a meal prepared by the Shake family restaurants' top chefs.
The first few Safaris took place at Wild Things, a sanctuary for wild animals in Salinas, California. The Shakes said the safari theme came from their father's love of animals. At one time he had a baby elephant, a Capuchin monkey and several macaws.
"Being from Pakistan, we just thought that safari would be a nice theme," Sabu Shake Jr. said. The name stuck even as the event itself featured different themes over the years, including Sabu's Safari goes to Paris, to Hollywood and to the Caribbean. When the gala outgrew the original venue, it moved to the Hyatt Regency Monterey.
Sabu Shake Jr. said the first Safari is the one that really stands out to him.
"Just seeing [it] become a reality, and how successful it was—we had no idea we would go on two years, five years, 15 years," Shake said. "We just did the first one as a fundraiser and it worked out so well. People were very supportive. And it just continued. Just seeing the community come together in support of The Salvation Army and how giving they were. They really believe in and support this organization."
While the 2022 Safari, the 15th, was the last one the foundation will sponsor, the Shakes hope someone else will take the reins and continue the event. They said they would act as consultants going forward, and their other fundraising activities for The Salvation Army will continue.
Chris Shake said the preliminary proceeds from the 15th Annual Safari, held Oct. 1, are $441,000. Sabu Shake Jr. said the foundation's overall amount raised will surpass $6 million after this year's annual holiday fundraisers.
"[The Safari] is not the only event the Shake family holds during the year to support our ministry in the Monterey Peninsula and our Sabu Shake Sr. Good Samaritan Center," said Monterey Corps Officer Major Judy Bennett. "There are three other fundraising efforts, including an annual turkey drive that enables us to provide turkeys and hams at both Thanksgiving and Christmas to those who apply for holiday assistance."
In October 2013, Sabu Shake Jr. and Chris Shake received the Others Award, the highest award The Salvation Army bestows on non-Salvationists, to recognize their efforts to help others. The family matriarch, Isabelle Shake, received the William Booth Award—one of the Army's highest national awards—in 2020, acknowledging her extensive charitable work.
The Sabu Shake Sr. Memorial Foundation has also supported The Salvation Army ministry in Kona, Hawaii, where Shake Jr. opened one of their restaurants, The Fish Hopper.
"When Sabu Shake Sr. connected with The Salvation Army all those many years ago, no one knew what a great tide of compassion would be released," Monterey Peninsula Corps Officer Major John Bennett said. "His name lives on today in the food, rental assistance, gas vouchers, comfort and ministry that flow through the Sabu Shake Sr. Good Samaritan Center. We are so grateful to Sabu Jr., Chris and the entire Shake family as they further Sabu's legacy of helping those who are in great need in the Monterey community."
Shake Jr. has witnessed the impact The Salvation Army has had in the Monterey community.
"We just rely on The Salvation Army to do what they do best," he said. "We know they're out there at the Sabu Sr. Good Samaritan Center offering services daily. And there's an area, a bike and walking trail, where The Salvation Army van goes at lunchtime, feeding people. And there's the work at the transitional housing in Seaside [California]. We go by from time to time and we're always driving by and we see the service—that they're helping people."
While it's time to turn the Safari over to someone new, Chris Shake said you never know what the future might bring.
"Sabu here, he was the brainchild who created Sabu's Safari," Chris Shake said. "It was his idea. That's come to an end, but we're not leaving out that he might come up with another great idea."
---
Do Good:
It's because of people like you that The Salvation Army can serve more than 31 million Americans in need each year. (That's almost one person every second, every day.) Your gift helps The Salvation Army fight for good all year in your community. It's an effort to build well-being for all of us, so together we rise. And that good starts with you. Give to spread hope with a donation of funds, goods or time today.
See how The Salvation Army fights hunger.