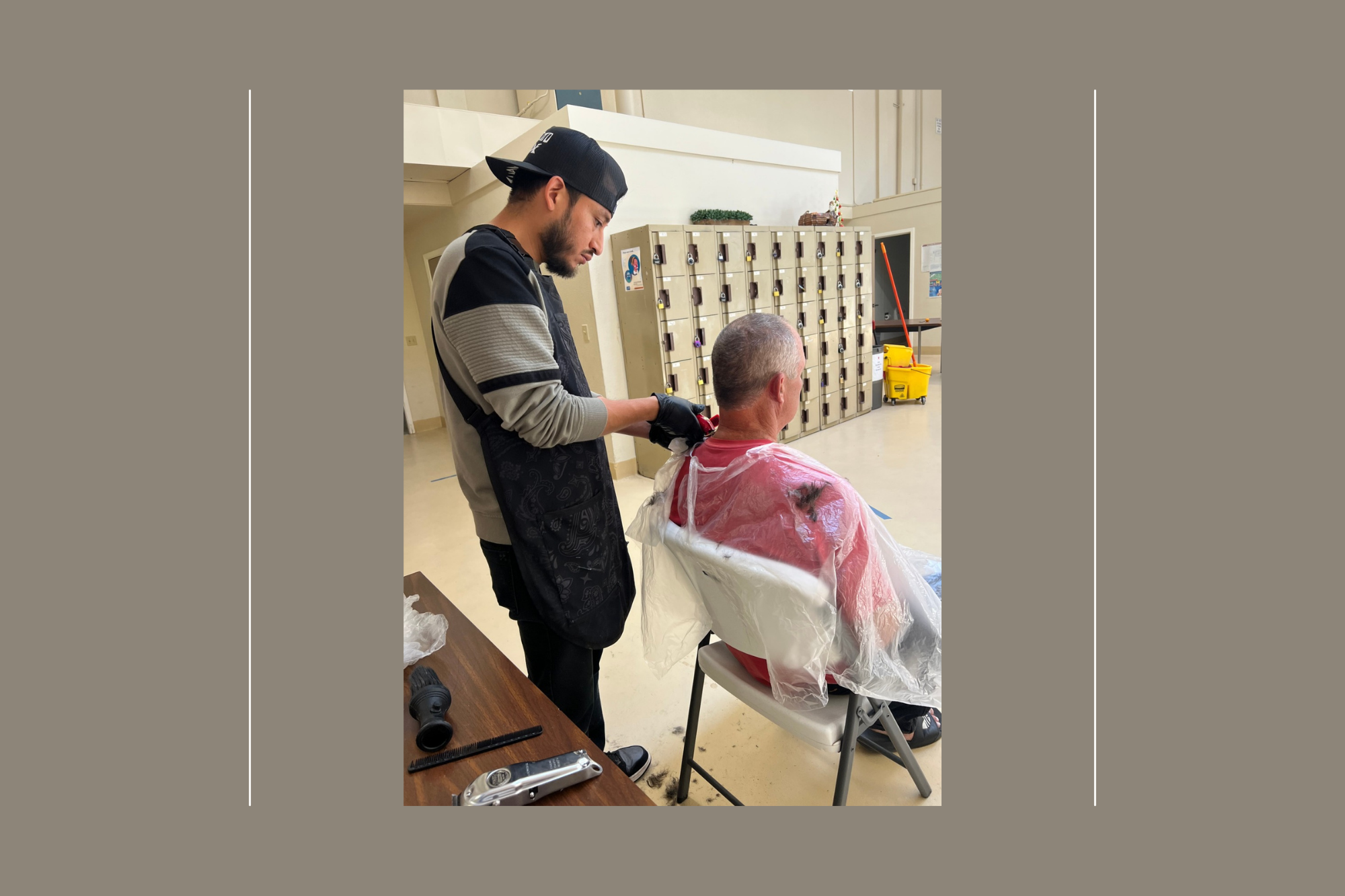 Barber brings smiles with haircuts at The Salvation Army's Good Samaritan Center
Barber Juan Bernal, owner of Imperial Barbershop in Seaside, California, always wanted to give back to his community in the Monterey Peninsula. When the opportunity presented itself to donate his time and services by providing haircuts to people who are clients of The Salvation Army Good Samaritan Center, he didn't hesitate to volunteer.
"I came to the U.S. with my mother and my brother having nothing in my pocket and we struggled a little bit, and I always wanted to do something for my community. I never had money to give back…I never had resources like that to help out," Bernal said. "Now that we're business owners, I wanted to [volunteer] because I feel like it has always been on my mind to help out."
Since the spring, Bernal has been going to the Good Samaritan Center once a month to offer haircuts free of charge to people there, many of whom are experiencing homelessness or have lower incomes. He was connected with The Salvation Army through his sister-in-law who worked there.
"We're so grateful that he's willing to give his time and talents to help people," said Jenifer Miller, The Salvation Army Monterey Peninsula Corps Director of Social Service, who oversees the Good Samaritan Center. "He doesn't have to do it. It was something he wanted to do and came to us about. I just really appreciate that."
The Salvation Army provides Bernal with disposable supplies to do each haircut, and Good Samaritan Center case workers sign up any clients interested in receiving a haircut for the month. From there, Miller and her team schedule out appointments for the time Bernal is at the center.
As a barber, Bernal specializes in short haircuts—and is able to give any haircut the client wants—from a traditional style to a fade.
"It's so simple to give people a haircut, but it's very important to make them feel appreciated—and that's something I want to achieve with them," Bernal said.
What matters most to Bernal, is that people are happy when they see the end result.
"That's why I like doing it—it's to make people smile, to make people feel great about themselves [and] to know that they can count on someone…to be there for them with those services," Bernal said.
Miller said the response from the clients has been positive.
"When you look good, you feel good," Miller said. "It definitely has helped boost morale and people's spirits…and [them] feeling like a human being."
There are two particular instances with clients that stand out to Bernal from volunteering at the Good Samaritan Center.
He recently gave someone a haircut and upon showing him the finished product, the client got a smile on his face that he'll never forget.
"The whole time there he was just sitting down not talking. He looked like he was sad in a way," Bernal said. "After I showed him the mirror, he got one of the biggest smiles that I've ever seen. I've [done lots] of haircuts for people and I've never seen that before. He got so happy to the point that he went and grabbed the broom and started cleaning up his own hair. He shook my hand. He left happy."
Another time a woman came in asking for a haircut, but Bernal doesn't cut long hair. However, the client requested a short haircut.
"I ended up giving her a short haircut and…doing more than she expected me to do. She also left very happy," Bernal said. "And those are some of the moments that push me to go back and keep going with this."
For Bernal, it's also about offering opportunities to others that he didn't have growing up.
"I grew up here in this town. My resources back then weren't as good as they are now. I struggled with getting haircuts, having a good barber and all that stuff," he said. "I feel like this was a great opportunity for myself to…know that I'm [giving] something back to the town and the county and the place where I grew up—knowing that I was once struggling to even get haircuts."
Miller said that Bernal giving clients the opportunity to get a haircut meets a need in the community, as the service is not easily available among the area's agencies that provide social programming.
"It's important certainly for anyone who's trying to go out on job interviews and working on their employment status…Even interviewing for housing, how you present yourself is important," Miller said. "Being able to get a haircut and present yourself in the best way I think makes a big difference in successful outcomes in those ways."
Bernal is happy to be able to help people achieve their life goals with a haircut.
"I hope they feel great. I hope that they're happy at the end with the results," Bernal said. "There's a lot of people that I've met there that have a lot of good goals set for them. They want to change their life around…it makes me really happy to know I'm doing something for them in that sense."
---
Do Good:
You've probably seen the red kettles and thrift stores, and while we're rightfully well known for both…The Salvation Army is so much more than red kettles and thrift stores. So who are we? What do we do? Where? Right this way for Salvation Army 101.
You can make an impact in the Fight for Good with whatever time and skills you have. Whatever your interest, there is a you-sized need for goodness in the world. Get the guide on How To Be An Impactful Volunteer and get in the Fight for Good today.
What cause best fits your personality? Take our quiz and discover where you can make the biggest impact today in the Fight for Good.