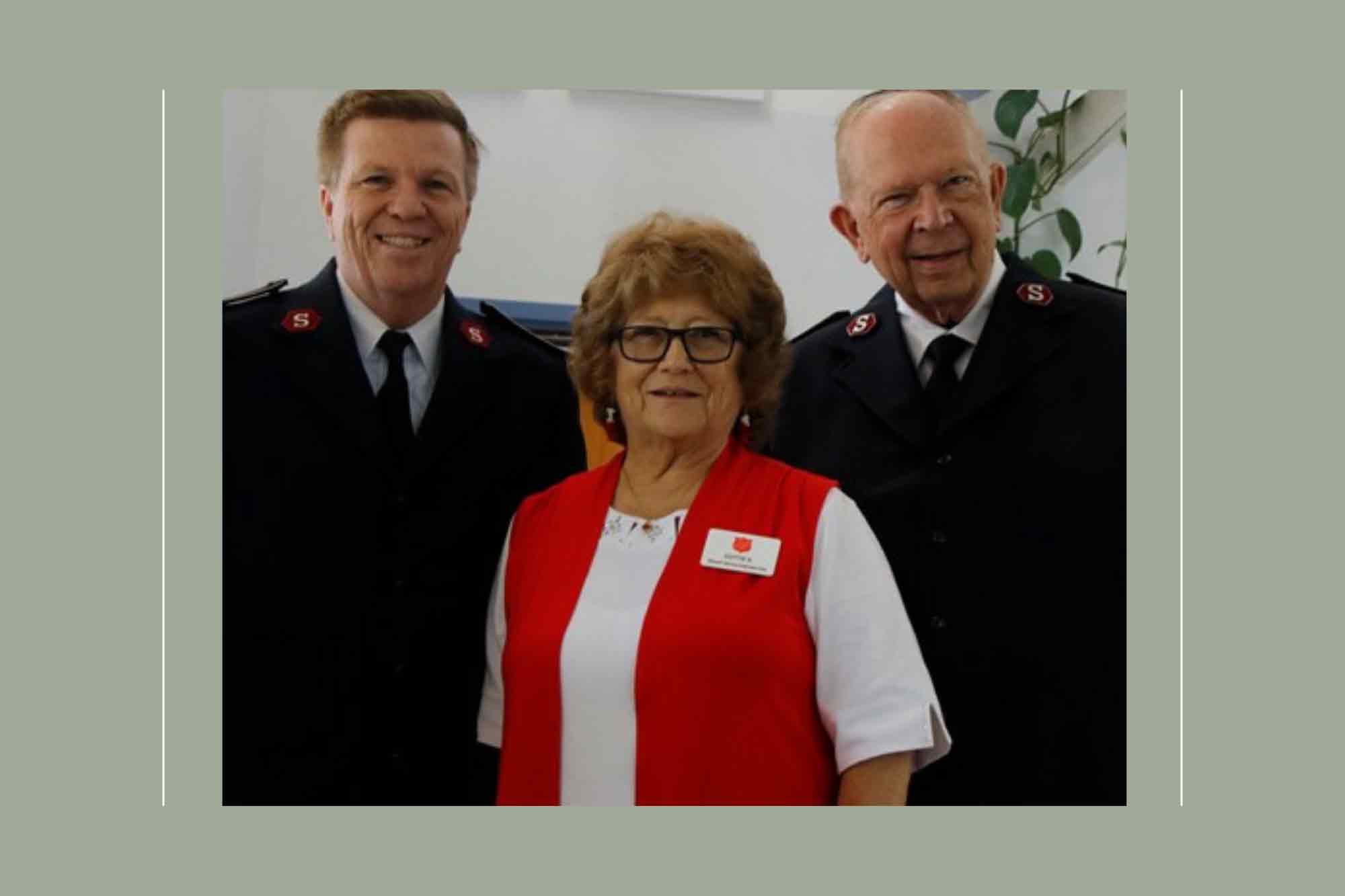 Recognizing the volunteers who help The Salvation Army serve every zip code
In the Southwest U.S., The Salvation Army honors Service Extension Unit (SEU) volunteers.
Dottie Kreps has seen God working in her community.
He was there when a woman came to the bank Kreps worked at to open an account for The Salvation Army. And when that woman told Kreps she was looking for a volunteer to run the service extension unit (SEU) that would provide care and support to the people of Benson, Arizona.
He was there when Kreps said, yes, she would help. And he was there in each of the volunteer efforts Kreps went on to organize these past 25 years: the Angel Trees and the food drives and the Stuff the Bus school supply collections.
"Every year, we have a God thing happen," Kreps said. "A moment where we see him working so clearly… I don't know what the Lord has coming down the line for the next thing, but he'll lead us there."
And while Kreps points to God's guiding hand in each of the volunteer efforts she's organized, leaders in The Salvation Army Southwest Division—covering Arizona, New Mexico and Southern Nevada—also recognize that they wouldn't be able to help the people of Benson if it weren't for Kreps herself.
Kreps is one of the 45,618 volunteers in the Southwest Division who have served since October 2021—many of them in service extensions, smaller volunteer-run Salvation Army units that provide social services. Service extension units make it possible for The Salvation Army to reach communities it otherwise wouldn't be able to serve.
"These volunteers and the service extension program are a way The Salvation Army can serve every zip code in America," said Colonel Olin Hogan, the Service Extension Director for the Southwest Division. "They are good-hearted people who are willing to help The Salvation Army raise money in their communities that is then spent to help their communities."
These volunteers are critical. Cities like Benson, Buckeye and Sedona, Arizona, wouldn't be served if it weren't for people willing to volunteer their time to lead a service extension unit.
That's why one of the first actions Hogan took when starting his role in October was to establish a recognition program to acknowledge and honor their work.
"I looked at these people who have served years, decades, without pay and without anyone saying, 'Hey, this is just magnificent,'" Hogan said. "They don't even care about the recognition, but for The Salvation Army, we had to be honest and say, "You are doing something significant in this community, and we want to thank you for that.'"
The Service Extension Recognition of Service program puts a structure in place to thank these individuals. Honors range from a letter of appreciation in the first year of service to a plaque awarded at a public meeting in year 10 and sharing a meal with the divisional commander, friends and family in year 20.
Out of all the volunteers, one is selected each year to receive the Doing the Most Good award, which recognizes a hardworking, compassionate person who has given exemplary service. In May, Kreps became the first person to receive the award in the Southwest Division.
"It takes your breath away," Kreps said of the honor. "It was wonderful, and I felt very special— almost like I didn't deserve all that."
But Kreps and each of the volunteers who are honored are more than deserving, Hogan said. Without them, countless people would go without food, school supplies, clothing and myriad other services the units provide.
"They raise money, they raise volunteers, they provide assistance to people who are hungry or need assistance to get to doctors," Hogan said. "They do 100 different things, but all of them are making a difference in their communities."
On average, Hogan estimates the volunteers dedicate 15 to 20 percent of their time each month to running the programs.
In Buckeye, Arizona, volunteer Phil Yabes has spent 11 years raising money locally to help eligible residents with their utility and water payments, along with other assistance programs.
"The need has always been there," Yabes said. "The resources have never been up to the needs. There's always more we could be doing."
Without Yabes, those vital programs might no longer exist. And while Yabes is adamant that he doesn't do it for the recognition—"It's just something that needs to be done and that I can help with"—Hogan and the Army know how significant his efforts, and the efforts of all volunteers, are.
"I firmly believe we need to be saying 'thank you' to one and other and that we need to be celebrating good work," Hogan said. "We want the community to know, as well, that these people are making meaningful contributions."
Hogan is hopeful that this sort of public recognition—the awards often lead to writeups in the local papers and events in the community—will inspire others to take up their own volunteer efforts. Ideally, friends and neighbors are encouraged to find ways to care for their community, too, just like the individuals who are recognized.
The honor can also help renew and inspire long-time volunteers, Hogan said.
"We hope this will help us with longevity, too," Hogan said. "It's a way for people to see, 'They do appreciate us. I'm not out here alone. We're doing this together.'"
But at the end of the day, it's the spirit and compassion within each volunteer that keeps the service units going.
"I appreciate the Colonel recognizing me for the service, I really do," Yabes said. "I'm very thankful and very grateful. But even if he didn't, I would still be serving."
---
Do Good:
 You've probably seen the red kettles and thrift stores, and while we're rightfully well known for both…The Salvation Army is so much more than red kettles and thrift stores. So who are we? What do we do? Where? Right this way for Salvation Army 101.
You can make an impact in the Fight for Good with whatever time and skills you have. Whatever your interest, there is a you-sized need for goodness in the world. Get the guide on How To Be An Impactful Volunteer and get in the Fight for Good today.
Hear how one grandma recruited volunteers and struck gold for Salvation Army addiction rehabilitation on the Do Gooders Podcast.