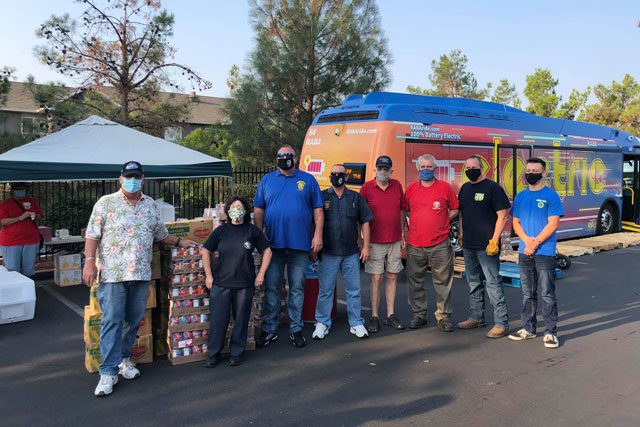 Stuff the Bus rolls on during COVID-19
By Kyle Farber – 
The Salvation Army and Walmart partnered up once again for Stuff the Bus, a school supply drive for families in need. The event began August 7, with more than 4,500 Walmart stores participating across the U.S. 
"The goal is to help students, parents and teachers as we enter this unprecedented school year. Many families have struggled to make ends meet for months due to the global pandemic. Now, they're facing an uncertain future as many schools prepare to begin the year with distanced learning. Parents and caregivers may have to juggle their jobs, childcare and homeschooling," the Del Oro Division wrote on its website.
Last year, Stuff the Bus was able to contribute 2.5 million products to underprivileged youth in one day.
Although Stuff the Bus is an annual tradition, this year was markedly different. COVID-19 has been damaging primarily in two ways: physical and financial. Stuff the Bus helps alleviate some of the financial stress that COVID-19 has put people in.
As a result of the financial strain, Stuff the Bus was more important than ever. "We are looking at it this year knowing the need is great and probably even greater because one in five Americans are living off of unemployment benefits this year," said Sacramento Social Services Officer Lt. Larry Carmichael.
In an effort to slow down the spread of COVID-19, indoor gatherings have been limited or cancelled altogether. Because of this, Stuff the Bus was facing an obstacle it had not seen before in that there were not volunteers to man the barrels that are used to collect the donated school supplies. To help address this issue, shoppers purchased supplies online that were donated toward Stuff the Bus. The Salvation Army also assured shoppers that the donations would stay in the area that they are purchased.
Keeping donations within the community is important during a time where so many are struggling. By doing so, The Salvation Army aims "to bless that mom that is struggling just to be able to put food on the table or flat out just doesn't have the means to supply school supplies for their child to even educate at home," said Carmichael. Children also like to know that their community supports them. Carmichael reiterated this, "Giving that child a little bit of a boost knowing that their community cares about them and is ready to welcome them further on in their education." 
One mom in particular, Carly, showed how helpful Stuff the Bus is for families. Carly is a single mom of a kindergartner named Carter. In the beginning of the pandemic, Carly was laid off and although she resumed working in May, she is struggling to pay for her basic needs in addition to having to pay for extra childcare for her son.
On top of that, the after-school program that Carter typically attends is closed due to coronavirus and Carly does not get paid on the days that Carter's class meets online. In addition, she needed to buy her son school supplies but would not have been able to. Carly said she is so thankful for The Salvation Army, Walmart, and all the people that have donated to Stuff the Bus. "It is one less thing I have to worry about these days," she said.
HOW TO HELP:
If you'd like to make a monetary donation, please

click here to make a gift.

Text 'GIVE' to 52000 to make a $10 donation to The Salvation Army. This will automatically add a one-time donation to your next mobile phone bill.

For information about volunteering, please visit

volunteer.usawest.org

.

To learn more about how to support The Salvation Army's relief efforts,

please click here