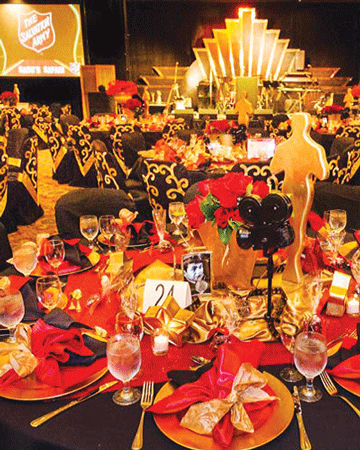 Sabu's Safari goes Hollywood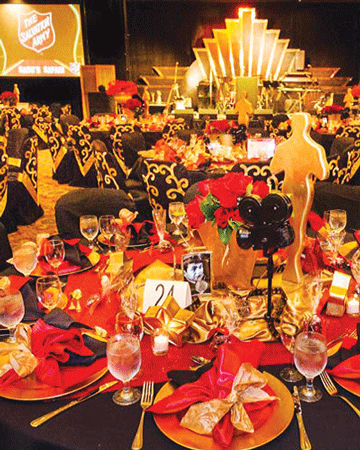 Annual fundraiser supports the Monterey Peninsula Corps. 
 By Ted Elisee 
Over 350 guests attended Sabu's Safari Gala Sept. 29 at the Hyatt Regency in Monterey, Calif., an annual event sponsored by the Sabu Shake, Sr., family to benefit The Salvation Army Monterey Peninsula Corps.
Long-time supporter of the corps, the Shake family recieved the annual Monterey Philanthropist of the Year Award in 2010. The family aims to reflect the values of its father, a generous man who came to America from Pakistan and worked as a restaurant dishwasher before owning restaurants, businesses and property throughout the Monterey Peninsula.
"Five years ago, Sabu Jr. and Chris Shake wanted to do something different," said Major David Yardley, Monterey Peninsula corps officer with his wife, Gaylene. They started the Sabu Safari dinner event. "It is a joy to work with the Shake family and to know that there are people like this in our community."
Not only do Shake family members personally raise funds for the Army, they also encourage other businesses to donate. Last year, Sabu Jr. took to the airwaves to challenge others to donate turkeys at Thanksgiving to the Good Samaritan Center in Sand City, run by the Monterey Corps.
Following Sabu Sr.'s promotion to Glory in 1998, his six sons and widow established a fund to support the corps in his honor. The family has raised over $1 million during the last 12 years to support the work of The Salvation Army Monterey Peninsula Corps.
This year's dinner theme "Old Hollywood" included Oscar reproductions and celluloid film; life-size cardboard images of stars like Marilyn Monroe and Clark Gable stood in the ballroom; giant screens streamed black and white clips.
Dressed for the occasion, attendees bid on silent auction items and later live bid for trips to Italy, Hawaii, Colorado, Arizona and for weekend escapes in California and Nevada.
For more information, visit sabushakesr.org.