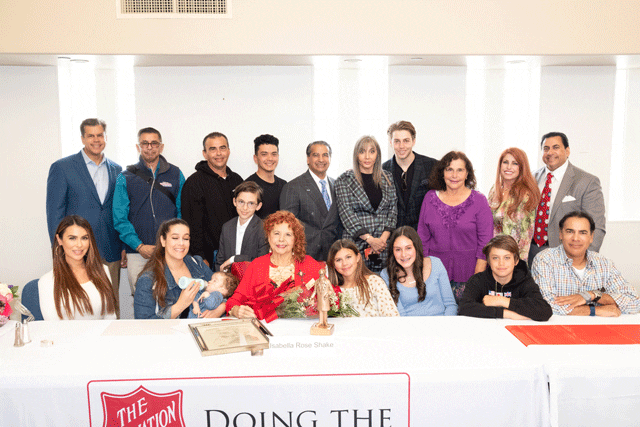 Isabella Shake receives The Salvation Army William Booth Award
Isabella Shake receives national award.
Isabella Shake received The Salvation Army William Booth Award Feb. 28 in Monterey, California, during an Advisory Board luncheon at the Monterey Peninsula Corps. Commissioner Jolene K. Hodder, Western Territorial President of Women's Ministries, presented the honor, one of the highest national awards The Salvation Army confers upon individuals.
Shake is matriarch of the Shake Family, longtime supporters of The Salvation Army in Monterey County, along with more than 400 other local charities, through the Sabu Shake, Sr. Memorial Foundation, named in honor of Isabella Shake's late husband, Sabu. Among the many fundraisers it sponsors to support the Monterey Peninsula Corps is Sabu's Safari Gala, a highly-anticipated annual event.
"I cannot imagine the Army here in this community without the amazing support she gives to our mission," Hodder said during the presentation.
After recalling Founder William Booth's famous "While women weep" speech, Hodder said: "Isabella Shake is a fighter, too… she may prefer to work behind the scenes with little fanfare, but she is a fighter, and she has raised a family of fighters—six sons!"
Four generations of the Shake family attended the luncheon to see Isabella Shake receive the award.
Shake expressed her gratitude for the recognition.
"I felt humbled and I wasn't deserving of such an award from an organization such as The Salvation Army that has done so much for so many," she said.  "As I watered my garden and nourished it I thought about The Salvation Army and how they plant seeds and nourish the souls of men in the garden of life, and how they encompass all the virtues of Christ."
Major Patti Bradley, Monterey Peninsula Corps Officer with her husband, Steve, nominated Shake for the award with a 13-page letter listing all her accomplishments. Hodder said she was reminded of Mother Teresa as she reviewed the letter.
"And then I read that it is Mother Teresa who has inspired you to fight for those who have no voice—to fight for freedom, for hope, for peace, for love, for God," Hodder said.
Nominations for the William Booth Award are considered based on dedication to The Salvation Army's goal of service to others, outstanding community service and humanitarian effort, and substantial contributions to the work of The Salvation Army through offering time, talent and/or financial resources.
Golden State Divisional Commander Major Darren Norton provided closing thoughts and Divisional Director of Women's Ministries Major Mary Norton offered the closing prayer.
"Everyone in this room is better for having known you," Hodder said. "But most importantly, God is looking down at you today and smiling…keep fighting!"