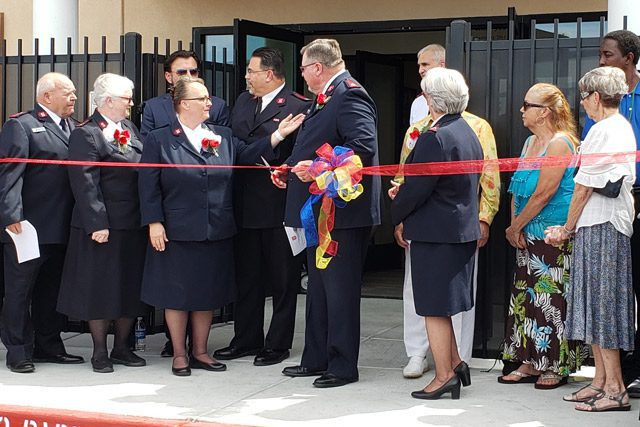 Las Vegas ARC opens new women's residence 
By Leslee Rogers –  
After many years of wishing it were so, The Salvation Army Las Vegas Adult Rehabilitation Center (ARC) moved the female program participants into a residence on the center's campus in North Las Vegas. 
Major Grady Brown, Western Territory ARC Commander, cut the ribbon Aug. 18 to officially open the new facility.  Previously, the women lived in a building on The Salvation Army's Homeless Services Campus on W. Owens Avenue about a mile south of the ARC and were bussed to work, meals, chapel and other ARC activities.
"We have been waiting for the opportunity to bring the female participants in our ARC to this campus for some time," said Captain Ron McKinney, Las Vegas ARC Administrator. "We know this will make for a more cohesive overall experience for everyone in our free residential treatment program." 
McKinney noted the move to the ARC campus represents about a $100,000 annual savings in payroll, transportation, rent and meal costs, which will in turn go back into program services.
The ARC moved to its current location off Lake Mead Boulevard. and I-15 in 1986 and the women moved to the Owens Social Services Campus in roughly 1990. The program serves nearly 350 clients each year, with 24 percent of clients—compared to a national average of about 6 percent—remaining drug-free for up to 12 months following graduation.   
The new women's residence was previously a Family Thrift Store and served for a time as interim housing for the men's program after fire damage to the ARC facility.  
"This is probably the nicest place I have ever or will ever live," one new program occupant said upon seeing the new residence. 
Former Nevada Senator William Hernstadt gave the seed donation to begin the renovation. Other donors, who also serve as members of the center's advisory council, include Tim Arnold of the Pinball Hall of Fame, who provided a new pool, and Advisory Council Chair Shawn Schofield of Print2Order, which provided signage for the facility and printing for the dedication event.