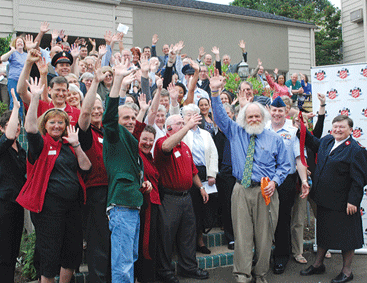 New home for veterans opens in Beaverton
Facility expands services of Portland's Harbor Light Center.
By Teresa Engel
The community of Beaverton, Ore., recently welcomed a new Salvation Army facility to its city: The Salvation Army Veterans and Family Center.
Formerly the Harbor Light Center in downtown Portland, this new veterans' facility will offer expanded services to more veterans and families in the Portland-Metro area and provide a home-like atmosphere where individuals can feel comfortable to grow.
At a June 22 ceremony at the facility, Lt. Colonel Eda Hokom, Cascade divisional commander, and Major Don Gilger, Portland Metro coordinator and Cascade divisional secretary, dedicated the building.
"I am delighted to dedicate this building in the name of God," Hokom said, before inviting everyone outside for the ribbon cutting. "You can leave this place knowing there is a home for veterans!"
About eight current U.S. military personnel attended. Two were extra special guests: one U.S. prisoner of war and one German prisoner of war from World War II. Both gentlemen live in the Portland Metro area and strongly support the work of The Salvation Army.
The program began as the Veterans Emergency Transitional Shelter at the Harbor Light Center in downtown Portland. After much deliberation, The Salvation Army decided to move the veterans program out of downtown and into a new, bigger building in Beaverton. Originally designed as a senior residential facility, the building already had the components that make it an ideal housing facility for the Veterans and Family Center.
The dedication ceremony featured a number of speakers: Hokom and Gilger; Lt. Emmanuel Masango, corps officer at Tualatin Valley Citadel; Rick Stoller, director of the Veterans and Family Center; Keith Scheff, Veteran Grant and Per Diem liaison for the veterans program; Vince Jones, a former client and now employee at the Veterans Center; Terry Dean, Portland Metro Advisory Board chair; and Shelley Wright of the Beaverton Chamber of Commerce. In his speech, Jones expressed appreciation for the support of this program: "It gave me the chance to find integrity and hope."
All of the speakers discussed the exciting future of this program and how this move opens the door for the expansion of services to more veterans and their families.
The Portland Tabernacle Quartet performed during the ceremony.