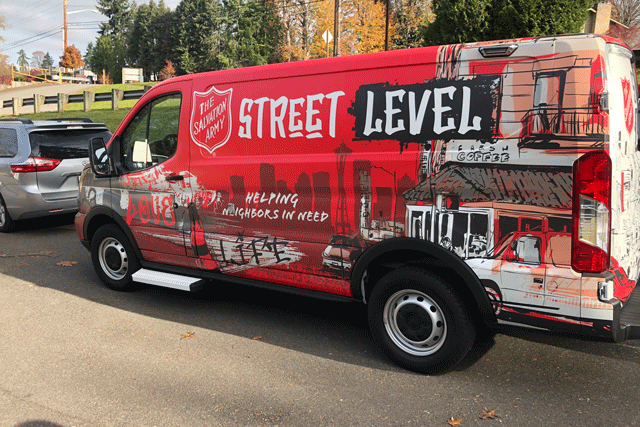 New Dignity Health grant allows Salvation Army street level team to expand to California 
By Kristin Marguerite Doidge –  
When it comes to solving homelessness, trust can lead to truly life-changing outcomes. That's been the case with the Street Level homeless outreach initiative in Seattle. And it's been so effective since launching in 2019 that The Salvation Army just secured more than $1 million in new grant funding from Dignity Health to expand the program to four California communities: Central Valley, San Joaquin County, San Bernardino and Central Coast (including San Luis Obispo, Santa Barbara, and Ventura counties).
"One of the reasons we believe the Seattle model is so effective is because the first touch engagement is with someone who has had access to the system themselves," said Sabrina Kiser, Western Territorial Social Services Director. "It's about the relationship first. It's about offering a cup of coffee or water, and just saying hello."
Kiser also said building and maintaining trust is all about consistency and "keeping your word," which is why the Street Level team will station a specially-wrapped vehicle in a specific area in each of the four communities to begin outreach and case management in order to help people find housing and other services.
The Salvation Army's Street Level mobile outreach program is a housing first, person-centered, strengths-based approach to help people experiencing homelessness connect with service providers and increase their housing stability. This strategy focuses on meeting people where they are in a non-threatening way in order to help them find resources appropriate for their situation. The primary goal of this program is to improve people's housing situation, but important milestones related to engagement with case management and improvement on the Self-Sufficiency Matrix will also be tracked each quarter to measure progress.
In the program's first year, the Seattle team was able to permanently house 142 people after setting an initial goal of housing 20, and they've likewise exceeded their goal for 2020. Still, more work is to be done, and the Western Territory has committed to doubling its impact on homelessness by 2024 through its The Way Out initiative.
"In order to do this, we really need partners to come alongside us so we can work together to find solutions," Kiser said. 
The Dignity Health partnership will provide critical support to help mitigate the increasing rates of homelessness in some of California's most vulnerable rural and suburban areas. For example, while The Salvation Army Ventura County social services already deploys an existing successful street outreach program that helps connect chronically homeless people to local services and shelter, the Street Level mobile van would enable the program to grow.
Recognizing the links between healthcare and homelessness, Dignity Health is committed to collaborating with community partners to coordinate critical services for people with the greatest needs by working with local hospitals and community healthcare networks—particularly during the ongoing coronavirus pandemic.
"We have been working together on efforts to address rural homelessness along with developing a collective response to COVID-19," said Ashley Brand, Dignity Health System Director of Community and Homeless Health. "The Salvation Army partnership seems boundless given our shared mission, vision, values and focus on serving those who are vulnerable."
Most recently, Dignity Health granted The Salvation Army $50,000 for COVID-19 relief efforts in Los Angeles in March, which supported direct services to those impacted by the social and economic effects of the pandemic. The Street Level grant provides funding for a year of staffing the mobile Street Level team and the vehicles. One staff member will focus on direct case management, while the other will focus on cultivating relationships with community leaders that can be used for referrals to employment or childcare services, or to facilitate access to housing. Clients will also receive referrals to community resources and services that target their need for essentials like food, water, clothing and hygiene items. 
The partnership grew out of a multidivisional effort, said Maria Todaro, Western Territorial Director of Corporate Engagement. "This came about through many discussions and through fundraising working hand-in-hand with social services at Territorial Headquarters, and coordinating with leadership and social services teams—then all of the divisions collaborated on a shared narrative," she said. "This provided the framework for the grant proposal, and is a great illustration of how if we work together across divisions, we can make a big impact."
And that collaborative spirit hasn't gone unnoticed: it's what those at all levels of the organization hope will prove that the initiative has legs—or wheels—to go the distance in solving homelessness.
"I have been praying for the Street Level project for some time, and to see it take hold like this is truly an answer to prayer," said Commissioner Kenneth G. Hodder, National Commander of The Salvation Army. "I am confident that, once people see how effective it is, the mobile outreach program will become a key element in the Army's battle against homelessness."